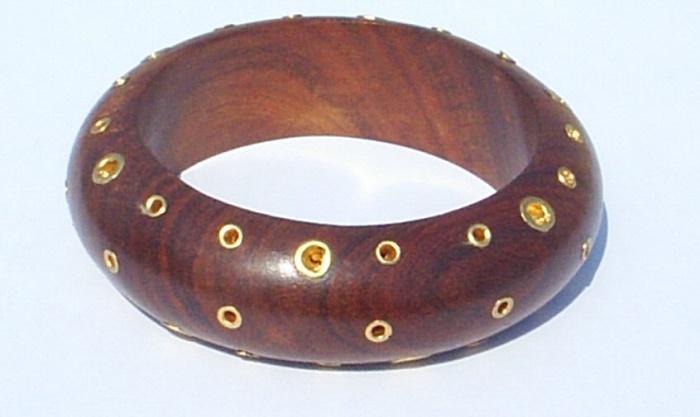 Image Credit: http://www.indiaenterprise.com/jewelry/wooden_jewelry/brass-tacks-wooden-bangle-RHWB013.htm
Bangles is a word derived from the Hindi word 'Bungri'. Bangles are traditional Indian jewelry worn by married women, especially Hindu women to symbolize that they are married. However, they are used by most girls and women today. Bangles have different names in different languages like valayal in Tamil, Chudi in Hindi, Gaaju in Telugu, Bale in Kannada etc. They are usually circular in shape and are not flexible like bracelets. Though bangles made from precious metals like gold and silver, wooden bangles that are hand crafted, have become an 'in' thing for their exotic and intricate designs. Wooden bangles make women will look graceful and trendy.
Handcrafted Wooden Bangles
These wooden bangles are available in different patterns with different additions and permutations. They are also combined with glass and semi-precious stones and look pleasing to the eye. Wooden bangles can be combined with any other type of bangles like glass or lac and worn with any type of dress, both traditional and informal.
They can also be custom designed according to the needs of the user. Wooden bangles are available in different sizes, colors and with different embellishments. They also come in funky designs like sun, star, spiral, bangles with wooden beads stringed together and then attached with another wooden piece, hexagonal, octagonal and many more odd shapes and colors.
Wooden bangles are strong and hardy and can be worn for many occasions. They are easy to decorate as well. Here is an easy way to decorate wooden bangles at home.
Things You Need
One or two wooden bangles
Acrylic paint
Spray polyurethane
Steel gauze wool
Paint brushes in a variety of sizes
Method
Use steel wool to roughen the surface of the wooden bangle
Apply two or three coats of any color of your choice and allow it to dry.
Paint any design like flowers or stars on the bangles of your choice.
Now spray polyurethane which will give gloss to the bangles and will also help sustain the wood for a long period without any damage.
Your wooden bangle is now ready to be used. You may even gift it someone very close to your heart!