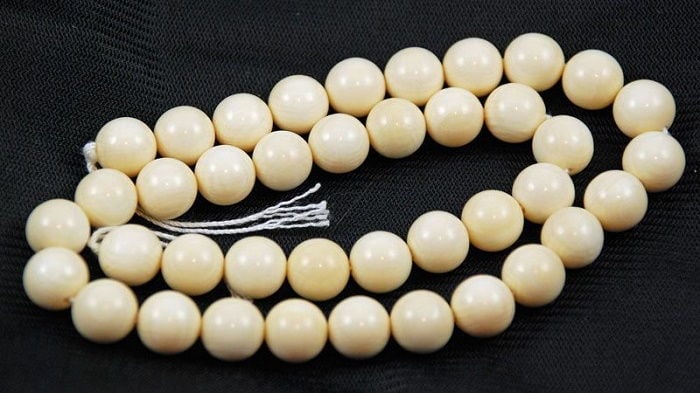 Image Source : http://www.fashionlady.in/ivory-jewellery-excellent-example-of-elegant-and-painstaking-craft/54766
Ivory is traditionally referred to the hard, creamy or white colored tusks of an elephant walrus, boar, warthog, whale, etc. It can also be the tusks of such similar animals. Ivory trade and making jewelry out of ivory is illegal and so most craftsmen and artisans have started using certain material as a substitute for ivory.
Handcrafted Ivory Jewelry
Elephant tusks are probably the most common ivory used to make jewelry. States like Rajasthan, West Bengal and Orissa are known to make exquisite ivory jewelry. In many Indian families Ivory bangles are gifted to young brides when they leave to their new homes.
Ivory pendants attached to chains and necklaces are quiet famous in India. Ivory is a very soft material and it is for this reason that it can be shaped into desired patterns and designs. According to many historians, ivory was used to make jewelry even before gold was discovered.
There are different types of Ivory available. Some of the most important one's are listed here.
Types of Ivory
Elephant Ivory
Elephant ivory varies in color and quality as it depends on the type of elephant it was taken from and the age of the ivory. The color may vary between pale white to pale soft yellow and brown shades. The sheen lies somewhere between dull to greasy. Ivory taken from African elephants is of the highest quality.
Hippopotamus Ivory
It is very hard to identify hippopotamus ivory as there is no concrete information on how to identify different varieties of ivory. The color of hippopotamus ivory lies between white elephant ivory white and the pearl shell white.
Tips For Buying Ivory Jewelry
Authentic ivory looks fluorescent under sunlight and other strong light and it will at times give off a whitish violet hue.
Original ivory will show its original age by turning to yellowish brown in color and looks yellowish in color under artificial light.