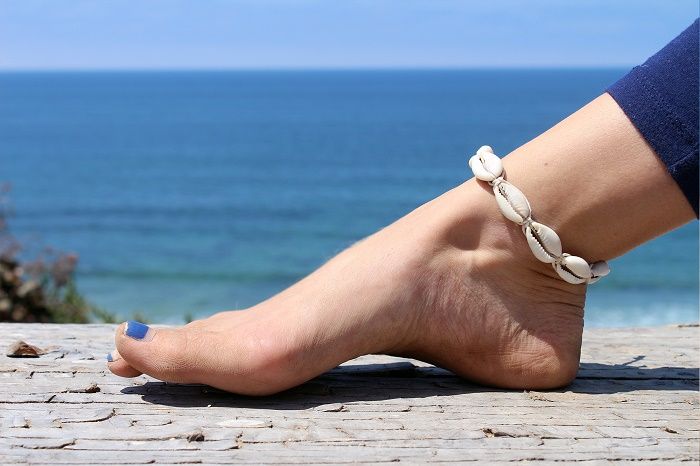 Image Credit: http://hempbeadery.com/shop/gifts-and-jewelry/hemp-jewelry/hemp-anklets/hemp-shell-anklet-macrame-anklet-beach-anklets-natural-jewelry/
Jewelry made from shells is probably one of the oldest man made ornaments. Archeologists have unearthed exquisite pieces of shell jewelry from the ruins in Egypt to the ruins in the Southwest of the United States. Shells were used as currencies in ancient times and today shell jewelry can be found along every coastal village or town all around the world. Even though, shell anklets are manufactured in many countries, good and fine ones are mostly manufactured in Indonesia and are exported. Certain shell jewelry is so rare that they are found only in art galleries or with private collectors who are even known to insure it.
Handcrafted Shells Anklet
There are different types of shells like ni'ihau shells, paua shell, cowrie shell, heishi shell, etc from which different kinds of jewelry are made. These shells are combined with different metals, beads, precious stones, gold, and silver and made into anklets and other decorative pieces. The look of the anklets depends on the size of the shells used. There are light shell anklets that look chic to the heavy anklets that look chunky.
There are many myths regarding shell anklets. One such interesting myth is about how a medicine man obtained the shells from the water spirits and when worn on the legs and jingled, made the man rich with precious things. Today shell anklets are worn by many women around the world and have thus become fashion statements of sorts.
Shell anklets can be worn with most types of clothing and in particular beach wear. If you have found a few shells while you have been to the beach for a holiday, you can make your own shell anklets at home. All you need for this is a few cowries or other small shells, one lobster claw or gold or silver jewelry clasps, a few plastic beads, a driller and beading thread. All you need to do is to drill small holes on top of the shells and combine a few plastic beads and the shell together with a beading thread. Then attach the jewelry clasp or the lobster claws at the end. You can paint this with a nail polish of any color if you want or you may leave it natural. Your shell anklets are ready to wear.