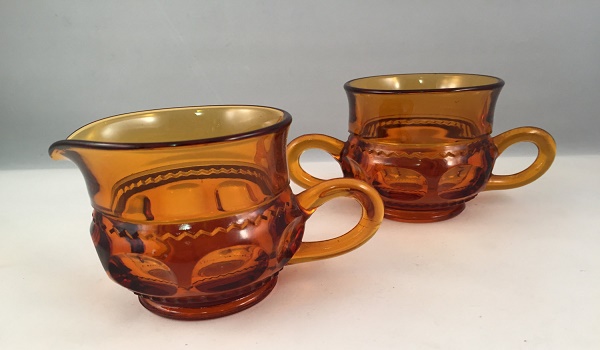 Image Credit: https://www.openideals.top/amber-indian-glass-thumbprint-pattern-cream-and-sugar-thumbprint-glassware-thumbprint-pattern-dishes-p-6639.html
Like most of the craft traditions, glass making in India is very old. We find its reference in the great epic of India, the Mahabharata. The art of glassware got great impetus during the medieval period. Mughal rulers provided patronage to the craft of glass making. The credit of introducing the art of glass engraving in India goes to the Mughals. The Mughal craftsmen excelled in making delicate foliated designs on glass objects. The present day glass making industry in India revolves around making items like bottles, bangles, beads, window pens etc. 
Glass bangles are an integral part of the traditional Indian jewelry. Glass bangles of diverse colors are very popular among the womenfolk of India. Women, particularly the newly wed, wear colorful glass bangles. Glass bangles continue to be in fashion, with innumerable colors and patterns, among the women folk of India.

Ferozabad, in the state of Uttar Pradesh, is well known for production of glass bangles and utilitarian glassware. Here, there are some families having centuries old tradition of glassware manufacturing. Glass beads of India are famous world over. Benaras is the main center for the production of glass beads while Purdilpur is famous for its black glass beads.
There is a great rage for fancy glass products and decorative pieces like ornate glass chandeliers and lighting pieces, glass sculptures and engraved crockery, particularly among the urban elites. Glass painting and stained glasswork is hugely popular these days and is gaining the status of a unique urban craft. The contemporary Indian glass industry manufactures a wide range of products like crockery, bottles, stylish beads, paper weights, glass pens etc. The craftsmen of glass ware industry are continuously endeavoring to assimilate contemporary ideas in their work.