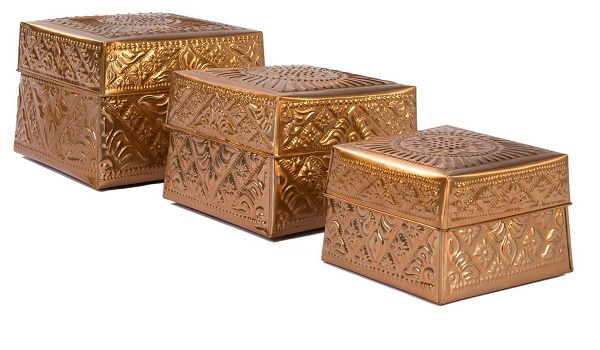 Image Credit: https://in.pinterest.com/pin/346917977517516854/?lp=true
Boxes are containers used to store or transport items. The word box is derived from the Greek word "Puxos". There are several types of boxes and each one of them serves a different purpose. These boxes are usually made of various materials like wood, brass, bronze, iron, copper, etc. In olden times it was customary to give brides large decorative boxes during marriages, to store their valuables and clothing. These boxes were made with lids that could be slid, removed or raised to open. They were also made with clasps and locks which can be closed for safety. These boxes were pretty heavy to carry.
Handcrafted Copper Boxes
Copper is one such material with which huge boxes were made. Copper is a naturally occurring material and has been used since 9000 B.C. In Roman times, copper was even associated with the god Venus and was used to make mirrors. Ornaments, utensils and boxes with were also made of copper during ancient times. Copper looks pinkish in color and the main property is that it doesn't rust and remains the same for many years.
Now-a-days, copper is used to make huge boxes to small incense boxes and tissue boxes. All these boxes are really ornamental and decorative and grab ones attention. At times, huge boxes are made of wood and then plated with copper and are very simple too. Copper boxes are carved with intricate designs on the dome with enamels or decorated with semi-precious stones to make them look attractive.
Jewelry boxes are also made of copper and inlaid with velvet which looks exquisite and amazing. These boxes are also custom made according to the requirements of a customer. Copper boxes make perfect gifts as they not only attract the receiver but also add emotional value to the person.