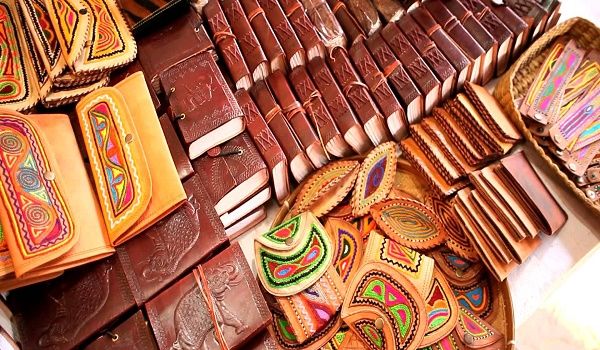 Image Credit: https://www.youtube.com/watch?v=FaoPnviJ3Ds
In India the tradition of leather craft goes back to the Indus valley civilization. There have been several references in ancient texts about the use of animal skin. The age old tradition of leather craft in India is proved by ancient sages and ascetics, who used to sit on deerskin for meditation and other such works. In the past, leather was not only used in making clothes and footwear but also in making caps, bags, saddles, armor etc. India is famous world wide for its leather products. In the rural areas of India, hide from cattle and camel is locally cured and after tanning, it is used to make different items. Different regions of India have different leather products to offer: 
The modern day leather craft in India has become a big industry and caters not only to local needs but also the off shore market. Utilitarian items like shoes, jackets, lampshades, pouches, bags, belts, wallets, stuffed toys etc made from leather are exported from India in large quantity. Different regions in India are famous for their unique style and pattern of leather products.

Rajasthan is known for its decorated leather items. Bikaner and Jaisalmer produce decorative saddles. Bikaner is also known for Kopi, a unique leather bottle made from camel hide. In Rajasthan, beautiful lamp and lampshades are made from leather.
West Bengal is well known for its decorated leather products. These products are generally decorated with traditional designs and geometric patterns. Kashmir is also known for its ornamental leather products. Madhya Pradesh is popular for its embroidered red leather items. Gwalior, Indore, Bilaspur and Dewas are known for shoes, jutties, bags and mushks. In the state of Karnataka you will find leather products painted with epic and mythological pictures. These products are done in gold and silver. In some states like Andhra Pradesh, toys and puppets are made of leather.