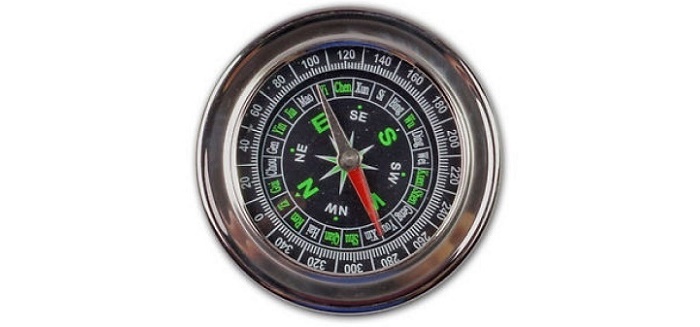 Image source : https://www.insasta.com/Stainless-Steel-Metal-Military-Magnetic-Compass-Camping-Portable
When people think of devices that help them with finding direction, the first thing that comes to mind is the magnetic compass. The magnetic compass is the oldest device used for navigation, which indicates direction with respect to the earth's magnetic poles, using a magnetized steel bar or needle. It has been a very important tool for navigators at sea for centuries. These compasses are mostly made of brass, copper and wood. Today, the demand for nautical compasses is increasing, as people love to gift them or add them to their antique collection. In order to fulfill this huge demand, varieties of compasses with varied budgets are available in the market today. You can gift this compass to elderly people who like to collect such things. They can even be gifted to kids and sports persons.
Different Magnetic Compasses
Nowadays you will find different artistic varieties of magnetic compasses which serve as décor and nautical gift items. Check out different varieties of magnetic compasses listed below.
The combination of a clock and compass will make a wonderful decorative piece. Apart from its beauty, it is also an item of great utility. This compass is versatile and is a useful gift.
Table Compass
Table compasses come in attractive designs and unusual artistry. Made out of brass or wood, they will give an elegant finish to your home and office décor. These pretty compasses are an ideal gift item for your special ones.
Wooden Compass
Wooden carved compasses are in demand from olden days. These compasses make a great gift for people who have a liking for simpler and decent items.
Magnetic Sundial Compass
This beautiful antique magnetic compass is an attractive decorative item for your home. You can use this compass as a table topper or as a show piece. They also make great gifts for loved ones.
Paper weight Compass
These compasses have given a whole new appeal to the regular paperweight. These compasses are fully functional, too, and will give a beautiful look to your table.
Wheel compass
The wheel compass made of brass looks awesome. The idea about this wheel compass comes from the ship wheel and it acts as the most beautiful accessory for your office.