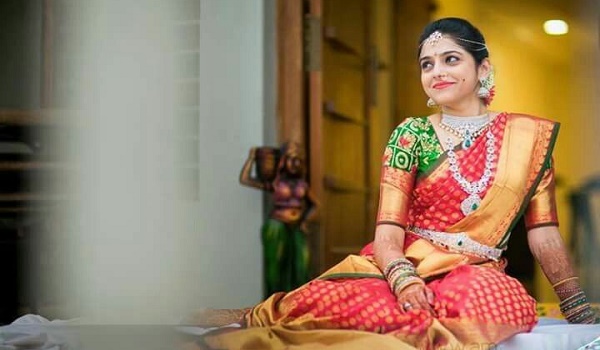 Image Credit: https://www.pinterest.co.uk/tarjvideofilms/pre-wedding-shoot/
Kanjeevaram silk saree is a magnificent creation of the craftsmen living in a small town, Kanchi (Kanchipuram), situated near the Bangalore city of South India. The saree has been named after the town in which it is produced. The silk used in the creation of Kanjivaram saree is extremely fine as well as durable and is one of the most popular forms of silk in the state of Tamil Nadu. The bold and bright color of the sari is very much preferred by the South Indian women, whose trousseau remains incomplete without this amazing outfit. 
Kanjivaram sarees of India make use of a combination of numerous colored threads. Adding to the attraction of the saris is the exquisite and elaborate zari (a form of embroidery) work. The motifs used in an Indian Kanchipuram sari are heavily based on the Pallava temples, palaces and paintings. However, these days one can see scenes from great epics, Ramayana and Mahabharata, along with the Bhagwad Gita being used as motifs. Tribal designs as well as contemporary patterns are also seen. 
The sheer magnitude of textures, colors and designs of Kanjivaram silk saris of India is incredible. Simple saris can be prepared in about 10 to 12 days. However, decorative ones require up to 20 days of workmanship. Kanjeevarams are expensive and can cost anywhere between Rs. 2000 to Rs. 50,000. The cost of the saree depends upon the amount of zari intertwined with the silk. The more the zari work, the more expensive the sari will be. 
Making of a Kanjeevaram Silk Saree
The procedure of making an Indian Kanchipuram sari commences with the task of preparing the thread, which is used at the weaver's loom. This involves, first, twisting the thread and then, dying and drying it in the sun. The border, the body and the pallu of the sari are created separately by the weaver. Then, he interlocks them together in an extremely tight joint.