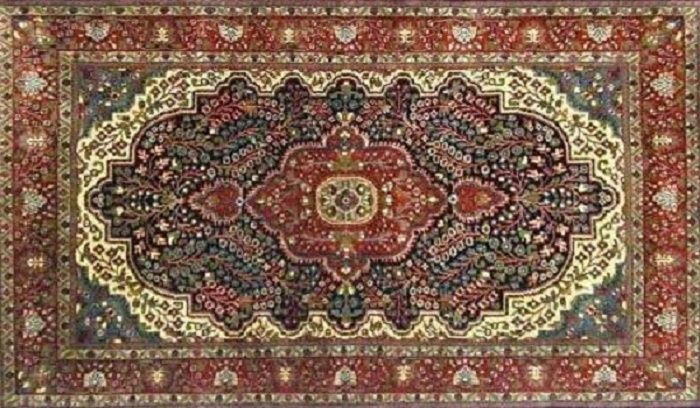 Image Credit: http://www.nald.org/kashmiri-rugs/
Carpets are an integral part of Indian craft traditions. The tradition of carpet weaving in India is centuries old. Carpets are generally made from wool and silk. On the other hand floorings like mats and durries are made up of a variety of material, ranging from wool, cotton, jute, coir, bamboo and grass. The origin of carpet weaving traditions in India goes to the medieval period. The Mughals borrowed the Persian technique of carpet weaving. Mughal carpets were as elaborate as their miniature paintings and illustrated court life, animals and floral motifs. 
Akbar is said to have laid the foundation of carpet weaving tradition in India by bringing some carpet weavers from Persia. Soon carpet weavings centers were established at Agra, Delhi and Lahore. Mughal carpets were brightly colored and it is amazing to note that some of the hand knotted silk carpets had as many as 4224 knots per square inch. The present carpet weaving tradition in India is largely influenced by the carpet tradition of the Mughals.
The modern Indian carpet and flooring traditions are largely a continuation of and they have beautifully molded themselves to suit the needs and aspirations of the modern times. The credit of popularizing Indian carpets in foreign markets goes to the artistic abilities and skill of the Indian carpet weavers. In India, different states have their own carpet weaving traditions.
The modern carpet weaving industry in India is largely spread over eastern UP, in Bhadohi- Mirzapur belt. This belt is said to be the leading woolen carpet-producing center in the country. Tufted woolen carpets are gaining popularity these days. Gabbe woolen carpets, chain stitch rugs and carpets, and namdas are also made in India. The state of Kashmir is home to the finest silk carpets in India.