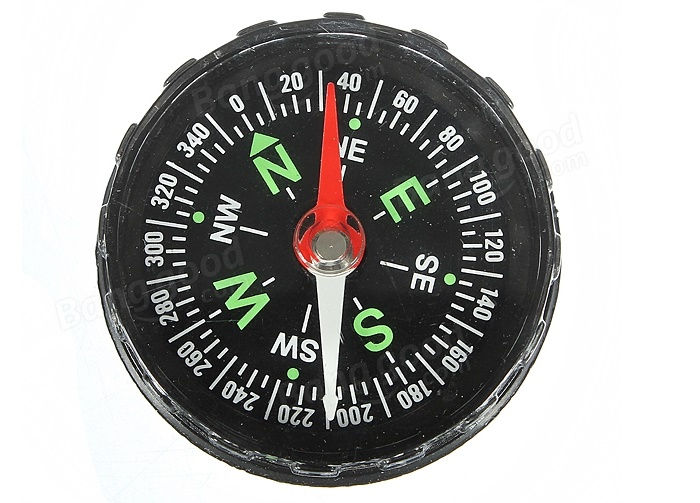 Image Source : https://www.banggood.com/Mini-Pocket-Liquid-Compass-Outdoor-Survival-Navigation-Tool-p-909574.html
Liquid compass is one of most popular compasses, used for navigation and is in use for centuries by navigators at sea. These compasses are most preferred in ships and small boats because of their accuracy. It has also been a favorite compass among hunters for years. The liquid compass is famous for its accuracy in showing directions. This accuracy is achieved by using a liquid inside the compass. Usually a mixture of alcohol and water is used as a liquid inside the compass, which acts as a buffer by absorbing shock and vibrations and thus helps avoid damage to the compass element. Because of these advantages, the liquid compass is used more frequently than the dry compass. Most of the compasses of today are liquid filled and are available in different styles, ranging from ball compasses to small keychain models which help in easy reference. With the emerging varieties of compasses, today liquid compasses are used as decorative and gift items, too.
Different Types of Nautical Liquid Compass
Given below are the lists of different nautical compasses, which act as a perfect gift for your loved ones and also help to decorate your home.
Promotional Compass
Liquid filled promotional compasses are made with aluminum, brass or other metals. These compasses are suitable for promotional purposes and will also serve as good gift items.
Key Chain Compass
Key chain compasses are made from the finest quality raw material. They are available in beautiful designs and are of the highest quality. These key chains can serve as very stylish and timeless gifts for special occasions.
Pocket Compass
These nautical compasses are made out of brass or aluminum metal and are available in different designs. Pocket compasses are a great gift idea, as well as an item of actual use which can be treasured for a lifetime.
Vehicle And Boat Compass
Liquid filled plastic compasses are used in vehicles and boats. They are widely used in travelling, camping, etc., and thus serve as great gifts for travelers.
Ball Compass
The liquid filled ball compass is made with ABS plastic and transparent acrylic, and is available both with or without a chain. These can be used as automobile accessories.