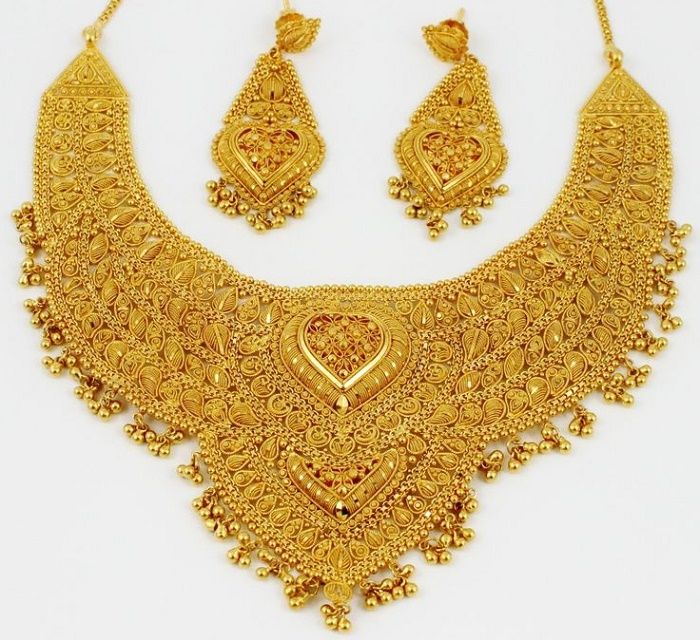 Image Source : https://www.pinterest.com/explore/indian-gold-jewelry/
Gold is an enticing metal and has been used to make exquisite jewelry for hundreds of years. It is one of the costliest materials known to man and has rescued many in times of financial crisis. In India gold is regarded as auspicious and considered as a symbol of goddess Lakshmi the goddess of wealth and prosperity.
Gold jewelry never goes out of fashion, is user-friendly and adds to the beauty of the person wearing it. Gold that is pure never reacts or causes skin allergies as certain metals tend to. It is a comparatively soft metal and can be made into any shape including tiny strands according to the desire of the goldsmith as it do not break very easily.
Handmade Gold Jewelry
In ancient times, Kancheepuram and Varanasi were the centers where gold jewelry was made. Gold was not only used in making jewelry but also in weaving saris and dresses. The craft of gold jewelry making has been popular and there is no evidence in history that shows that women have never adorned themselves with it. Precious and semi-precious stones are also embedded in gold jewelry and the use of gold in filigree work has also attained popularity.
During the Mughal period, gold jewels for hand and legs were tremendously in style as women wore Pardhas to cover themselves and only their hands and legs were left open. It is a custom for many people to buy gold jewelry during festivals like Diwali and Akshaya Thrithiya as goddess Lakshmi is worshipped.
Gold is measured by Karat (k) and higher the karat the higher the percentage of gold in it. There are different karats of gold such as 24k gold which is pure gold, 18k gold contains 18 portions of gold and the rest copper. Other metals are added to gold, as pure gold is brittle and cannot be shaped. So other metals are added to make it durable and also to lower the cost of the jewelry.
There are different types of gold jewelry available like gold coated jewelry, in which the jewelry is made out of some other metal like silver and a gold coating is done to finish the piece of jewelry, Gold Filled Jewelry and gold plated jewelry.