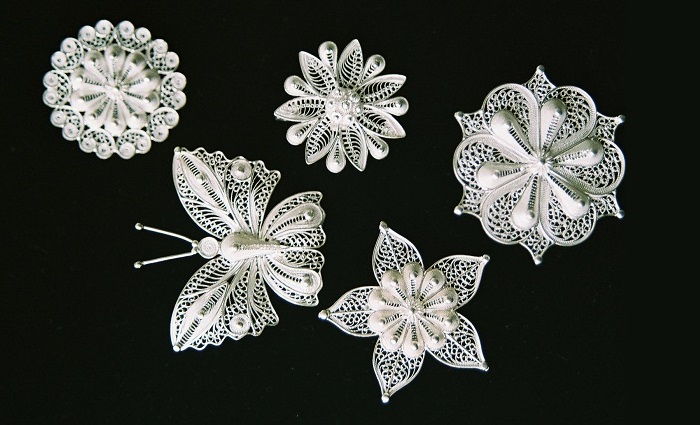 Image Source:  https://www.swadesi.com/news/2017/09/21/silver-filigree-cuttacki-telkari/
The word Filigree is derived from the Latin word "filum" which means thread and "granum" which means grain. Filigree work is a delicate kind of jewelry work that engages a lot of accuracy, patience and an eye for even the minutest detail. This work is usually done with threads of gold and silver that are twisted, stitched or attached together.
Handmade Filigree Jewelry
Filigree jewelry was once quiet popular in countries like Spain, Italy and Egypt. However, it has become popular in Indian and other Asian countries since the 19th Century. In India it is known as "Tarkashi" and the work is quiet unique. It is popular in the states of Orissa and Andhra Pradesh where the same old style of making is followed.
Filigree work is done with pure silver or gold and involves many stages. Pure silver or gold is made into small fine wires by hammering on an anvil made of steel or iron or passed through wire drawing machines .These two wires are again heated and wound on a rotating wheel and again flattened to make it into a single wire. This wire is then made into different shapes by bending it as per requirements. 
Filigree work is not only useful in making jewelry, but also to make different kinds show pieces, trays, bowls, spoons, plates, ash-trays, incense containers and many more decorative pieces. Various types of filigree jewelry like pendants, earrings, hairpins, brooches, etc. are today available in the market.