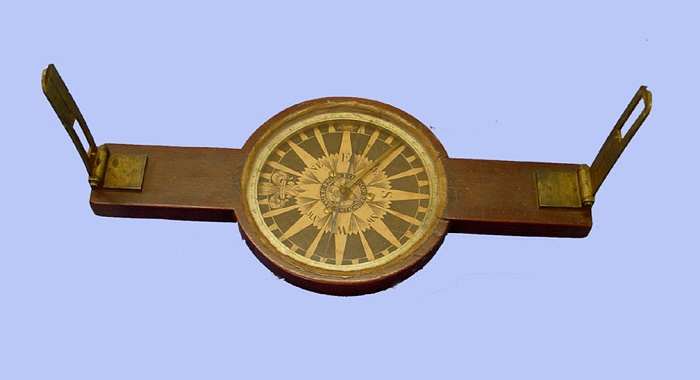 Image Credit: http://www.earlycorvettes.com/budinstruments/fducompasses.html
Surveyor compass is one of the popular nautical instruments, usually used with a chain when touring. This compass is used for determining the horizontal direction of a line with reference to the direction of a magnetic needle and it is considered as an accurate instrument for surveying. Most of the surveyor's compasses are made of brass, but wooden compasses with paper cards have become famous nowadays. Wooden compasses are not very accurate, unlike brass compasses, but will serve as great nautical instruments. These compasses are handcrafted with perfection using a variety of materials to give excellent finishing. Different breathtaking varieties of compasses are available today, which are cost effective and also meet the changing marketing trends.
Varieties Of Nautical Surveyor's Compasses
Surveyor's compasses are available in wide varieties of colors, providing a natural feel and texture. Given below are details about different nautical surveyor's compasses with distinctive patterns, designs and shades.
Surveyor's Pocket Compass
Surveyor's pocket compass is made from solid brass and is polished to give a beautiful shine. A small hardwood case can be used to give an extra look to this compass. If you want to gift this compass, then you can engrave your message on the back of the compass to give your personal touch. This compass makes a great gift for engineers and contractors.
Prismatic Tripod Surveyor's Compass
This compass is a fully functional prismatic surveying compass and yields sensible accurate results. It comes with an aluminum tripod and canvas cases. The design of the prismatic compass allows the user to simultaneously view the object. The compass case and lid are solid brass with a black powder coating which helps to prevent rusting. This serves as a great gift for surveyors and can also be added to your antique collection.
Classic Surveyor's Compass
This handsome surveyor's compass is made with brass and is provided with a three legged mounting base. They are the best nautical gifts for collectors.
Stand Surveyor's Compass
This compass is made with solid brass and is provided with an antique stand. The compass is mounted on a stand with three independently adjustable arms.