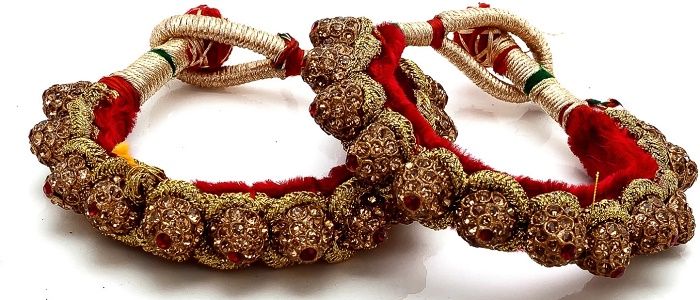 Image Source : https://www.flipkart.com/kalaai-lac-armlet-set/p/itme5y725ppf2zvt
Lac jewelry has gained immense popularity all around the world for its amazing craftsmanship. Lac is a secretion from certain insects and the material has been used to make jewelry from ancient times. Various items are made out of lac, such as lac bangles, bala, bajuband (armlets), rakhi's (bracelets), gajra's (anklets), timanivan and jod to name a few. Of these, lac armlets (bajuband) are the most sought after ornaments by the Rajasthani people, as they consider wearing lac armlets and bangles wards evil off and brings good luck to them. Though lac armlets were first made by the tribal people of Rajasthan, they are now a rage among the urban and young people.
Handcrafted Lac Armlets
Lac armlets look beautiful as they are brightly colored and are usually embroidered with lots of glass work. Even though it is a piece of artistic jewelry worn by girls, men also have started wearing it. This piece of jewelry goes well with traditional clothing like chaniya choli and saris. It also suits a combination of modern and contemporary clothes. For example, lac armlets blend well with jeans when combined with traditional Rajasthani sleeveless tops with a lot of glass work on them.
Making lac armlets is a very complex process. The lac (wax) is first mixed with a material similar to white clay and made into dough. It is then heated; mixed, kneaded and hammer pounded till it finally reaches the desired consistency. This mass is heated and the preferred shape is brought with the use of certain tools. Lac jewelry made in such a form is very thick and are firm. Glass beads, decorative wires and stones and glass are also used to make it look beautiful.
Lac armlets look like bangles and are attractive. They are made with twines at the ends in order to be tied. These armlets can be used as armlets as well as bracelets. Lac armlets look amazing and are usually termed as costume jewelry.
Rajasthani artisans have kept the tradition of making these ornaments from centuries. They now make a living by exporting such jewelry to various places in India as well as abroad.