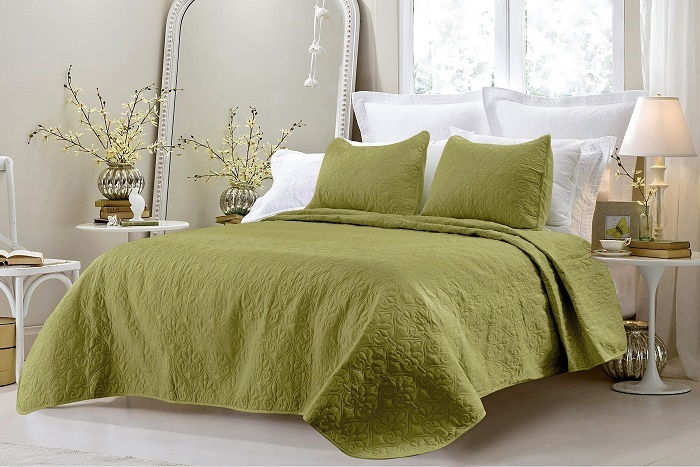 Image Credit: http://www.bedinabag.com/oversized-3pc-quilted-coverlet-set-dark-green.html
Usually called 'Coverir', by the French, a coverlet is a woven bedspread that is light in weight. They have been used as decorative pieces since the 19th century. Even though people have started using bedspreads in place of coverlets, they still find a place in a guest room as an enhancing piece of linen. They can also be used as throw blankets or picnic blankets and are available in various designs and colors all over the world anywhere in a departmental store or shops that are specialized in beddings.
Handcrafted Quilted Coverlet
Quilts are complex pieces of textile and the weaving techniques used are also very intricate. Quilts need to be treasured and ample care and protection should be taken to preserve them if you want them to last long. Quilted coverlets are pretty thin in nature with a few willowy layers in-between. There are numerous patterns ranging from geometric designs to friendship designs available. These quilts are highly decorative and showcase the stitches and unique fabrics. These designs are visible when the coverlets are spread on the bed. Quilted coverlets are mostly used by people in tropical climates where it hot almost throughout the year. They are used to cover beds or the sheets of the bed and not to keeping oneself warm.
Quilted coverlets are generally made from cotton and are available in various sizes. However, a quilted coverlet more often than not measures 70 x 92 inches, which is the size of a twin sized bed. If you need bigger or smaller ones, you can order for one with the desired specifications get it done. Quilted coverlets are also available in various designs like Phulkari work, Zari work, Bhandhini work, patch work and numerous other patterns that are attention-grabbing. Such quilted coverlets are by and large manufactured in countries like India, Egypt, Italy, USA, etc. Quilted coverlets have become a vital part of many a home décor today.