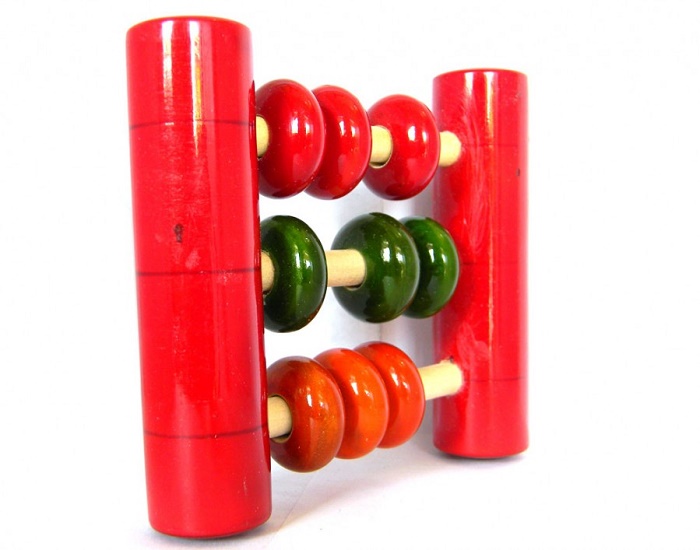 Image Credit: http://craftizone.com/handcrafted-wooden-abacus-rattle.html
Playing games is an integral part of all children lives. Children generally like to spend their time and have fun with toys that are colorful and make variety sounds. Tiny tots are happier when different rattlers produce different sounds. Rattlers are toys which attract the child attention with its multi-colored beads. Tiny tots love to arrange the beads according to their own wish. This process adds more fun while playing with these toys. Rattlers develop visual perception and the ability to distinct various geometrical shapes and colors. A rattler also widens a child?    observation skills and logical thinking. Rattlers are available in a wide-variety of shapes, sizes and colors. They also make nice decorative pieces to any room in one home!
Rattlers Handicrafts
Abacus Rattle
Abacus rattlers are designed with attractive colors to hold a child attention. They are generally crafted with bright colors to teach early counting skills. They are considered as one of the multi-purposed toys for kids, as they also educate a child on both colors and basic geometric shapes. Abacus rattlers are available in various geometric shapes which include squares, rectangles and triangles. These outlines are made of hardwood which is completely non-toxic. These toys are designed with beads which slide gently making sounds when shaken and thus hold many a child interest.
Dumbell Rattle
Dumbell rattlers are sure to be loved by babies. These toys are crafted with soft materials which cannot hurt the child. Dumbell rattles are beautifully designed with smooth and gentle colors which attract children. A tiny piece of metal inserted in the toy produces the sound. Babies will surely love these toys that provide a pleasant and reassuring sound. These dumbbell rattlers come in tiny sizes which can be easily gripped by the baby. Parents can choose rattlers which are filled with rattle beads at the bottom and plastic teething rings attached at the top. A dumbbell rattle can make an ideal gift for children below 5 years. Natural Wood Rattle Teething Toy
Parents look for safe teething toys to ease a babies teething pain can choose a natural wooden rattle. These wooden rattlers are handmade toys crafted with the woods of Oregon. They are further designed with copper, zinc and finished with all-natural bee? wax. They are available in light or medium colors. Wood rattlers can be easily handled by tiny hands. There is minimum chance of getting hurt by these rattlers as the edges of these rattlers are carved smooth.