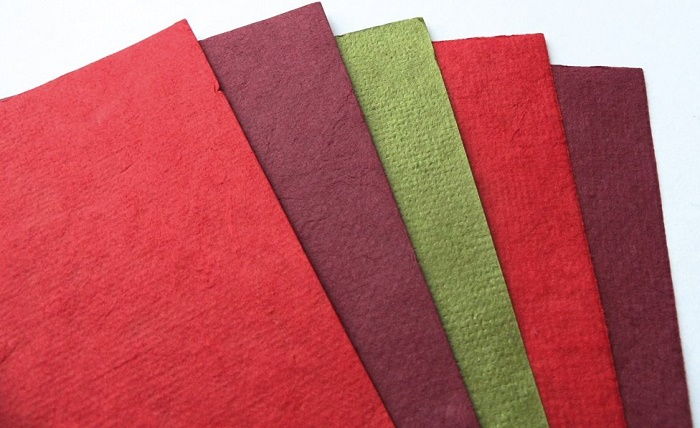 Image Source : http://www.hobbyworld.se/en/articles/2.170.10821/marianne-design-md-mulberry-paper-christmas-colors-rb2232
Mulberry paper is often called the "grand daddy of art papers". These papers are made from the barks of the deciduous tree called the mulberry tree grown in different parts of the world. Mulberry trees are native to Asia and are named as halibun, tapa paper, kalivon, kozo, etc. The name 'mulberry' is name borrowed from the west. Mulberry paper is made from a particular fiber from the mulberry trees. These fibers can be noticed as they run through the papers. However, at times the paper are made with such craftsmanship, that these fibers go unnoticed.
Handmade Mulberry Paper
Mulberry paper is available in a wide range of colors and sizes, and is also light in weight and is smooth in texture. This paper is very popular among many artisans because it is acid free. One interesting fact about mulberry paper is that it cannot be cut and has to be torn to create two separate pieces. This can be done in two ways. The first method by which you can tear the paper is to fold it in portions you desire. Make the edges wet and then the paper will tear leaving behind fuzzy edges which would look attractive on any piece of art. The second method by which you can cut curves and shapes is to use wet cotton swabs on the paper and draw shapes. You can then easily remove the desired shape.
Mulberry paper is versatile and can be used as art and craft paper, paper to cover scrapbooks, accent papers, paper that can be used to wrap gifts, invitation cards, book covers, envelopes etc. Many artists are known to use mulberry paper to correct their tampered paintings or art work.
Mulberry paper is available in various categories like mulberry marbles, mulberry Hand painted Batiks, mulberry smooth, mulberry floral etc. This paper is available with any craft material supplier.