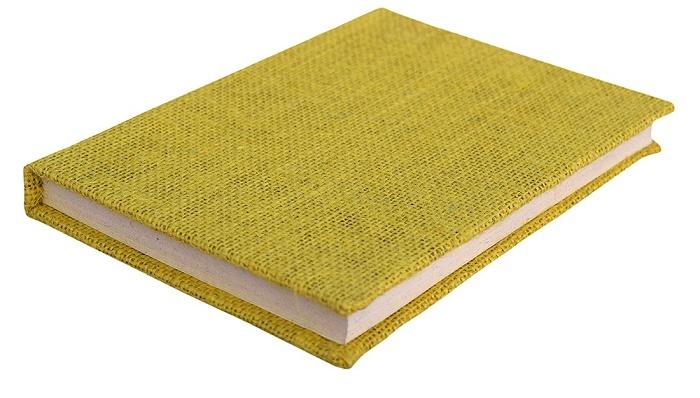 Image Source : http://eshilp.com/handmade-jute-paper-diary-jute-fabric-cover-pasted-binding-yellow.html
Jute is a strong indigenous Indian plant fiber that is hardy and very eco friendly. Jute paper is handmade from the Jute plant fiber and is very strong in nature. The bark and the core are separated and a pulp is produced. This pulp is used to prepare the jute paper. which are equal to the papers produced from wood. The bark makes the paper strong and the core fibers make the paper soft and with appreciable surface.
There are a few advantages using jute as pulp for paper making. Making paper from this plant fiber does not involve the use of harmful chemicals like chlorine. Moreover, it also consumes less energy as jute has a very low lining content.
Uses of Jute Paper
Jute has a number of uses. Some of them are listed below.
Jute paper can be stitched easily and it can also be combined with fabrics or other varieties of paper and used in multimedia art.
It can be used as packaging material and can also be made into paper bags.
Craftsmen use it in various forms of craft and art.
It is used in the making decorative material and attractive wall hangings.
How Jute Paper Is Made
Firstly, the jute is sorted by hand and unwanted dust and materials are removed.
Then the material is chopped into small pieces.
The chopped material is then soaked in water and the necessary chemical are added for color and consistency.
The pulp that is thus formed pulp is well diluted in water and then put in a silo.
Using a deckle and a mold, the pulp is lifted and the extra water is allowed to drain.
The wet pulp is then transferred to an already built up stack of felt sheets.
Allow the sheets to dry after squeezing out all the excess water.
Many treatments like cold pressing or calendaring can be done to get the desired paper.
When the sheets are dried up, you get eco-friendly and biodegradable jute paper.