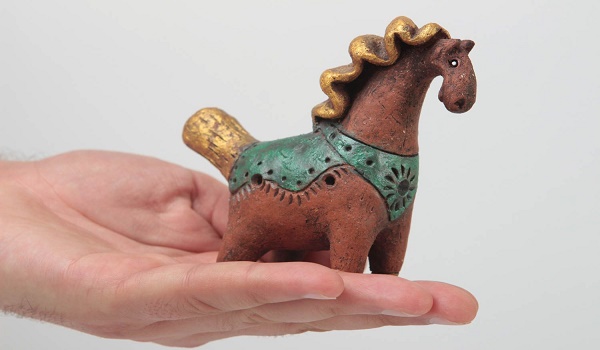 Image Credit: https://madeheart.com/en/product/390098773/Handmade-whistle-made-of-clay-stylish-eco-toy-unusual-music-toy-horse.html
Clay is a material that is naturally available from the earth made up of fine-grained minerals like hydrous aluminum phyllosilicates and with few other minerals like iron, alkaline metals, alkali minerals, magnesium, etc. Clay has a tendency to act like plastic as it hardens when baked or dried. India has the finest tradition of making of toys and it dates back to over 5000 years. The first clay toy that archeologists unearthed was that of a child and a mother, which is a symbol of motherly love. Toys are like lamps which guide children through childhood to adulthood. Through these toys children are taught the age old tradition, stories with morals, about Hindu mythology, rituals and spirituality which lead them to the good path.
Handmade Clay toys
The state of Clay West Bengal in India has a rich tradition of making clay toys for a very long time. These clay toys have a distinct place among other many art forms. This craft of pottery is practiced by people of a particular village in west Bengal and some places like Goalpara in Assam. Children start learning this craft at a very early age, but it is said that anyone can become proficient in the art of clay toy making only at the age 15.
This is said to be a seasonal craft and these clay toys are made only during the festival of "Shyama Chak". During this festival, girls and potters mold the images of "Shyama" or Lord Krishna. After the festival is over, the potters become busy in making other household essentials.
Clay Toys From Different Places
In West Bengal other than making clay images of Gods and Goddess, they make images of temples, huts, domestic animals, peasants,  dancing figures that are brightly colored, etc.
Toys from Krishna Nagar in Nadia are the best and always stand apart among other clay toys. The people of this village make toys from the clay taken from the banks of the river Churni and are model them into desired figurines with utmost care and attention. The toys are mostly based on village scenes and images of deities.
Bihar is also famous for clay modeling and the clay toys are all of abstract forms like herds of elephants or a group of dancers surrounding a particular person, etc. which are remarkably beautiful.
Kondapalli in Andhra Pradesh makes some of the usual dolls and toys out of a combination of cow dung, sawdust and clay and coat them with glossy colors.
How Clay Toys Are Made
The clay is molded to desired shape and then baked or dried in the sun. After this process, it is either painted or it is left crude. These figurines are mostly flat at the back and the desired image is obtained at the front with all the necessary curves. They are usually 3 to 5 inches in height but it can also be up to 1 foot. Clay toys are considered as a visual connection between the soul and God.