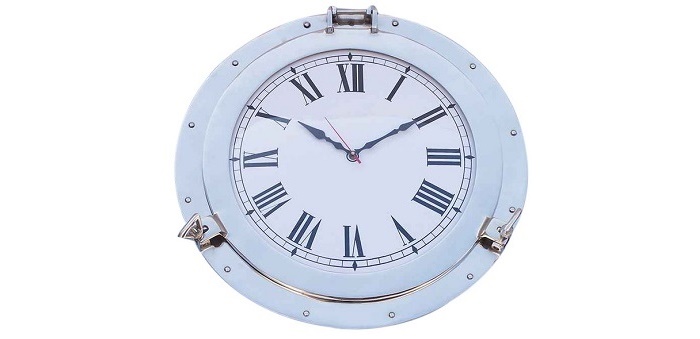 Image Source : https://www.houzz.com/product/97143311-chrome-decorative-ship-porthole-clock-17-decorative-clocks-modern-clocks
It is extremely easy to amplify one's home with a wide range of nautical decorative items that are available in different shapes, sizes and designs. Nautical products add a traditional charm to your living space. Nautical handicrafts not only add beauty to a chosen space, but can also take a person into the deep and isolated world of the ocean. This thrilling and wonderful beauty of the sea can be echoed with nautical showpieces. They also make perfect gifting items. Each nautical item is designed with exquisite craftsmanship and intricate details.
Porthole Clocks Handicrafts
Porthole clocks are a perfect blend of old world charm and classiness that can help transport a person to a time when the men of the sea ruled the world. The 18th century saw the birth of nautical clocks, which are still considered to be one of mankind's greatest inventions. A nautical clock is a functional marine chronometer which can help a man at sea determine the exact time and details regarding longitude via celestial navigation. Today, due to the arrival of the GPS (global positioning systems) and satellite-based time synchronization systems the demand for and production of nautical clocks has reduced considerably.
Solid Brass Submarine Porthole Clock
The solid brass submarine porthole clock is designed with stainless steel, a high mirror finish and precision quartz movement. This artifact is capable of adding style and a contemporary touch to any boat or home.
Porthole Clock on Wood Base
Porthole clocks were introduced somewhere in the beginning of the 18th century. These clocks are designed with wood and brass and are carved to resemble a ship's steering wheels. They are crafted with a lot of attention given to details and design. There are myriad porthole clocks that can help add beauty to a any particular living space.
Nautical Porthole Clock
Nautical porthole clocks are uniquely designed with the assistance of shiny brass polish and exquisite finishing touches. They can make for a good decorative piece for both a home and an office. A nautical porthole clock is not susceptible to corrosion and requires little maintenance. These clocks are available in various sizes at reasonable prices. A great buy, indeed!
Ship Wheel Clock
The ship wheel clock is crafted from seesham wood. These handcrafted clocks are highly sought after in the open market. Ship wheel clocks are available in various ranges and patterns.