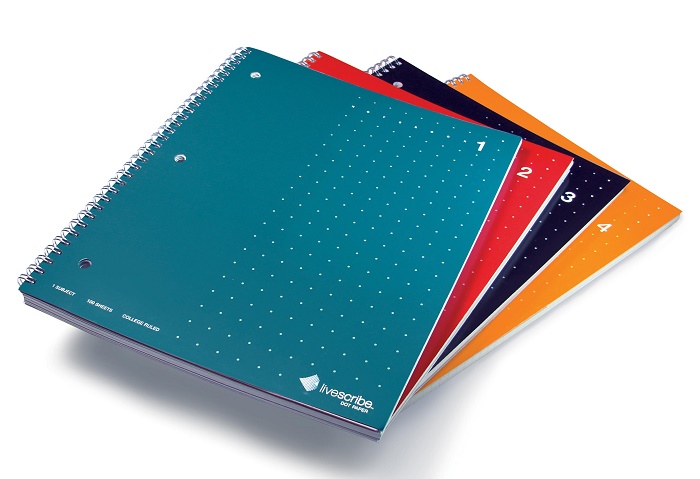 Image Source : https://www.amazon.com/Livescribe-Single-Subject-Notebook-4-pack/dp/B001AALJ1I
Notebooks are usually nothing but a group of papers bound together. They can be used for writing, scrapbooking, taking notes, drawing, and painting, anything for that matter. Paper notebooks are different from notepads and can be identified easily by their surface type, size and weight, the cover and the binding material used. There are two kinds of notebooks usually available, the ruled and the plain ones. The ruled paper notebooks contain a set of lines in print and the plain ones do not have any lines. Certain paper notebooks called 'inventors notebooks' contains numbers printed on every page.
Handmade Paper Notebooks
Many paper notebooks also contain various graphics and designs printed on the pages. People in different professions prefer various kinds of notebooks such as Lawyers prefer legal pads that are usually yellow in color with lines in them, and journalists prefer small handy sized notebooks. There are paper notebooks available that cater to the needs of every person.
Paper notebooks are available in various sizes ranging from small ones to the large ones for one to choose from. Now-a-days, eco-friendly paper notebooks are available in stationery stores widely. However, these paper notebooks differ in quality. Paper notebooks are available either spiral bound, ring-bound or perforated. Notebooks that are spirally bound are much cheaper than the other type of bounded notebooks and they are easily removable, whereas the hard bound notebooks are thick and cannot be easily removed. Perforated notebooks are in particular made for doctors and medical experts, who can write the prescriptions and hand it over to patients.
The covers of paper notebooks are also made of paper, but are thick, durable and more decorative and colorful in nature. The paper covers are made thicker in order to protect the other pages of the notebook.
Paper notebooks are available at any stationery or general store and they are mostly bought by school and college students, doctors and professionals. There are various types of notebooks like hard cover paper notebooks, soft cover paper notebooks, drawing paper notebooks, long sized paper notebooks, graph paper notebooks, practical paper notebooks, etc. and the papers used in these paper notebooks are always smooth and are made of various papers like cream wove, map litho, mango paper, tapa paper, litho paper, jute paper, straw paper, etc.
Even though, laptops and desktops have taken the places of paper notebooks, paper notebooks always have a special place.