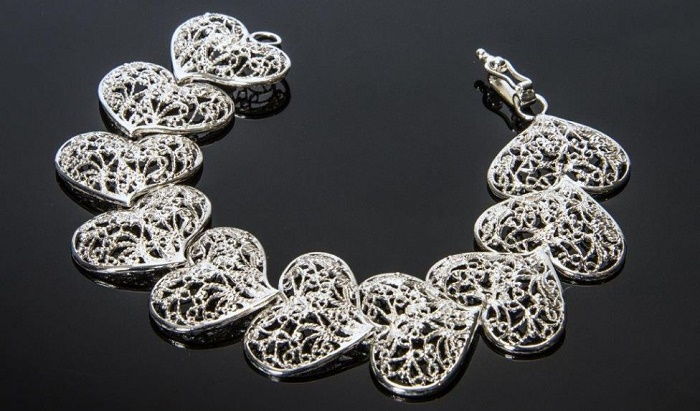 Image Credit: https://www.prlog.org/12527549-washington-dc-boutique-features-handmade-peruvian-silver-jewelry-pop-up-store-for-valentines-day-gifts.html
Silver is one of the most popular metals to make jewelry with. Since pre-historic times, women have loved to adorn themselves with jewelry. They are the most charming fashion accessories of all times. Silver jewelry graces a woman with a high fashion quotient and also draws a lot of attention to its fresh and sparkling look. In recent times, most women are being attracted to silver as opposed to gold. It is adorned for all festive occasions by women all over India. Generally, tribal people invest more on heavy jewels as they are also a form of financial security during crisis. Earlier it was a practice (in a greater part of India) to melt old jewelry and make new jewelry. However, today old silver jewelry enjoys high market value and is also extremely fashionable. One can find silver jewelry in the form of rings, earrings, pendants, bracelets or necklaces. Silver jewelry can look elegant on the wearer and even add an iridescent shimmer to a outfit for a night party. If you are looking to impress a woman, silver jewelry as a gift is the way to go.
Silver Jewelry Handicrafts
Silver Rings
Silver rings are the most fundamental and charismatic ornaments that are considered to be the most popular fashion accessories amongst the youth today. These ornaments are both attractive and trendy.
Silver Earrings
Silver earrings look great on everyone and suits any occasion. They are extremely popular and just as attractive. Silver earrings are therefore considered to be one of the most fashionable jewelry items in the world today.
Silver Bangles
Silver bangles are sure to attract consumers who can belong to the group of present day fashion conscious young girls. Silver bangles can be elegantly worn separately or in sets. Silver bangles are eye-catching and extremely trendy. A silver bangle studded with precious diamonds always enhances the appeal of the wearer.
Silver Necklaces
Silver necklaces are exceedingly popular amongst fashion conscious youngsters. Silver bangles can also make for the best present to the woman you love.
Silver Bracelets
Silver bracelets are delightful ornaments and look great on almost everyone. Silver bracelets are worn by both men and women. The bracelets bring about a delicate feminine elegance in women belonging all classes and age groups.