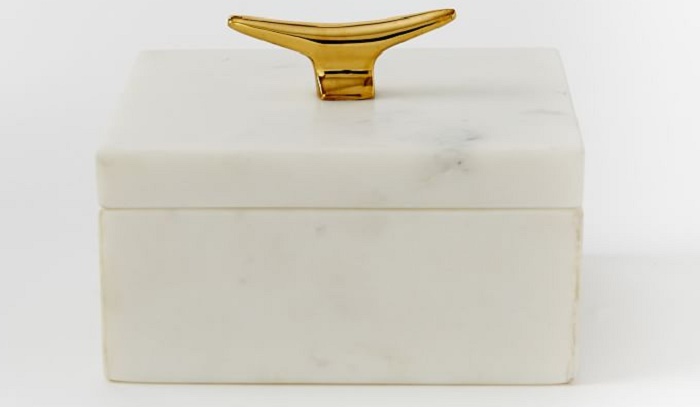 Image Source : https://www.westelm.com/products/marble-cleat-boxes-d2195/
The word Marble is derived from the Greek word "mármaron" which means "shining stone" or "crystalline rock". Marble, a metamorphic rock is composed of limestone and other minerals like dolomite or calcite. When limestone undergoes great pressure for a long time, it turns into marble. Marble when compared to limestone is tougher and looks more beautiful, and people love to use them for various building and ornamental purposes. Marble primarily is white in color. However, at times marble can have tinges of black, grey, yellow, pink, green, buff or red. This makes it look amazingly attractive as they are arranged in patches due to impurities present.
Handmade Marble Boxes
Marble has been used since ancient times, especially in countries like Greece, Italy and India. It has been used to make statues, flooring and other ornamental works of art. Marble was also used to build walls in churches, temples and palaces. How can one ever forget the magnificent Taj Mahal, a world renowned monument built in beautiful white marble in the 16th century? Marble is very expensive and only a very few can afford to buy it and it is considered as a symbol of status. It is a naturally occurring stone and can be transubstantiated into boxes that look really stylish and chic. In olden days, parents gave away such boxes as gifts to their daughters who were getting married.
Marble boxes may be painted, carved, embellished, engraved, polished and at times beautified with minakari work or studded with semi precious stones. These marble boxes are custom made according to the taste and need of an individual. No two boxes are alike, as they are crafted by excellent artisans. These boxes vary in size from small sized jewelry boxes or cigar cases to large candy holders. These are good choices for gifts and can be gifted to anyone for any occasion.