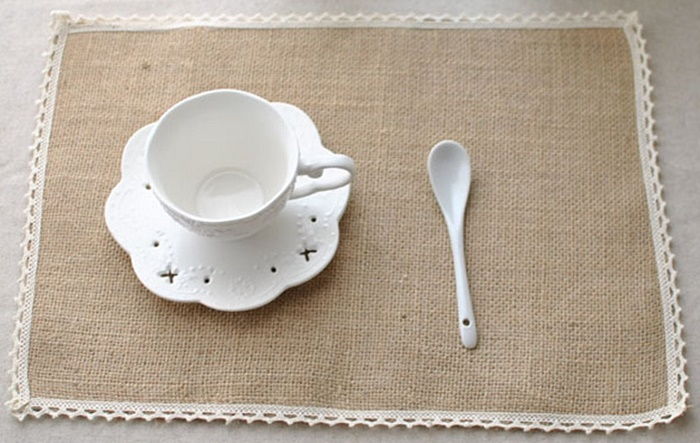 Image Source : https://www.amazon.com/Burlap-Placemats-Nature-Woven-Wedding/dp/B01F5OCCNS
Half of the process of the table decoration is complete, if the right tablemat is selected. These tablemats are also called as placemats. Tablemats are usually placed on a table cloth or directly on the table and these table mats give an accent to the table and also signifies the dinning mood. Tablemats are usually available in various contemporary and traditional patterns and are available in various sizes ranging from 12 to 40 inches. These are really alluring when placed on the table and the patterns, designs and textures compliment with each meal served.
Handcrafted Jute Table Mats
There are usually numbers of textured placements available like bamboo table mats, plastic table mats, cotton table mats, etc and among them Jute placements are the most sought for its color and designs like floral, geometric or paisleys and very abstract patterns. They are also available various shapes like square, rectangle or circular. One can select the number of mats according to the seats available at the table whether it is 4, 6 or 8.
Jute tablemats are made from jute which is usually bio-degradable and eco-friendly. These mats are now-a-days available in huge choices as they have to compete with other material mats available in the market. Jute table mats compliment well with any kind of dining table, whether complimentary or traditional. They are also available in various designs and also with slots where one can insert napkins to it and they look ethnic and are very easy to clean too. They are hand woven and are very durable and even kids get attracted towards it, as there are separate patterns available for them. These mats give a wonderful dining experience.