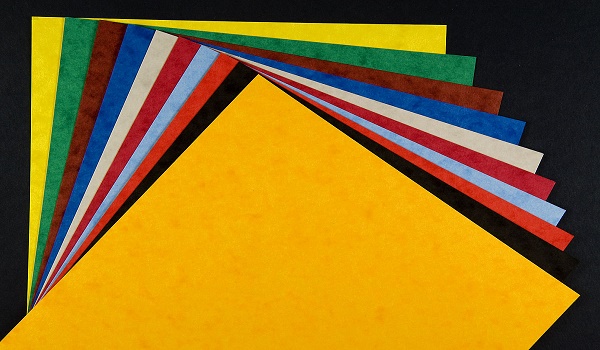 Image Credit: https://en.wikipedia.org/wiki/Card_stock
A card stock paper is also called as pasteboard paper or covers stock paper, and is a very high quality paper. These papers are heavy in nature and may be coated or uncoated depending upon choice and thus the name cardstock paper. Card stock paper is usually thicker than regular paper that is used for writing or printing, but flexible than the other paperboards. It may contain colored textures that look rich on one side and may be smooth on the other side. Cards made from this type of paper can be used to make elegant decorative paper with the help of embossing tools.
Handmade Card Stock Paper
Card stock papers are generally made from leftover vegetable fibers and are thus eco-friendly in nature. At times mulberry leaves, figs, flowers, silk fibers, tree barks, etc are included in making of card stock paper. Inclusion of these materials adds flexibility and quality to the card stock that attracts the end user. These are available in a wide range of colors and intricate patterns that are useful for wrapping or packaging gifts. At times natural colors are used and that adds to the attraction of the paper. The weight of the paper varies from 10gm to 200gm and in different sizes ranging from 3.5X 5 inches (approximately 8.89 X 12.7 cm) to 12 inches (approximately 30.48 sq. cm).
Types Of Card Stock Paper
Natural card Stock
Natural Card stock is usually off white in color and is to some extent embedded with grey colored jute fibers.
Bright Card Stock
Bright card stocks are usually deeply shaded and are mostly used in cards, collages, album pages and other craft items.
Patel Card Stock
These cards are beautiful and are made of cotton and come in pastel shades.
Earth Tone Card Stock
These cards brown IN color with a gloss on one side.
Floral Card Stock
Floral Card stocks have sophisticated floral patterns.
Uses of Card Stock
Card Stocks are used widely by artisans for art and craft work.
It is used in making greeting cards, postcards, invitations and other business cards.
They can be best used in scrap books too.
They look best when used as a base for artwork and photographs.
Card stock paper is used as binding material, report covers, file covers, etc.