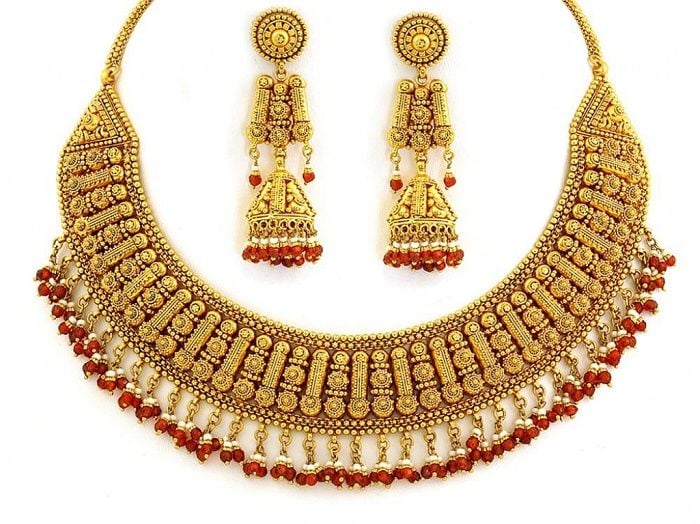 Image Source : http://www.gemnjewelery.com/blog/what-is-jadau-jewelry-its-history-and-popular-uses/
Jadau is a very traditional form of jewelry making practiced since the era of the Mughals in Gujarat and Rajasthan. Jadau jewelry is jewelry in which semi precious, gems, precious stones, beads and crystals are embellished.
Handcrafted Jadau Jewelry
Jadau jewels are made by gold which is made flexible by melting it. Once the gold is semi solid, stones are fixed on it meticulously. After the gold cools, the stones and other gems get fixed on it automatically without the use of any adhesive. Making jadau jewelry involves a group of craftsmen like Chiteria's who make the basic design, Ghaaria's who make the engravings and make the holes, Enameller's who do the minakari work and the goldsmith who takes care of the kundan work. All these processes are done with great care and attention by setting the stone or enamel on a silver foil and then finishing it with pure gold. Now-a-days, Jadau work is not only done on jewelry, but also on showpieces and jewelry boxes.
The main attraction of Jadau jewels are that a central uncut diamond called 'vilandi' or 'polki' are placed and minakari or any other sort of art work is done to beautify it. Jadau jewels are crafted with greatest care and attention.