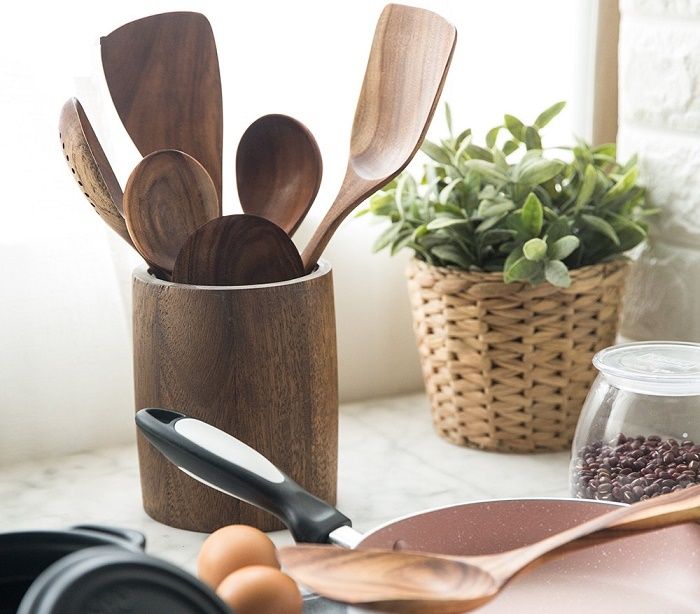 Image Credit: http://www.aliexpress.com/popular/teak-wood-kitchen.html
Kitchen ware consists of dishes, utensils, cookware and other essentials that we use in kitchens. Cooking can be tough without good kitchen ware around. Wooden cook ware has been are around since ancient times. Though most people now use utensils made of stainless steel, wooden utensils still have their place as they are eco-friendly, durable and attractive as well.
Handcrafted Teak Wood Kitchen Ware
Among wooden kitchen wares teak wood kitchen wares are really amazing and people love to buy them. Teak or Tectona is a tropical tree from the family Verbenaceae. Teak is an age old tree and lives for more than 100 years. People prefer teak wood kitchen ware and other furniture as they are durable, can withstand any weather and are resistant against bacterial and fungal decay. These trees are found in countries like India, Burma, Myanmar, Indonesia, Malaysia, etc. Teak wood from Burma is said to be of the highest in quality and is expensive too.
Now-a-days teak wood kitchen ware like spoons, lime squeezers, mixing spoons, etc, are hand-crafted and polished, and look great. Because for its non-decaying property and low maintenance, teak wood kitchen ware are widely used and preferred. Sometimes teak wood kitchen wares are combined with brass handles to make attractive spoons and lemon squeezers.
Cleaning of teak wood kitchen wares is also easy to clean. All you need to do is to wash them with mild detergents and wash them with warm water. Bear in mind that wooden kitchen utensils should never be soaked in water for too long, as this will ruin them. You can also coat these teak wood utensils with mineral oil which will help the utensils from turning rancid. You can also buy teak cleaners available in the market to clean them.