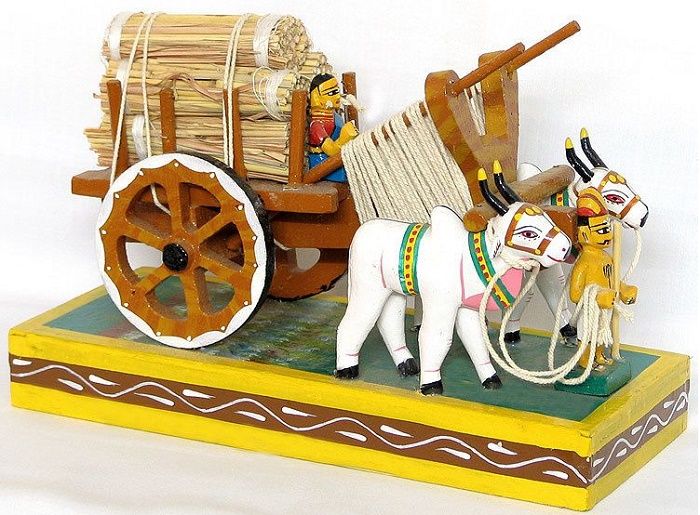 Image Credit: https://www.dollsofindia.com/product/wood-sculpture/bullock-cart-HA24.html
Toys and dolls are considered as an integral part of traditional cultures across the globe. Toys replicate both fantasy as well as tangible worlds. A child learns his/her primary lessons when playing with these handcrafted toys. There are several varieties of toys designed throughout the world. However, India is specially known for its wide variety of crafts. In India, bullock cart toys are designed and are of great demand in the handicraft market. As bullock cart encapsulates village life and it acts like a symbol of Indian tradition and living. A bullock cart is an Indian traditional two-wheeled rural farmer's vehicle which is used on his way to the fields. Generally the cart is pulled by one or two oxen, and is used for carrying goods or to plough the fields in the villages. Today, one can hardly find these bullock carts in villages; they have been substituted with other modern equipments. Bullock carts are designed in the form of toys and are used as decoration items in homes and offices.
Brass Bullock Cart Craft
Brass bullock cart crafted toys are said to be the oldest form of metal casting. Generally, artisans use brass scraps as raw materials to design these bullock cart toys. This kind of art is also known as metal crafts and they have come a long way since ancient times. In metal crafting art, firstly they make a wax model of the object which they wish to design. Then the artisans pick up clay and pours molten metal into a hole in the mould. This way the wax melts and the clay is broken away to get the smooth and polished metal toy.
Wooden Cart Toy
As the name suggests wooden cart toys are designed with wood. These wheeled toys roll around and add fun to the kids playing activity. They are environmentally safe and suitable for children. These toys are available in various colors and are decorated with beautiful art work. They increase a child's running capacity and exercise your baby's hand-eye coordination. Wooden cart toys are a blend of classic styles and form. They are also used as home and office decors.