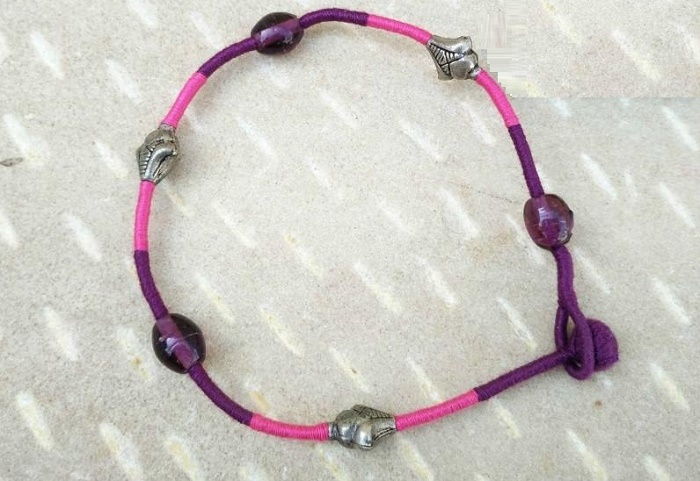 Image Source : https://craftsandlooms.com/products/patwa-anklets-thick-thread-rajasthani-anklets
Anklets are usually a piece of jewelry worn around the ankle by women. They have been used in many ancient cultures around the world and are probably one of the oldest ornaments to be used. Anklets are also known as an 'ankle chain' or 'ankle bracelet' and are available in various materials, shapes and sizes. Among the prominent materials with which anklets are typically made, jute happens to the most preferred material, and anklets made from this material are known as 'Hemp Anklets'. People living in tropical climates prefer jute anklets as this type of jewelry stay intact even during a scorching day in the summer and are also pretty comfortable to wear.
Handcrafted Jute Anklets
Jute anklets go well with any type of traditional wear and trendy outfits. They are elegant and ethnic at the same time. There are various beautiful designs available for one to choose from.
Jute anklets are a pretty modern from of jewelry and can be traced to the early 20th century. Since then Jute anklets have become a fashion statement among the fashion conscious generation of today. With more stress on going green and being eco friendly, many people now opt for these anklets when compared to anklets made from gold or silver.
When combined with beads made from plastic and glass jute anklets tend to look great. These jute anklets are available in a wide range of colors and they are prepared from vegetable fibers. These anklets are generally of two types, one with clasps and the other with threads hanging at the ends that can be tied. The jute anklets can also be used as bracelets.
If you have a stint of creativity in you, you can create your own jute anklets that would match the color of the dress you wear. Artisans from countries like India, China and Bangladesh are extraordinarily skillful in making jute anklets and other jewelries made of jute and are in more demand in countries like the US, UK, Canada and European Nations.