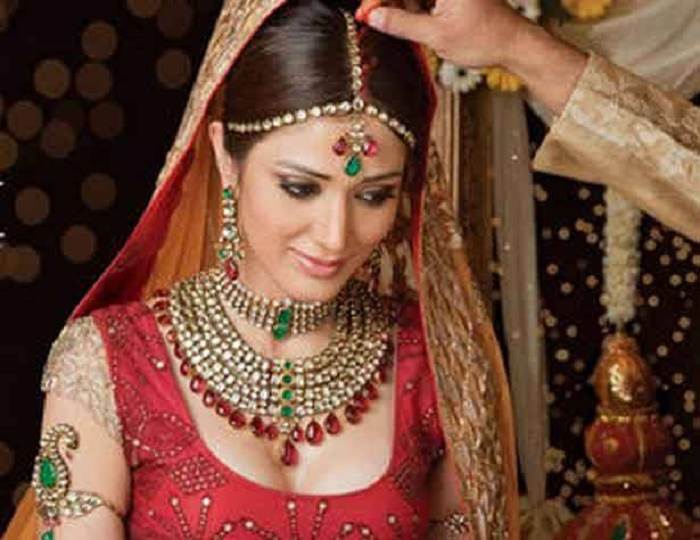 Image Credit: http://navbharattimes.indiatimes.com/photo/19780844/pic.jpg
For a woman, her wedding day signifies the culmination of all her hopes and dreams, beginning of a new chapter, and she definitely wants to look her best on the designated day. As an individual who is transitioning into a hitherto unknown space, a completely new role, she has to look her best on the chosen day. It is supposed to make her feel good about herself and invoke confidence to take her new life on. The term 'Solah Shringar' literally translates into sixteen adornments that have been defined by the Hindu scriptures as sixteen mandatory parts of a woman's ensemble. Each of these adornments is believed to enhance the girl's beauty and establish her in this Goddess-like aura. Hindu literature is replete with examples of poets and writers appreciating women's beauty, after them having embellished themselves with these mandatory adornments. Multiple authors have celebrated the painstaking efforts that a woman puts in to make herself look irresistible to her loved one through Shringar Rasa, one of the most celebrated of the nine Rasas. Kalidas's romantic treatises like 'Abhigyanam Shakuntalam' and 'Kumarsambhavam' celebrate this to engage the reader's attention to the beauty of his female protagonists. Women are to opt for the Solah Shringar when they want to look their absolute best and to create most impact at a given day. These sixteen adornments beautify her from head to toe and contribute to her complete beautification. The adornment consists of traditional makeup, stunning jewellery, floral embellishments and painting of body parts. It a process of complete makeover, the must have accompaniments to that stunning bridal outfit. So, for all the girls waiting to be brides, here is a quick look at the elating procedure of solah shringar.
Pre-Shringar Bath
Before applying the customary adornments, the bride's hair is to be oiled properly and then washed with a mixture of water, reetha and milk. The hair is then dried and fragranced with the aid of incense sticks. The dried hair is then styled into elaborate braids and finally tied in a bun. Then a paste of turmeric, sandalwood, milk and saffron is to be applied to the bride's body to provide glow to her skin. After bathing off this paste, the bride is draped in her bridal saree that is usually red in colour.  Now begins the process of Solah Shringar, adorning her from head to toe.
Solah Shringar
1. Bindi:
Bindi refers to the coloured dot that women wear at the centre of their forehead. Red is the preferred colour in case of a wedding, but can be exchanged for other colours keeping in sync with the wedding dress. The bindi signifies luck and prosperity for Hindu brides. For wedding the bindi is elaborated further with addition of dots and vine motifs along with the eyebrow, with inclusion of other colours or just plain kumkum and sandalwood paste.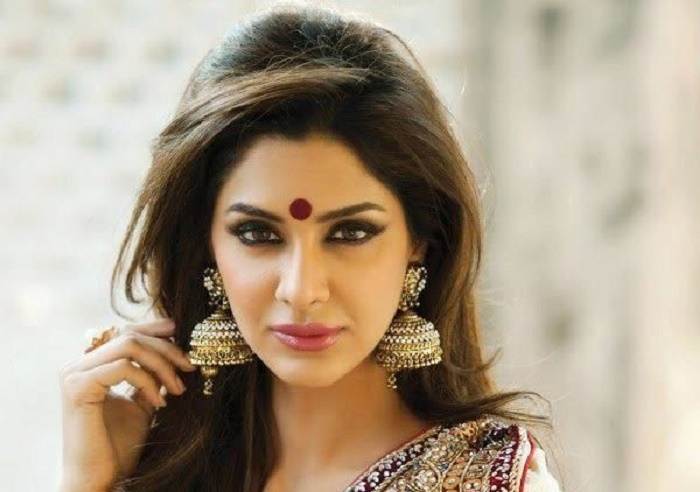 Image Credit: macaulay.cuny.edu/eportfolios/whatwewear/files/2015/05/bindi.jpg
2. Sindoor or Vermillion:
It is a red-coloured powder that is applied on the parting of the hair. It is customary that sindoor is applied to the bride's forehead by her husband for the first time. This ritual of application of Sindoor singles out married women from unmarried ones, and retention of the sindoor is considered auspicious for the well-being of the husband.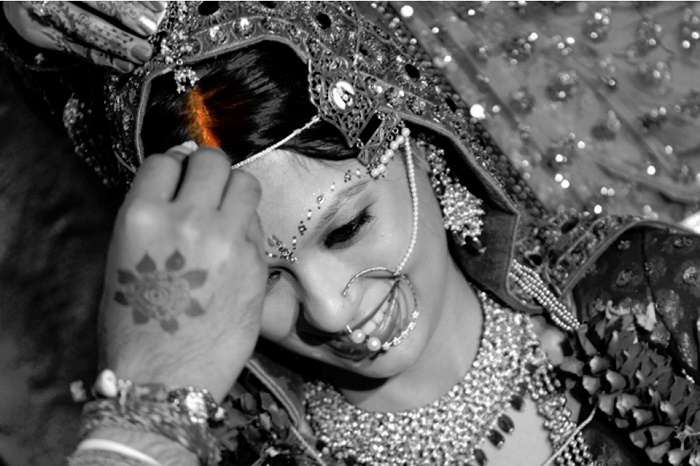 Image Credit:
ourvivaha.com/blog/wp-content/uploads/2013/06/sindoor.jpg 
3. Maang Tika:
The Mang Tika is the first piece of jewelry that goes on the bride's body. It is applied to the parting of the hair, a chain is attached to the hair and a round or oval embellished part extends to the forehead. It may be made of gold or silver, studded with precious stones. The Borla is an equivalent of Mang Tika for Rajasthani brides while the Maharashtrians wear Mandoria.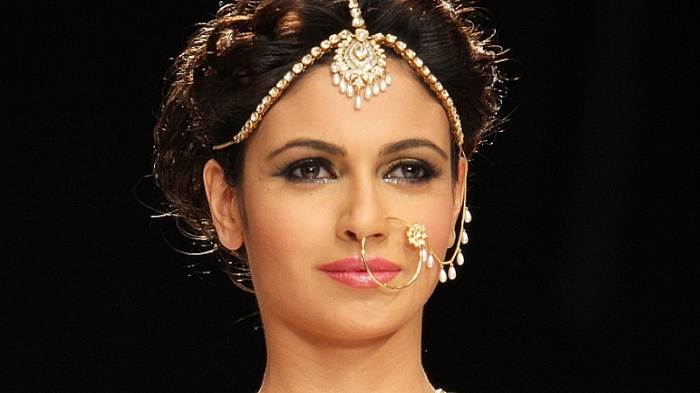 Image Credit: jivaana.com/blog/wp-content/uploads/2017/01/Maang-Tika.jpg
4. Kajal or Anjana:
A black dye made out of soot from the diya or coal fire and mixed with oil, is generally applied to the eyes. It is applied to line both the upper and lower eyelash lines. It makes the eyes look more enticing, by giving it a defining shape and a hint of mystery.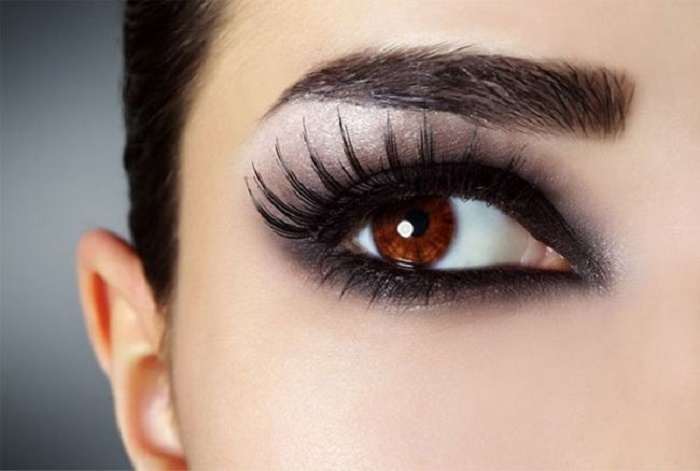 Image Credit:
fashioncentral.in/wp-content/uploads/2015/01/Apply-some-loose-powder-under-your-eyes.jpg
5. Nath or Nose Ring:
A nose ring is worn through the left nostril by married Hindu women on wedding and other auspicious occasions. It is perhaps one of the most ethnic Indian ornaments, worn through a piercing in the nostril. It is generally made out of gold and silver, as big as a bangle or as small as a nose pin, with precious stones studded and generally having a chain on one side connecting it to the hair behind the ear. The Maharashtrians wear a distinct style of nose pins known as 'guchhedar nath' made of small pearl beads along with colourful stones.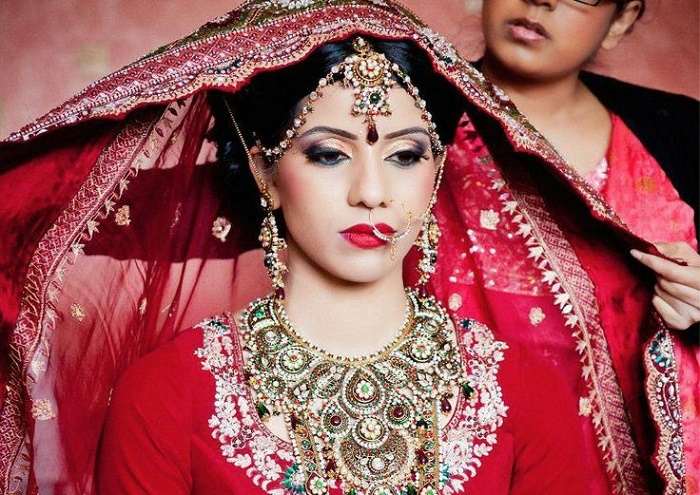 Image Credit: Pinterest
6. Karn Phool or Ear Ornaments:
Earrings are an indispensible part of bridal attires. These are generally made of Gold, and are usually complementing the necklace worn. Popular styles adopted are Jhumkas, Chandbalis, and danglers. Some also include Kaan Phools, elaborate ear-cuffs, while some just include simple Kaan-chains. Diamond, Kundan and Meenakri are popular design choices for earrings currently.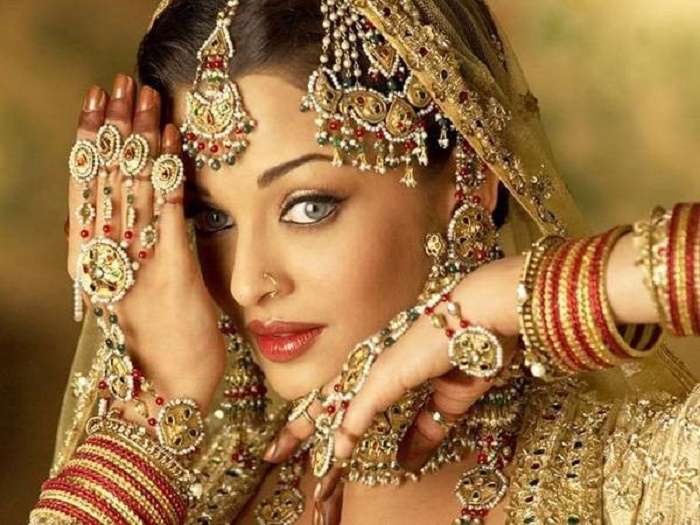 Image Credit:
polkacoffee.files.wordpress.com/2015/09/aishwarya_rai_haathphool.jpg
7. Haar or Necklace:
The Haar or the Necklace is probably the centrepiece of the whole bridal outfit. Indian brides generally wear more than one necklace on their wedding day, preferably in layers. There are several types of necklaces such as simple gold chains, short or long, Chokers, Haars or long elaborate decorative necklaces that are usually made of gold and often set with precious stones. Kundan, Filigree, Meenakari and Jadau are types of embellishment Indian jewellers do on necklaces. Another prime piece of jewellery to be worn around the neck for Indian married women is the Mangalsutra. Made of black beads along with a gold centrepiece, often studded with diamonds, it is worn by Indian women as a token of love from their husbands.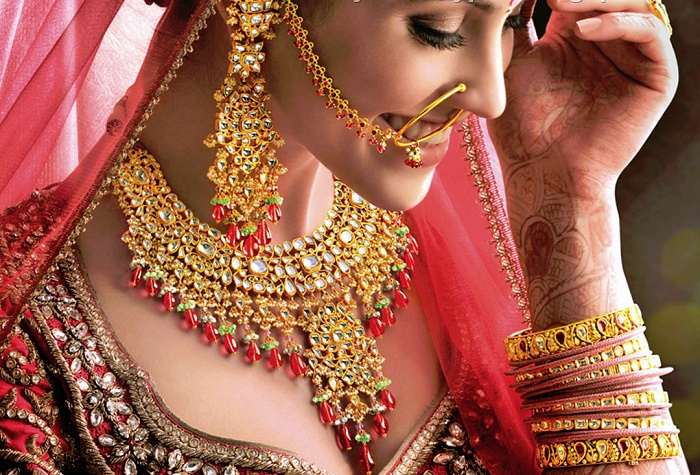 Image Credit: http://www.fithai.com/wp-content/uploads/2014/02/best-stylish-indian-jewellery-fashion.png
8. Mehendi:
Mehendi or henna is the art of applying the paste of an indigenous herb in elaborates designs on the hands and feet of the bride which imparts a deep red colour. The richness of the colour has immense significance in Indian culture as it symbolizes luck, prosperity and fertility. It is said that if the colour is deeper, the bride will be appreciated and loved by her in-laws. It is customary to include the groom's initials in the mehendi designs and as a post-wedding ritual the groom has to search for it on the bride's painted hands.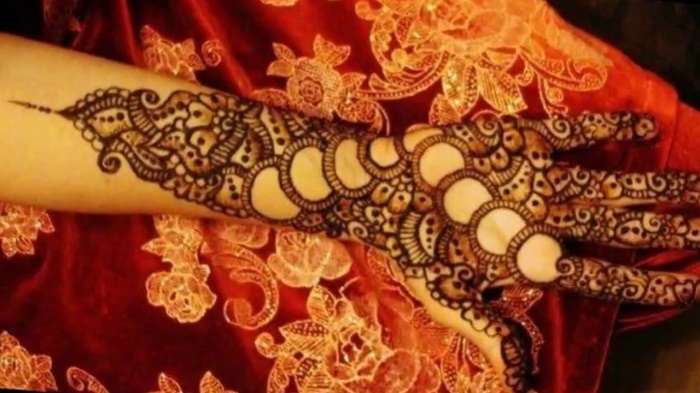 Image Credit:
Dailymotion
9. Bajubandh or Armband:
The bajuband or Armband is an ornament to be worn on the upper arms. It is more common among Rajasthani and South Indian brides. It is often made of gold, sometimes with silver, adorned with precious stones.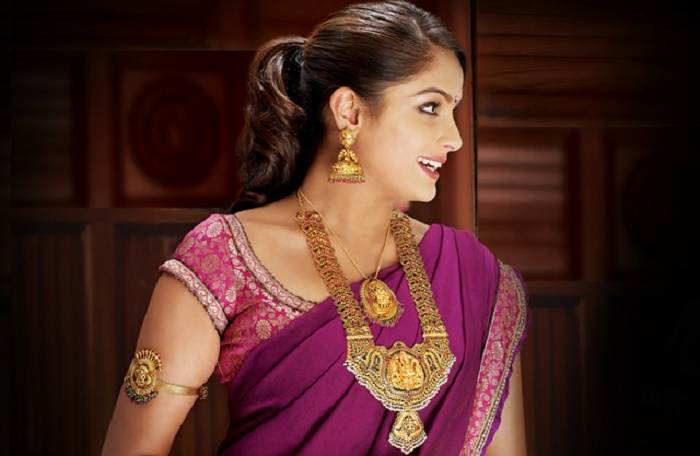 Image Credit: 3productionweddings.com/blog/wp-content/uploads/2013/10/nac.png
10. Bangles:
Bangles are classical adornments accompanying the bridal attire. Bangles made of Gold, Silver, glass and lac cover the bride's arms. The bride wears bangles to signify prosperity of the family. Bengali women wear Shankha Pola and Loha, beagles made of Shell, Lac and Iron to convey their married status. Women from Punjab wear Chudas, red and white bangles made of ivory and embellished with semi-precious stones, to symbolize their married statuses. Kalire is another hand adornment worn by Punjabi and Rajasthani women.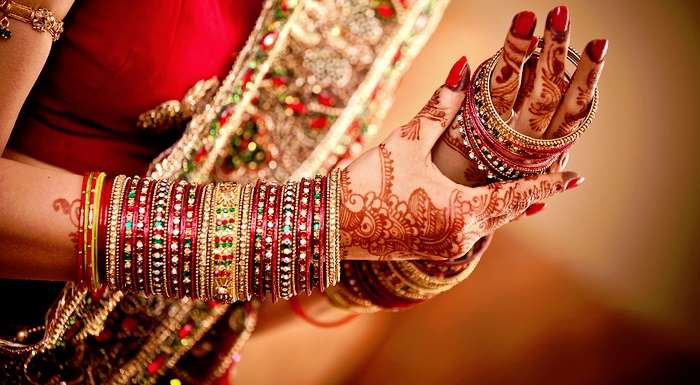 11. Aarsi or Haathful:
These are a type of jewellery meant to be worn by the bride in her hands. Four or five rings are worn on the fingers from which chains emerge attaching them with a central motif which further is connected to a bracelet by another chain. These are most often made of gold and studded with Kundan work or precious stones. Aarsi refers to a special type of thumb ring studded with a mirror, so that the bride may catch a glimpse of her groom in it.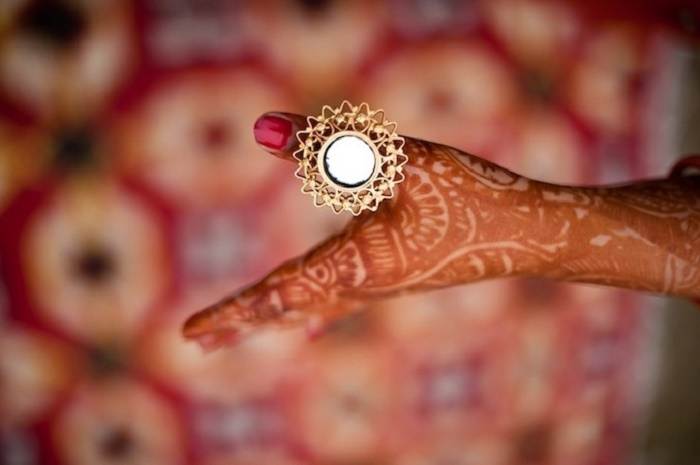 Image Credit: Pinterest
12. Kamarbandh or Waist Accessories:
This is generally a simple or elaborate ornament meant for the bride to wear around her waist. This emphasises slenderness of her waist and improves her overall figure.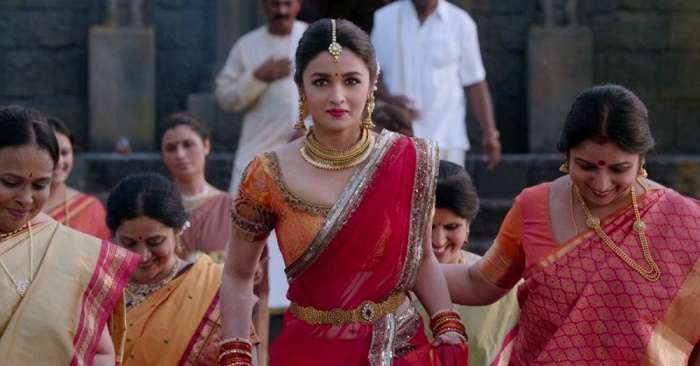 13. Payals or Anklets:
These are chains that are worn around the ankles, most often attached with a bunch of chiming beads. It may be a slender chain or it may be thick multi-layered design. It is generally made of silver as wearing gold on your feet is considered to be inauspicious.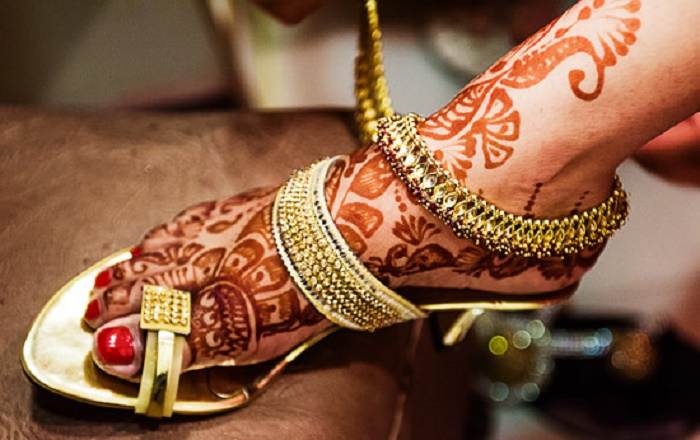 Image Credit: Pinterest
14. Bichhua or Toe Ring:
These are customary for married woman to wear and in some culture gifted by mother-in-laws to the bride. It is said to enhance fertility in married women. It is most often made of silver for the same reason as the payal.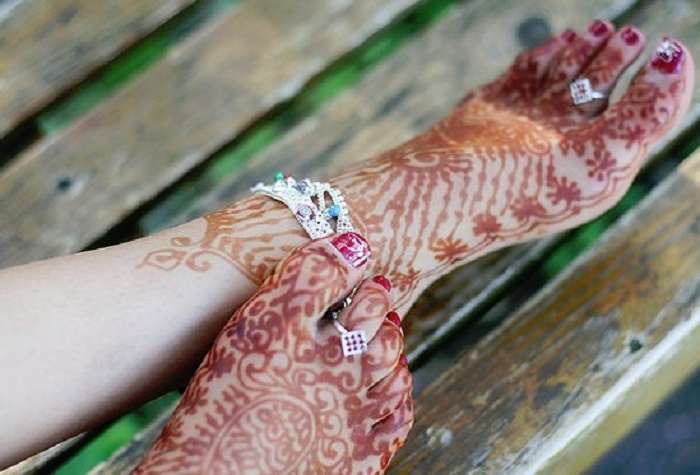 Image Credit:
http://indiameredost.blogspot.in/2013/04/bichhua-toe-ring.html
15. Fragrance:
The bride is often drenched in perfumeries like Itar in olden days to make her smell good throughout the wedding ritual. The perfumes is said to clam her nerves down and add another dimension to her whole get up.
16. Keshapasharachana or Hair Accessory:
These are hair adornments that the bride wears along her braids or attaches with her bun along with the flowers. These form an integral part of her makeover. Generally white flowers like Jasmin and Bel are preferred adornments, but other flowers like marigold and roses may also be used.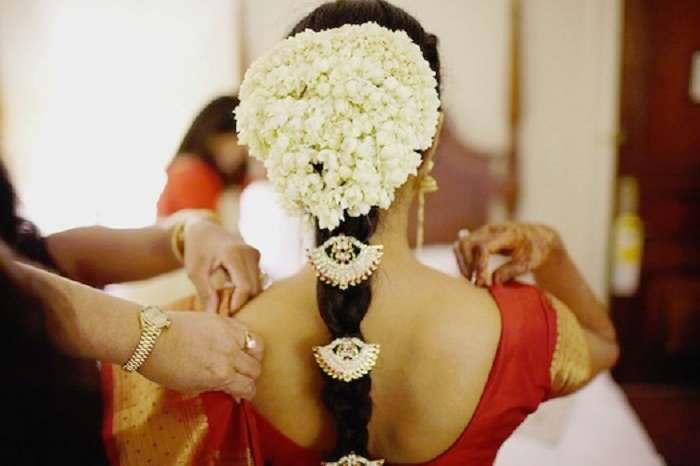 Image Credit:
http://blog.triveniethnics.com/16-signs-that-she-is-a-complete-indian-bride/