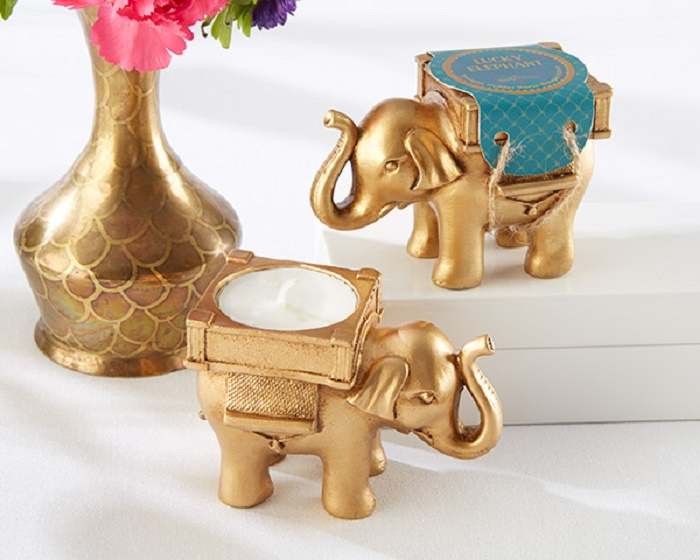 Image Credit: http://www.myweddingfavors.com/images/product/25062GD-gold-elephant-tea-light-1-mwf-l.jpg
Indian weddings are a time to meet and celebrate for the entire family. Weddings are an occasion, when everybody, no matter how far they might stay, gather and rejoice. Therefore as per tradition, all the relatives are given favors to treat them well and express your joy and gratitude. These wedding favors are small tokens of love and affection as well as memoirs of the wedding. So, to make your special ones feel special, wedding favors should also be paid due attention to.
The Custom
The tradition of offering the wedding guests a small gift as a token of gratitude for gracing the ceremony with their presence and offering their blessings to the newlywed couple is an old one. It is customary for the father of the bride to hand them personally to each guest. In India it is generally known as the 'Shagun'. The guests are presented with the 'Shagun' with folded hands and head bowed down. The word Shagun means auspicious and this ritual of presenting the guests with token of gratitude is not to be mistaken with the Engagement ceremony that takes place during a Punjabi Sikh Wedding (may be pronounced as Sagan), during which the father of the groom presents the bride with sweets, clothes or jewelry and blesses the bride. On the flip side of this, it is considered that on their special day, anything the bride and the groom will touch, it will turn out to be seeped in their good fortune. Hence, by sharing the wedding favors, the bride and groom are sharing bits of their luck as well.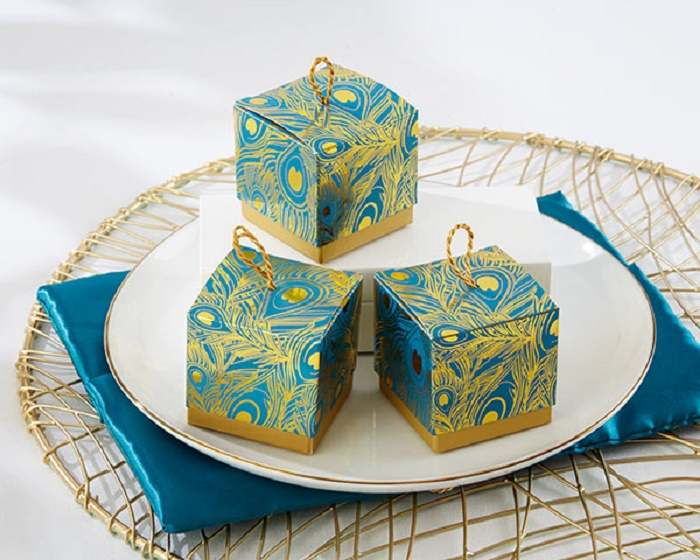 Image Credit:
http://www.myweddingfavors.com/images/product/28236NA-peacock-favor-box-1-mwf-l.jpg
The Tradition
Traditional wedding favors include mostly boxes of Indian sweets like laddo or barfi, or may be a collection of assorted varieties. There is also tradition to present the guests with boxes of dry fruits like almond, cashews and raisins, as they signify wealth, abundance and class. It is also within the custom to gift cash as wedding favors. The cash is inserted into special decorative envelopes with a one rupee coin attached to it and is handed to each guest. It is customary to present the favors to the guest with a warm gesture and broad smile, and thank each guest for attending the wedding. It is a show of appreciation from the host's part; it is an expression of the fact that he is glad that the guests could be a part of their son or daughter's special day. In Indian culture, there is a saying called 'Atithi Devo Bhava', which means that Guest is like God, and it becomes imperative that we express our deepest reverence to them, be careful that they are deeply respected and appreciated for their presence in the house on the auspicious day. Hence, the Shagun or the Wedding Favor is presented as offering to please them.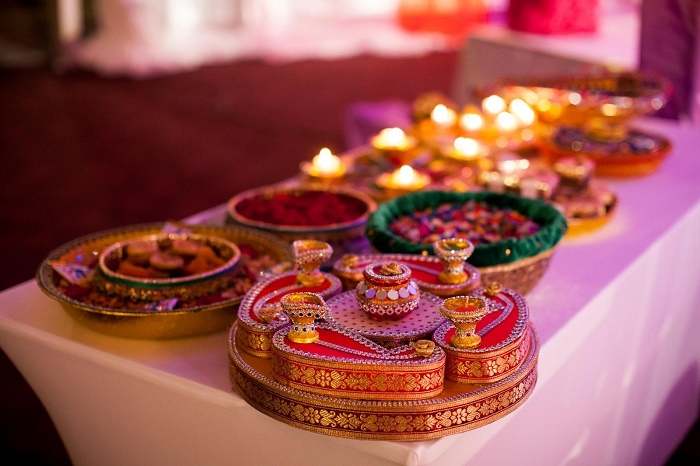 Image Credit:
https://www.aroosjoon.com/public/pictures/4/3132cfa8-ca15-4b86-8279-b42b11037228-%7C-23.jpg
In the Modern Context
The tradition is an old one dating back to the middle ages where it was the norm only for the royals and the aristocrats. They were the only ones who could afford these rare extravagant gifts like fruits, confections and even figurines made of precious metals. But gradually the custom trickled down through the various levels of the society and common people adopted the custom as well. Considerable change happened in the form and content of wedding favors. Form, size and materials were toned down to suit the budget of common people. Today it is sort of a mandatory custom at modern Indian weddings. It has become one of the primary aspects by which the means and standard of the family is judged. It is a question of one's pride and social standing. Hence it has become imperative that one put considerable thought behind choosing the right wedding favors. In modern day weddings the favors are becoming more and more creative, striving for a perfect blend of traditional and contemporary. Sweets like laddoos and barfis have been replaced with various confections like chocolates, cookies and truffles. Instead of presenting dry fruits in plain, boring platters, innovative packaging like mason jars; handcrafted boxes and even premium fabric potlis are being used. The dry fruits are often flavored with chocolates or caramel. Traditional figurines considered auspicious for weddings like elephant or Lord Ganesha, are still in vogue but their presentation have seen major changes. More often than not they are included in wall hangings, or picture frames or even candle holders. Other modern day wedding favors include candles, aromatherapy sets, wall hangings, tableware and even plants.  It is imperative nowadays that a healthy mix of creativity be included when one considers wedding favors that the guests will not be able to stop talking about.
Choosing the Right Favor
Since wedding favors are quite a big deal in today's context, a lot of thought goes into planning the perfect one. The one that will be appreciated by everyone and increase the family prestige. Certain things need to be kept in mind before one starts choosing favors: first is budget, second is theme and third is wow-factor. It is very crucial to set a basic budget to define the type of favor that you would like to go for. It's probable that you might overshoot, but also keep an upper limit to how much you want to spend because there are other areas of expenditure that are more crucial to a wedding than wedding favor. You need to keep in mind that limiting the budget does not necessarily mean limiting the quality of the favor. You just need to be a little bit smarter in terms of concept and packaging. Another important aspect to keep in mind is the theme. Tie in your theme colors in the packaging of the favors, include the initials of the bride and groom or choose a favor that best describes some cause that you are passionate about. Now coming to the third criteria, one need not spend a bomb on the wedding favors to grab that quintessential wow factor. With just a little bit of creativity and clever consideration you can easily achieve that perfect package that will keep the guests talking for quite some time. One of the best ways to gather appreciation is by giving a favor that the guests can use in the future. Presenting exotic food items also wins a lot of appreciation. Pay attention to the presentation because that also carries a lot of weight in the minds of the guests. Research online about various wedding favor ideas and make a list of all the options that you can choose from. You can also hire professionals or agencies that will help you create unique personalized wedding favors for the event. There are even websites that specialize in marketing wedding favors and you can just order in bulk from them.
The Expensive
If you have a considerable budget allotted for wedding favors then probably sky is the limit. You can consider anything from jewelry to expensive figurines to gourmet food items. Gift your guests a pair of diamond earrings or a ring, gold cufflinks or tie pins. Present them with gold or platinum pendants with their names or initials inscribed on them. Consider elephant or other figurines made out of ivory. Prepare a lavish wedding favor basket with exotic food and beverage items like Brazilian coffee or flavored Darjeeling tea packets, handmade French chocolates, jams and preserve in exotic flavors. You may also include lifestyle items like branded watches and shades, gadgets like iPods, PlayStations and headphones. You can also consider gifting traditional silk sarees or even sarees designed by renowned designers for the ladies. If going the traditional route, include a silver cutlery and tableware set in your favor to give it that royal feeling. Designer bags and wallets are also great option for including in that wedding favor.Beautiful crystal showpieces from brands like Swarovski also make extremely elegant and beautiful wedding favors. Cash as wedding favors is the most widely appreciated by the guests and if your budget is high consider assigning a sizable amount for each guest. You can even consider giving them gift cards and gift cheques if the amount is too high and would look bulky in an envelope.
The value for money
Do not worry about wowing your guest if your budget is moderate. By choosing your favors carefully you can both stick to your budget and earn appreciation from your guests. Consider utility, color and presentation. Include traditional and inexpensive gifts as your wedding favor, present them in a unique way and I am pretty sure you will win hearts. Prepare a traditional wedding favor basket with flower garlands, coconuts, beetel leaves and dryfruits; put that special touch by using decorative earthenware thalis and you have a winner. Instead of gifting expensive sarees provide the ladies with traditional accessories, like blouse piece made of brocade, small silver nose pins, and even handbags in potli style made of silk. Silver coins inscribed with Lakshmi and Ganesh idols are also traditional yet relatively inexpensive wedding favors. Containers to hold vermillion may also be considered as wedding favors. These can be made from silver, wood, marble and even ivory, depending on your budget. Consider gifting a specialty handicraft item from your ancestral region as wedding favor just to include that tribute to your cultural heritage. To give some example, people from Rajasthan may include fabrics like 'Bandhni' or 'Lehriya', while Assamese people may include shawls made of muga silk. Maharashtrians may gift their special necklaces in Thusi style or their traditional nosepins while Gujaratis can consider Torans or metal filigree objects. People from Karnataka can consider woodwork showpieces and those from Kerala may consider gifting a Kathakali mask as wedding favors.
Of going for a more modern approach to wedding there are a number of options there too. Set of scented candles or various aromatherapy oils and potpourri are great inexpensive options for wedding favors. Small metal tins or hand crafted boxes holding chocolates and candies are great gifts as well. Handmade soaps and body washes are also great options to consider. Other options may include coasters made of bamboo, wood or even brocade, given that special personal touch by including the bride and groom's initials or the wedding date. Monogrammed pens featuring the names of the guests are also a nice but inexpensive touch. Key chains in the shape of elephants, peacock or butterfly, and even personalized ones in simple designs are quite appreciated as wedding favors. If considering food and beverages, consider a set consisting of various spices in small, elegant jute potlis or a small glass box of saffron. Try gifting chocolates with Indian flavours like paan, honey, sagffron, gulkand etc. A box of cookies with icing featuring mehendi designs are also very much in vogue nowadays. If going for the eco-friendly theme, consider gifting the guest a small potted plant that they can take home and be reminded of you every time they nurture it. Stuff useful in everyday life like water bottles, sippers, vanity mirrors and luggage tags are also welcomed a lot. If it is an outdoor wedding, provide the guests with hand fans, sunglasses and sunscreens in the form of a kit.
The Creative
By blending a little bit of creativity to everyday objects you can drastically cut down the wedding favor budget and yet present your guests with lasting memories of the day. Try setting up a bangle tree or a bangle cart with bangles of various colors and ask the ladies to choose as many in as many colors according to their dresses. A photo booth is also a great idea where guests can get their picture taken, instantly printed and handed over in cute cardboard frames. Set up an inscription booth where the guests can get their names written in elegant calligraphy into key chains or place mats. Place a flower cart at the venue and ask the guest to choose and arrange their own bouquet as wedding favors. Arrange for a baking station where cookies in the shape of alphabets are available and hand each guest a set based on the letters in their name.  All these options are not going to break your bank and yet will create that welcome buzz that the wedding guests got to experience something unique.