Name: Mohammed Rafi
Birth: December 24, 1924
Birthplace: Kotla Sultan Singh village, Punjab
Parents: Hajji Ali Mohammad and Allahrakhi Bai
Spouse: Bashira Bau, Bilquis Rafi
Children: Shaheed, Parveen, Hamid, Khalid, Nasreen
Occupation: Playback Singer, Recording Artist
Religion: Islam
Start of Playback Singing Career: 1944
Total number of songs (approx): 7,500 
Death: July 32, 1980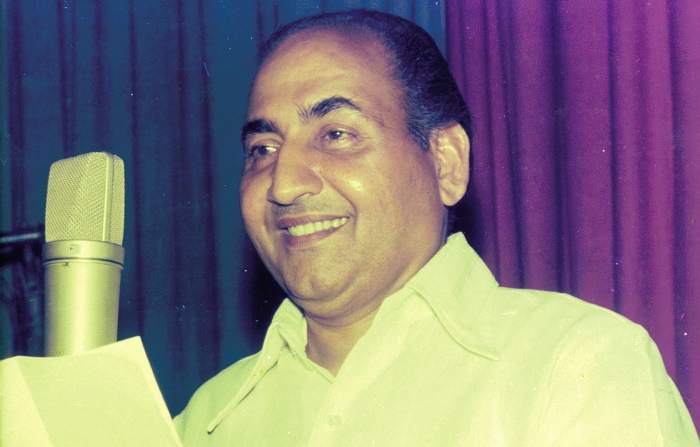 Image Credit:
http://upperstall.com/wp-content/uploads/2015/04/Mohammed_Rafi-Header.jpg
One of the greatest playback singers born in India, Mohammed Rafi is considered no less than a genius when it comes to varied styles of music. This great singer had the perfect blend of melody, emotions and energy, which resulted into thousands of soulful songs. Be it the classically inclined songs of Baiju Bawara or the foot tapping songs of Kashmir Ki Kali, Muhammad Rafi gave each song the treatment it deserved. His contribution to the Hindi film industry has been fabulous and perhaps no singer till date has managed to capture the hearts of fans the way Mohamed Rafi has. Rafi was well-known for his versatility as he gave his voice to songs ranging from classical numbers to patriotic ones, sad songs to romantic numbers, qawwalis to ghazals and bhajans. For almost twenty years, Rafi was the most sought after singer in the Hindi film industry. In his illustrious career, he received six Filmfare Awards and was honoured with the National Film Award once. Besides Hindi, he sang in several Indian languages including Konkani, Bhojpuri, Bengali, Odia, Punjabi, Marathi, Sindhi, Telugu, Kannada, Maithili, Gujarati, Magahi, and Urdu. Apart from Indian languages, he gave his melodious voice to songs in English, Arabic, Persian Sinhalese, Creole and Dutch languages.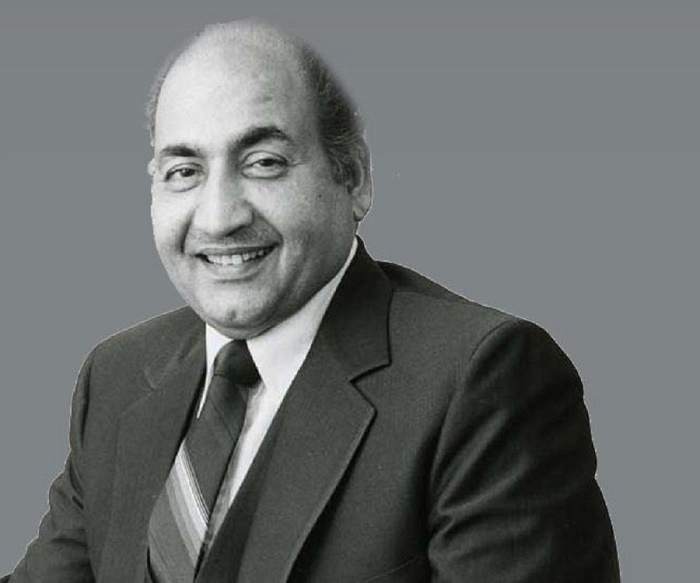 Image Credit:
www.thefamouspeople.com/profiles/images/mohammed-rafi-2.jpg
Childhood & Personal Life
Mohammed Rafi was born in the village of Kotla Sultan Singh in United Punjab Province of British India on December 24, 1924. He was the fifth among the six sons of Hajji Ali Mohammad and Allahrakhi Bai. Rafi displayed his musical inclination from a very young age and his talent was recognized by his elder brother's friend Abdul Hameed. He convinced Ravi's family to nurture his musical talents. Mohammed Rafi started taking Hindustani Classical music from Pandit Jiwan Lal Mattoo who taught him the intricacies of Raag Shastra and Punjabi folk ragas Pahaadi, Bhairavi, Basant and Malhaar. He later trained under the tutelage of Ustad Abdul Wahad Khan of the Kirana Gharana and also received lessons from and Ustad Bade Ghulam Ali Khan of the Patiala Gharana. He was also trained by Feeroze Nizami, a producer in the All India Radio Lahore. K.L. Saigal and G.M. Durani were his idols and in the beginning he emulated Saigal's style. Rafi performed his first stage show at 13 years of age in Lahore. He started singing for the All India Radio in Lahore from the year 1941. He also recorded his first song 'Soniye Nee, Heeriye Nee', a duet with famous singer Zeenat Begam for the Punjabi film Gul Baloch, the same year. The film released in 1944.
Mohammed Rafi was married to his cousin Bashira Banu. But the marriage suffered due to the political tensions during the partition in 1947. Bashira Banu refused to accompany Rafi Saab to India after witnessing the horrors of the riots. She remained in Lahore, now in Pakistan and their marriage ended. The couple had a son Saheed with his first wife, Bashira. He later married Bilquis Banu and the couple had four children – Nasreen, Khalid, Parveen and Hamid.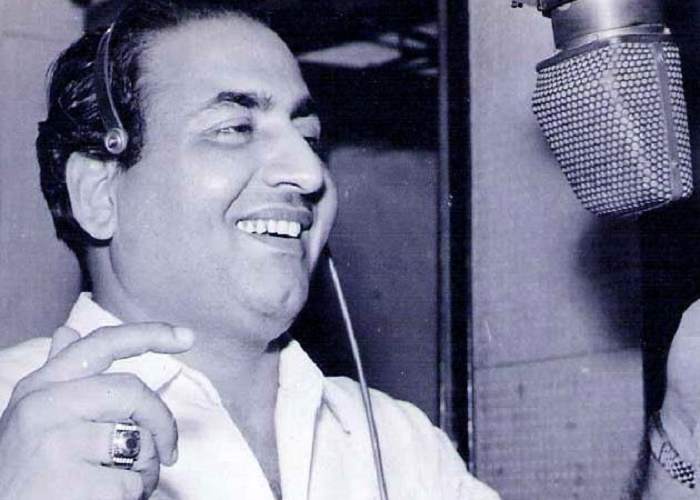 Career
Mohammed Rafi moved to Bombay in 1944. He was introduced to several producers and directors through friend Tanvir Naqvi. He finally got his big break and recorded his first song 'Ai Dil Ho Kaabu Mein' for the film Gaon KI Gori in 1944, although the movie released a year later. Meanwhile, Mohammed Rafi started singing for top music directors like Naushad and Shyam Sunder. His work with Naushad continued through the 1950s and 1960s. Together they worked in films like Pehle Aap (1944), Anmol Ghadi (1946), Shahjahan (1946), Dulari (1949),Deedar (1951), Deewana (1952) and UranKhatola (1955).Rafi saab catapulted into stardom after his work in the film Baiju Bawra under the directon of Naushaad. The semi-classical bhajan 'Man Tarpat Hain Hari Darshan Ko Aaj' from the film showed the world Mohammed Rafi's caliber as a singer. The two collaborated for another magnum opus Mughal-e-Azam in 1960. 
Rafi saab became the voice behind leading actor Dev Anand all through the 1950s. He did Dev Anandji's playback for films like Kaala Paani (1958), Bambai Ka Babu (1960), Nau Do Gyarah (1957), Tere Ghar Ke Samne (1963) and Guide (1965). At the same time he worked on the musical creations of Sachin Dev Burman. The Dev-Rafi-Burman trio gave the Hindi film industry some truly unforgettable songs like 'Diwana Hua Badal', 'Dilka Bhanwar Kare Pukar', 'Achhaji main hari' with Asha Bhosle and 'Khoya Khoya Chand'. Mohammed Rafi and S.D. Burman created magic over and over all through the 50s, 60s and 70s. Burman used Rafi saab's voice for almost all of his leading men including Dev Anand, Guru Dutt, Rajesh Khanna and Amitabh Bachchan. Rafi Saab's voice serenaded the country with romantic numbers like 'Teri Bindiya Re' and 'Gun Guna Rahe Hai'.
Rafi worked with legendary music director O. P. Nayyar on several occasions and Mr. Nayyar went on record saying that without Mohammed Rafi he would not have reached the pinnacle of success. He paired the voices of Mohammed Rafi and Asha Bhonsle for multiple successful projects like NayaDaur (1957), Tumsa Nahin Dekha (1964) and Kashmir Ki Kali (1964). Songs like 'Ude Jab Jab Zulfein Teri', 'Tumsa Nahin Dekha' and 'Deewana Hua Badal' made permanent place in the hearts of Indian audience.
Another of super-successful collaboration Mohammed Rafi forged was with music director duo Shankar-Jaikishan. Three of Mohammed Rafi's six Filmfare awards for Playback Singer came from their collaboration – 'Teri Pyari Pyar iSurat Ho' from the film Sasural (1961), 'Baharo Phool Barsao' from the film Sooraj (1966) and' Dil Ke Jharokhe Mein' from the film Bhrahmachari (1968). Most of Shankar-Jaikishan songs voiced by Mohammed Rafi were penned by celebrated lyricist Shailendra and this musical team created unforgettable songs like 'Laal Chhadi Maidan Khadi' from Jaanwar (1965), and 'Main Gaoon Tum So Jao' from Brahmachari (1968). Shankar Jaikishan's creations for ShammiKapoor films Junglee (1961), Professor (1962), An Evening in Paris (1967) and Brahmachari (1968) witnessed iconic genre breaking creations like 'Chahe Koi Mujhe Junglee Kahe', where Rafi Saab let himself loose to be in congruency with Shammi Kapoor's rakish and boisterous Playboy image or 'Awaz Deke Humein Tum Bulao' that appealed to the inner romantics of all classes. Together with Shankar Jaikishan, Rafi Saab recorded a whopping 341 songs, 216 out of which were solos. 
Another successful music director duo Laxmikant Pyarelal produced great work with Mohammed Rafi. Their association started with the film Parashmani in 1963, and continued through glorious projects like Dosti (1964), Mere Humdum Mere Dost (1968), Khilona (1970) and Anari (1975). Together they recorded 369 songs, which was the highest number of songs Rafi Saab recorded for a music director. They produced wonderful songs like 'Na Ja Kahinab Na Ja', 'Patthar K Sanam', 'Yeh Reshmi Zulfein', 'Koi Nazrana Lekar Aya Hu' and 'Aye Din Bahar Ke'. Raafi Saab won the Filmfare Award in 1964 for the song 'Chahoonga Main Tujhe Saanjh Savere' from the film Dosti.
Having worked with S.D. Burman, Rafi Saab also worked for his son Rahul Dev Burman or R.D. Burman or Pancham. They worked together in films like Teesri Manzil (1966), Caravan (1971), and Shaan (1980). Rafi Saab belted out super popular songs like 'O Haseena Zulfon wali', 'O mere Sona re Sona re Sona', 'Yamma Yamma', 'Chadti Jawani' and 'Maine Poocha Chand Se'. The songs ranged from uber energetic to mellow romantic and Rafi Saab seemed to be at ease with both genres at equal measures.
He worked not only in duets with female playback singers of the time lake Geeta Dutt, Lata Mangeshkar, Asha Bhonsle; he sang duets with other male playback singers of his time like Manna Dey, Mukesh, and Kishore Kumar. He was one of the most courteous and professional singers of all time and his altruistic nature was revered by all his contemporaries. During the 1970s Rafi faced stiff competition from Kishore Kumar who emerged as a leading singer post Aradhana in 1971. He recorded fewer songs in early 70s but made a huge comeback winning both Filmfare Awards and National Award in 1977 for the song 'Kya Hua Tera Wada' from the film Hum Kisi se Kum Nahin with R.D. Burman as the music director. He performed in numerous international concerts during the late 1970s including at the Royal Albert Hall and Wembley Conference Centre in London. 
The last song he recorded was 'Shaam Phir Kyun Udaas Hai Dost' for music director duo Laxmikant Pyarelal for the film Aas Paas.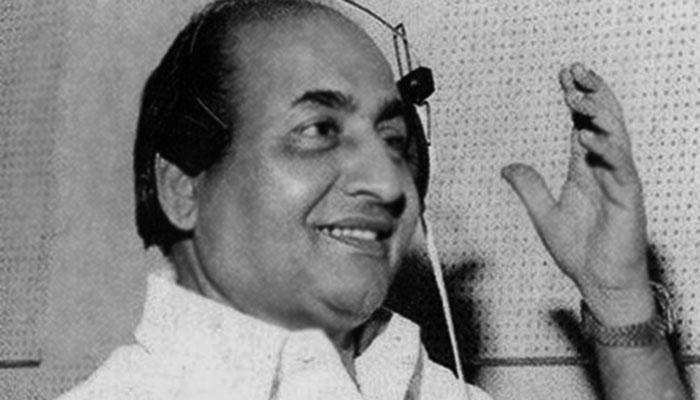 Demise
Mohammed Rafi died of a massive heart attack on July 31, 1980 at 10:25 PM at his residence at Rafi Mansion, Bandra. His funeral procession was joined by 10,000 mourning fans who accompanied him till the Juhu Muslim Cemetery where his mortal remains were laid to rest.  A two-day public holiday was announced by the Government of India in his honor.
Awards and Honors
Rafi Saab's illustrious musical career was honored with numerous national and international awards throughout the years. He received 21 Filmfare Awards nominations for playback singing out of which he won 6 times. He also won a National Film Award in 1977. He also bagged the Bengali Film Journalists' Awards thrice in 1957, 1965 and 1966. He was honoured with the Padma Shri award by the Government of India in 1967.
Controversy
Although a thorough gentleman throughout his career, Rafi got embroiled into a controversy with fellow singer Lata Mangeshkar not once, but twice. First, during 1962, the two had a confrontation regarding the demands for royalty for playback singers. Lataji claimed that the playback singers are entitled to half of the 5% royalty claimed by the producers from the songs recorded by them for a film. She wanted Rafi Saab's support on the issue, but he differed from her by stating that a singer's association with the song ended when they were paid by the producer. As the financial backer of the project, the financial gains are to be returned to the producer and not to the singers who were paid appropriately for their work. Lataji took offence to this and became hostile in her behavior towards Rafi finally declaring her unwillingness to work with him. However, music director Jaikishen negotiated a reconciliation between the two and they duo did work after that.
The second point of contention happened when the Guinness Book of World Record published Lata Mangeshkar's name as the artist recording maximum number of songs. He sent the Guinness authorities a letter challenging the fact and stating that he was the one who had sung a greater number of songs in comparison. The Guinness authorities did not take down the listing, but they amended it with the mention of Mohammed Rafi's name and his contention.