Fast Facts
Date of Birth: 9 March, 1951
Place of Birth: Mumbai, Maharashtra
Birth Name: Zakir Hussain Qureshi
Profession: Tabla player, music producer, film actor and composer
Instruments: Tabla, Pakhawaj
Spouse: Antonia Minnecola
Children: Anisa Qureshi and Isabella Qureshi
Father: Ustad Allarakha Qureshi
Mother: Bavi Begum
Awards: Sangeet Natak Akademi Award, Padma Shri, Padma Bhushan
Popularly known as the Tabla Maestro, Ustad Zakir Hussain is arguably the most famous Tabla player of our country in the post-independence era. Over the years, he has performed with many talented musicians not just in India but also across the world. He became a famous international celebrity after taking the sounds of Tabla to many international festivals and shows. This eventually flooded him with opportunities to work in many international movies as well. This led to the creation of brilliant works of fusion, which was new to both Indian and overseas audience. Overall, his contribution towards popularizing the Indian percussion is immense.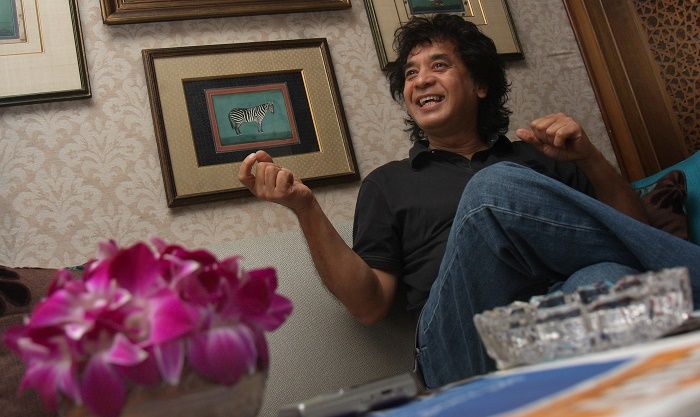 Image Credit:
https://jaggo.wordpress.com/page/3/
Early Life & Education
Zakir Hussain was born famous as he is the son of Ustad Allah Rakha, a renowned tabla player. Quite naturally, he was inclined towards Tabla since a very young age. Zakir was a child prodigy and started touring to perform at concerts by the time he was just twelve. This gave him recognition and fame at a very young age. Along with his stage shows, he also focused on his education and went to St. Michael's High School in Mahim and eventually graduated from St. Xavier's in Mumbai. He also did his PhD and received a doctorate in music from the University of Washington. In his early twenties, he started touring the United States frequently and performed in not less than 150 concerts per year!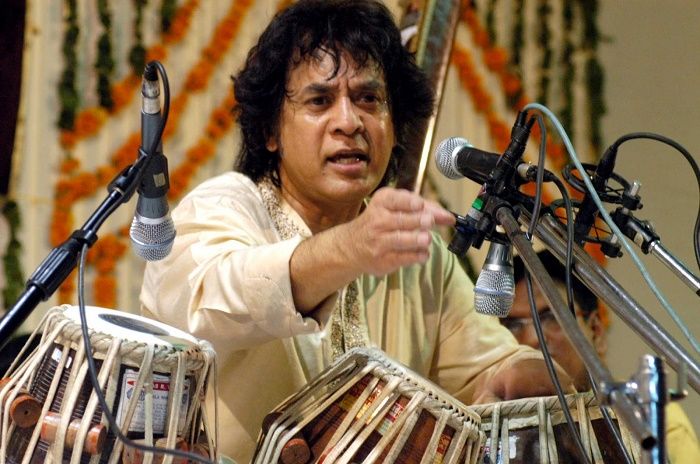 Image Credit:
http://sandeepsagarsp.blogspot.in/2011/03/ustad-zakir-hussain-was-born-on-march-9.html
Career
Since he was a popular name in the US while he was still young, he collaborated with western musicians and remained that way throughout. He mostly worked with American bands. His partnership with the famous band, 'The Beatles' deserves a special mention. He also recorded with an American psychedelic band 'Shanti' in the year 1971. In 1975, he worked with John McLaughlin in a band 'Shakti'. This band had John McLaughlin, Zakir Hussain, L. Shankar, T.H. 'Vikku' Vinayakam and R. Raghavan. 'Shakti' was disbanded by the late 70s. However, the band was reunited a few years later by the name 'Remember Shakti' with the addition of new members. The revived band went on to release many albums like 'Saturday Night in Bombay', and 'The Believer'. They also performed in the 38th Montreux Jazz Festival. Zakir Hussain released his first solo album 'Making Music' in the year 1987, which was proclaimed to be one of the most inspired East-West fusion albums ever.
Film Career
Zakir Hussain has composed music for many movies like 'In Custody', 'The Mystic Masseur', 'Heat and Dust' etc. His composition for the Malayalam movie 'Vanaprastham', which was screened at the prestigious Cannes Film Festival, earned him accolades. Some of the other films, for which he has worked on the musical score include, 'Apocalypse Now', 'Little Buddha', 'Saaz', 'Mr. and Mrs. Iyer' and 'One Dollar Curry'. Zakir has also acted in many movies, mostly showcasing his musical performances. His portrayal of the character 'Inder Lal' in the film 'Heat and Dust' is unforgettable. He also starred in a couple of brilliant documentaries like 'The Speaking Hand: Zakir Hussain and the Art of the Indian Drum' and 'Zakir and His Friends'. While 'Zakir and His Friends' released in the year 1998, 'The Speaking Hand' was released in 2003.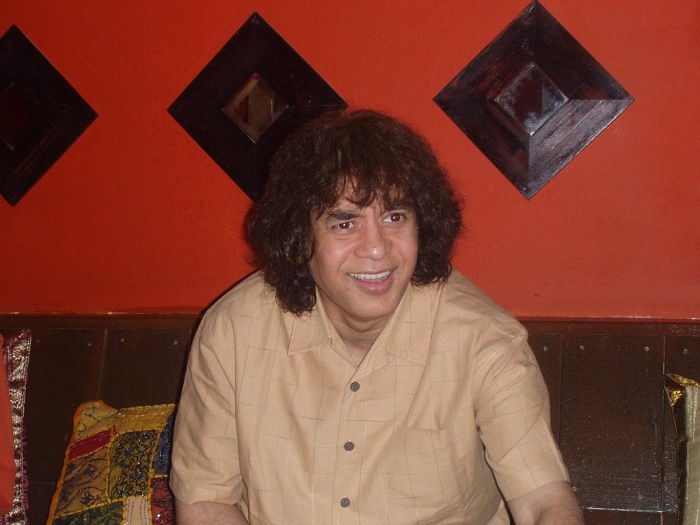 Image Credit:
http://dreamink.blogspot.in/2006/01/meeting-ustaad-zakir-hussain.html
Best Discographies
Rolling Thunder – This was the first solo album by drummer Mickey Hart. It featured the music of classical Tabla, which was played by Zakir Hussain and his beloved father, the legendary musician Alla Rakha.
Karuna Supreme–Created by American saxophonist John Handy, this album has the likes of Zakir Hussain, Ali Akbar Khan and Yogish S. Sahota. 'Karuna Supreme' was a major success, both critically and commercially. 
Hard Work – After the success of 'Karuna Supreme', Zakir once again joined hands with John Handy to work in this album. 'Hard Work' took the 43rd position in the top 200 albums released by Billboard. It also broke into the top 5 ranking on the Billboard jazz chart.
Diga – Zakir's Tal Vadya Rhythm Band was renamed 'Diga Rhythm Band' in 1975 after the inclusion of Mickey Hart. This band came up with an album called 'Diga' (1976) which went on to achieve critical success. In the year 2008, a critic named John Metzger wrote that 'Diga' was ahead of its time.
Who's to Know – This album was put together by the famous violinist Shankar in the year 1980. This too, was critically acclaimed by many western musicians.
Song for Everyone - Featuring Zakir Hussain, Jan Garbarek and Trilok Gurtu, 'Song for Everyone' was released by violinist L. Shankar. The album received four stars by Allmusic.
Tabla Duet – In 1988, Zakir came up with his own album titled 'Tabla Duet'. It featured himself along with his father, Alla Rakha.
At the Edge – This album by Mickey Hart featured only percussion instruments which paved the path for Planet Drum. 
Supralingua – In 1998, Mickey Hart came up with this album which featured his percussion ensemble Planet Drum. 'Supralingua' opened to mixed response by critics but was absolutely lapped up by music lovers across the world.
The Melody of Rhythm – Created by banjoist Bela Fleck, 'The Melody of Rhythm' had Zakir Hussain on Tabla, Edgar Meyer on bass and the services of Detroit Symphony Orchestra.
Contributions
Ustad Zakir Hussain is considered as one of the most important personalities in shaping the contemporary world music movement. He is often credited for taking the Tabla to the world stage, thanks to his numerous collaborations. He also showed to the world that Tabla, which was considered a mere percussion before his era, could be used as a main instrument at concerts. This belief that he instilled in many, changed the way we looked at concerts. His achievements as a Tabla player inspired many young aspiring percussionists and opened the doors for many Indo-Western collaborations.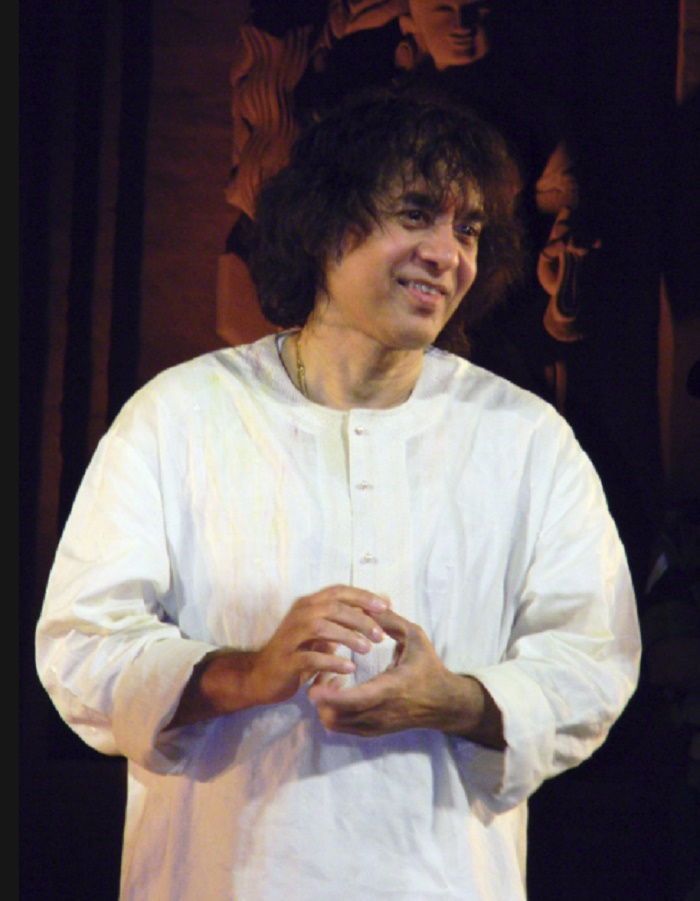 Image Credit:
wikimedia.org
What Makes Zakir Unique?
Here are some of the facts that will make you understand why Zakir Hussain stands out from the rest of contemporary musicians and percussionists. 
Born Genius –Zakir Hussain learned to play Mridang (a classical percussion) from his father when he was just three years old!
Tabla Beat Science–This unique musical group was founded by Zakir Hussain and Bill Laswell in 1999. This gave rise to 'Tala Matrix' which is said to be one of the greatest explorations of tabla fusion in the modern era.
An invitation from the President – In 2016, Zakir Hussain became the first Indian musician to be invited by the then American president Barack Obama. An elite list of musicians were chosen and invited to attend the All-Star Global Concert held in the White House.
Awards
Padma Shree – He was awarded the Padma Shree by the Government of India in the year 1988, thus making him the youngest percussionist ever to receive this award. 
Padma Bhushan – In 2002, Zakir Hussain once again became the youngest percussionist to be honored with India's third highest civilian award.
Indo-American Award – This award was given to him in the year 1990 for his cultural contribution.
National Heritage Fellowship – In 1999, Zakir became the proud recipient of America's most prestigious honor in the field of traditional arts.
Sangeet Natak Akademi Award – This award was given to him by the President of India in the year 1991. He was one of the youngest musicians to have ever received this award.
Grammy – He was also awarded the Grammy for the album 'Planet Drum' which was produced and created by Zakir Hussain and Mickey Hart. This was his first ever Grammy. He won his second Grammy during the 51st Grammy Awards for his album 'Global Drum Project' under the category, Contemporary World Music Album. For this project, he had collaborated with Mickey Hart, Giovanni Hidalgo and Sikiru Adepoju.
Kalidas Samman – In 2006, the government of Madhya Pradesh honored him with this prestigious award, which is given for artistes with exceptional achievement in their respective field.
Lifetime Achievement Award – In 2012 at Konark Dance & Music Festival, he was honoured with the Guru Gangadhar Pradhan (lifetime achievement) award.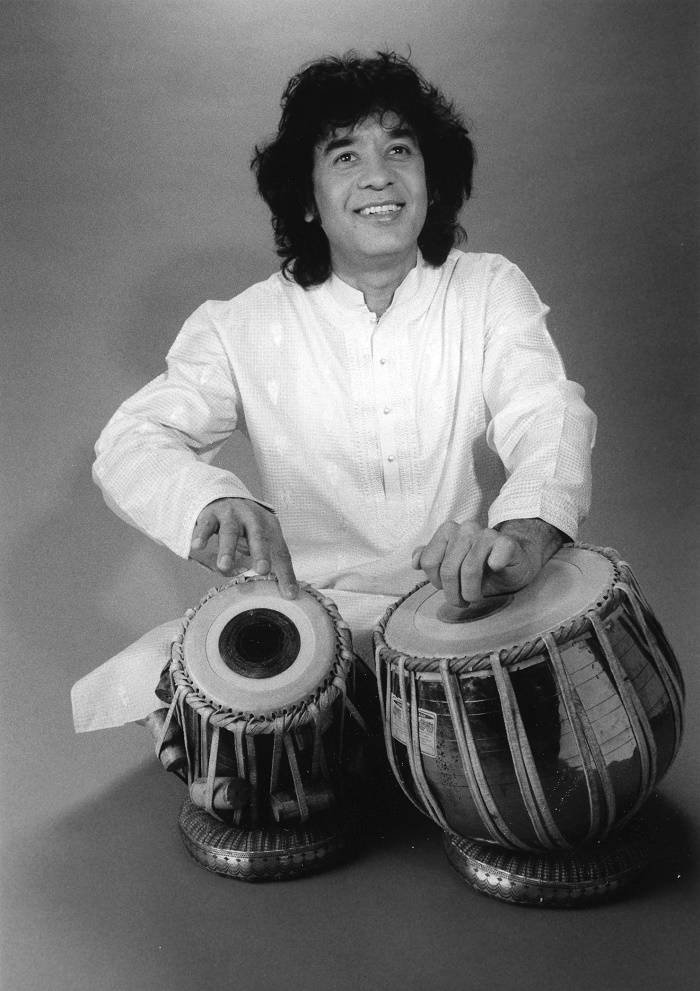 Image Credit:
https://www.pinterest.com/pin/554435404103775729/
Personal Life
Zakir Hussain married an Italian-American Kathak dancer and teacher, Antonia Minnecola. She earlier worked as his manager for some time. The couple has two daughters, Anisa Qureshi and Isabella Qureshi. Anisa Qureshi, after graduating from UCLA, is now trying her luck in filmmaking and video production. Zakir's other daughter, Isabella, is doing her major in dance at a college in Manhattan. Zakir recently became a proud grandfather and is currently residing in San Francisco, USA.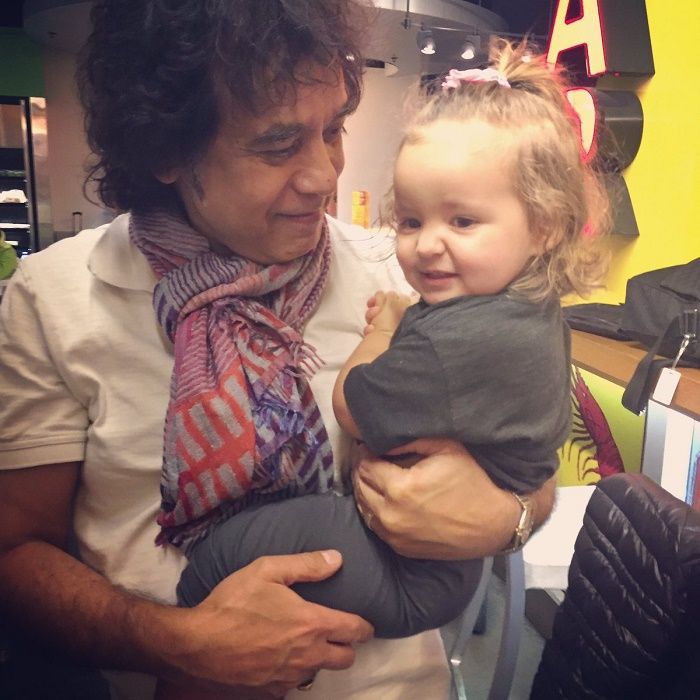 Image Credit:
https://twitter.com/zakirhtabla/status/794270900598108161