Fast Facts
Date of Birth: 6 July, 1930
Place of Birth: Sankaraguptam, Madras Presidency
Date of Death: 22 November, 2016
Place of Death: Chennai, Tamil Nadu
Professions: Singer, music composer, multi-instrumentalist, actor
Spouse: Annapurna
Father: Mangalampalli Pattabhiramayya
Mother: Suryakanthamma
Awards: Padma Shri, Padma Vibhushan, Sangeet Natak Akademi Award, National Film Awards
One of the most famous names associated with Classical Carnatic Music is that of Dr. Mangalampalli Balamuralikrishna. This legendary musician was also an able composer, playback singer, poet, actor and multi-instrumentalist. Apart from working with famous Indian musicians like Pandit Bhimsen Joshi, Pandit Hariprasad Chaurasia and Kishori Amonkar, he also worked with several foreign musicians. Dr. M. Balamuralikrishna performed all over the world including countries like US, UK, France, Russia, Canada, Italy, Singapore and Malaysia among many other nations. Apart from having a successful career as a Carnatic musician, Balamuralikrishna also dominated the South Indian filmdom for many years. He is also credited for having created many ragas and talas and that puts him in a league of his own.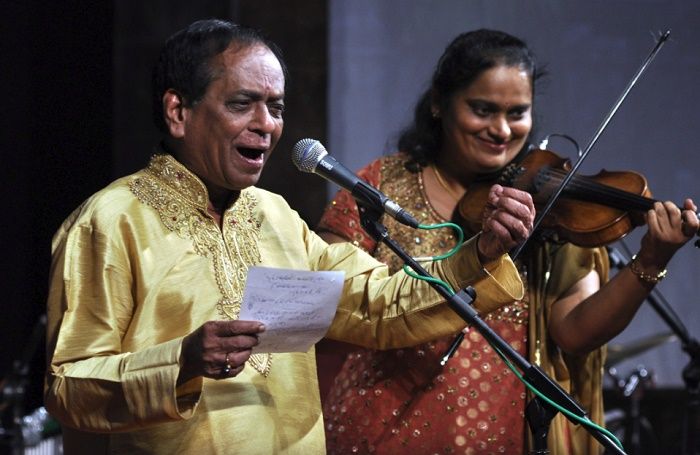 Image Credit:
http://www.newindianexpress.com/galleries/entertainment/2016/nov/22/in-pics-a-peek-into-music-maestro-m-balamuralikrishnas-musical-journey-100116.html
Childhood and Early Life
Balamuralikrishna was born on 6th October 1930 at Sankaraguptam, located in present day Andhra Pradesh. He was named Murali Krishnan by his father. The prefix Bala was given by a Hari Katha performer Musunuri Satyanarayana Murty Bhagavatar and thereafter he came to be known as Balamuralikrishna. Since his father, Mangalampalli Pattabhiramayya, was a famous musician himself and his mother a well-known Veena player, music was always part of his childhood.
Balamuralikrishna was a child prodigy. At theage of five, he had started to give musical concerts. When he was just eight years old, he gave a mesmerizing concert at the famous Thyagaraja Aradhana in Vijayawada. His brilliant voice gained him instant fame and recognition. When he was barely fifteen, he had perfected all the 72 melakartha ragas (basic scales of Carnatic music). He had also composed krithis, a feat usually accomplished by experienced Carnatic musicians. Balamuralikrishna had also perfected instruments like Violin, Viola, Khanjira, Veena and Mrudangam.
Education
His entire schooling lasted only for six months! It is said that a young Balamuralikrishna would excel in his school prayers, which involved singing but would shock his teachers by presenting them with blank answer sheets in all his tests and examinations. His headmaster then called his father and told him that he would waste his son's childhood if he insisted him to continue his education at school, for the boy was a musical genius. Fortunately, his father paid heed to the headmaster's advice and Balamuralikrishna went on to get doctorates from five different universities.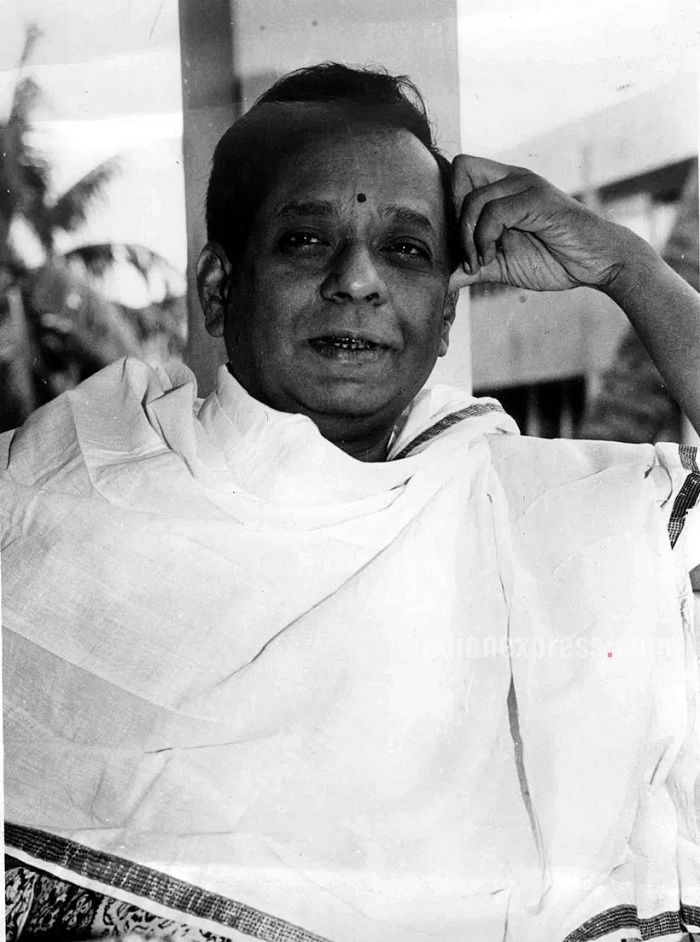 Image Credit:
http://indianexpress.com/photos/lifestyle-gallery/m-balamuralikrishna-legendary-carnatic-musician-in-memoriam-4389956/
Glittering Career
Balamuralikrishna had a glittering career in Carnatic music. He is one of the most respected musicians of South India. Since he had mastered classical music at a young age his musical career revolved around his experimentations. This led him to create ragas and talas of his own. He usually created ragas with four or three notes and then would compose tunes based on those ragas. He also has a rare distinction of composing tunes with all the 72 Melakarta ragas. Some of the talas that he invented include Trimukhi, Panchamukhi, Saptamukhi and Navamukhi.
Film Career
Balamurali, as he was fondly called, had a successful film career as well. Apart from composing music and songs for movies, he was a brilliant playback singer and a decent actor as well. Though his mother tongue was Telugu, he had mastery over all South Indian languages so he composed and sang in all South Indian languages. When it comes to his acting skills, he is best remembered for the portrayal of Narada from the movie 'Bhakta Prahlada'.
Concerts
The legendary musician performed in more than 25,000 concerts all over the world. He managed to attract thousands of music lovers into his concerts as he usually combined sophisticated vocal skills with the precision of classical music. He even featured in a British choir which had its music composed by the famous Goan composer Dr. Joel and lyrics from Nobel Prize-winning poetry of Rabindranath Tagore. He even ventured into French music and jazz fusion while performing at a concert for Malaysian royalty.
Contributions
Dr. Balamuralikrishna made immense contribution to the world of Carnatic music. He was not content with the fame and recognition that he gained by performing in concerts. So, he composed a detailed work known as 'Raganga Ravali' on 72 Melakarta. Balamuralikrishna also has over 400 compositions in different musical scales to his credit that are widely accepted by music lovers and critics alike. Out of all his impressive contributions, the creation of new ragas would stand out for years to come, for creating ragas is a whole new ball game. Some of the ragas that he came up with include 'Mahati', 'Sumukham', 'Trisakthi', 'Omkaari', 'Janasammodini', 'Manorama', 'Rohini', 'Vallabhi', 'Lavangi', 'Pratimadhyamavathi', 'Sushama' and 'Murali' among many other ragas.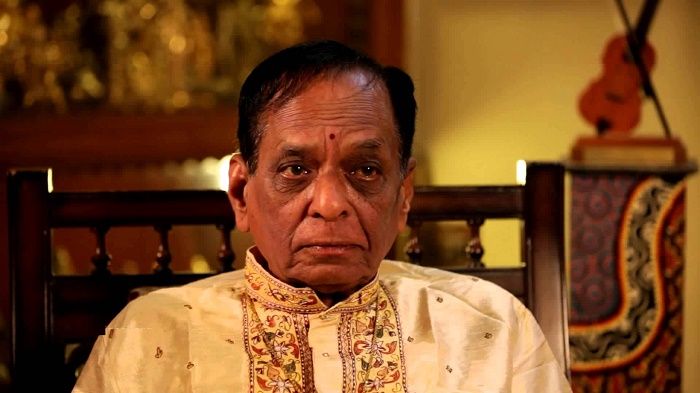 Image Credit:
YouTube.com
Awards and Achievements
Dr. Balamuralikrishna was honored with a host of awards for his contribution in the field of classical music. Some of the most important awards are listed below:
Padma Vibhushan – He won the country's second highest civilian award in the year 1991.
Padma Shri – In 1971, he was honored with India's fourth highest civilian award.
Chevalier of the Ordre des Arts et des Lettres – This civilian award was bestowed on him by the French government. It was given to him in the year 2005.
Sangeet Natak Akademi Award – In 1975, India's National Academy of Music, Dance & Drama honored him with this prestigious award.
Sangeetha Kalanidhi–In the year 1978, the Madras Music Academy honored him with this prestigious title.
Sangeetha Kalasikhamani – This title was bestowed on him by The Fine Arts Society, Chennai in the year 1991.
Lifetime Achievement Award – He was honoured with a lifetime achievement award at the Global Indian Music Academy Awards in 2011.
Doctor of Letters – This was given to him in the year 1981by Shri Venkateshwara University.
Mahatma Gandhi Silver Medal – UNESCO honored him with this award in the year 1995.
Natya Kalasikhamani – The title Natya Kalasikhamani was conferred to him by The Fine Arts Society, Chennai in the year 2001.
Sangeetha Virinchi – This title was given to him by Sangeetha Bharathi music School, Auckland, New Zealand in the year 2009.
First Citizen Award – This award was bestowed on him by the government of Andhra Pradesh.
National Film Awards – He won two National Film Awards. The first award came in the year 1987 when he won it under the Best Male Playback Singer category for the Kannada movie 'Hamsageethe', while the second came in the year 1986 when he won it under the Best Music Direction category for the Kannada movie 'Madhvacharya'.
Kerala State Film Award–The government of Kerala bestowed on him two state awards. In 1987, he was adjudged the best singer for the movie 'SwathiThirunal', while in 2010 he was adjudged the best classical music singer for the movie 'Gramam'.
Tamil Nadu State Film Award – The government of Tamil Nadu too, honored him with a state award. In the year 2009, he won the Best Male Playback Singeraward for his soulful rendition in the movie 'Pasanga'.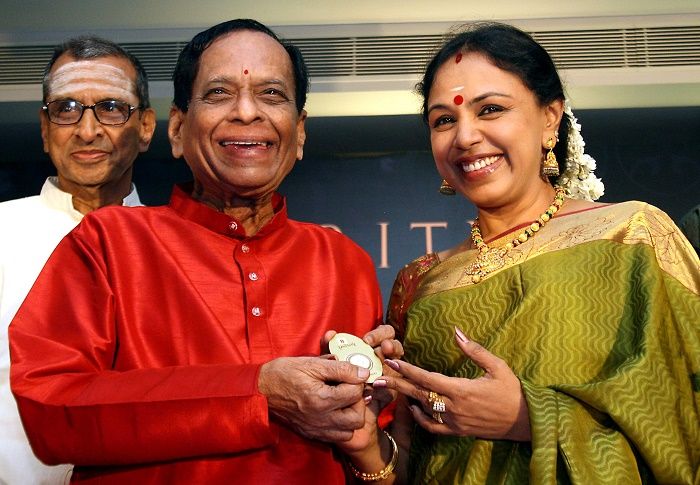 Image Credit:
http://www.newindianexpress.com/galleries/entertainment/2016/nov/22/in-pics-a-peek-into-music-maestro-m-balamuralikrishnas-musical-journey-100116.html
Personal Life and Family
Balamuralikrishna married Annapurna and the couple gave birth to three sons and three daughters. All their children grew up to become doctors. Though Balamuralikrishna was always aware of his innate genius, he treated everyone with respect and was generally soft spoken. The musical maestro was mad about cars. It is said that he would not allow anyone in the driver seat until the year 1995, when he chose to hire a personal driver. The legend was child-like. He loved to gobble up ice creams and junk food, something that most vocalists would never dare to do.
Death
On 22 November 2016, his soul rose to heaven when he suffered a massive heart attack around 5 PM, while he was resting at his Chennai residence. His mortal remain was buried at the Besant Nagar Crematorium with full state honors. Just three months after his demise, his wife too, joined him in the heavens.
Legacy
Dr. Balamuralikrishna established the Academy of Performing Arts and Research in Switzerland. He was also working on music therapy. For extensive research in the field of music therapy, he also established the MBK Trust to develop art and culture and to spread the knowledge. 'Vipanchee', a dance and music school is a part of this trust and is managed by his trustee Kalaimamani Saraswati.