Fast Facts
Date of Birth: 16 September, 1916
Place of Birth: Madurai, Tamil Nadu
Birth Name: Kunjamma
Date of Death: 11 December, 2004
Place of Death: Chennai, Tamil Nadu
Profession: Carnatic singer
Spouse: Kalki Sadasivam
Father: SubramaniaIyer
Mother: Shanmu kavadiver Ammal
Awards: Bharat Ratna, Ramon Magsaysay Award, Sangeet Natak Akademi Award
Madurai Shanmukhavadivu Subbulakshmi is a name that is synonymous with the world of Carnatic music. This flawless singer, whose voice almost had a divine power, is the first singer to be presented with India's highest civil honour, the Bharat Ratna. When she was honoured with the Ramon Magsaysay award, which is considered as Asia's Nobel Prize, she became the first Indian musician to do so. Subbulakshmi, fondly addressed as M.S by her fans, was a true pioneer of anything that has to do with women empowerment. She led by example and showed the way to contemporary women of her era. Though she is famous as an exponent of Carnatic music, her expertise in Hindustani classical music was not short of brilliance. Subbulakshmi didn't contain herself with just music, for she forayed into the field of acting as well.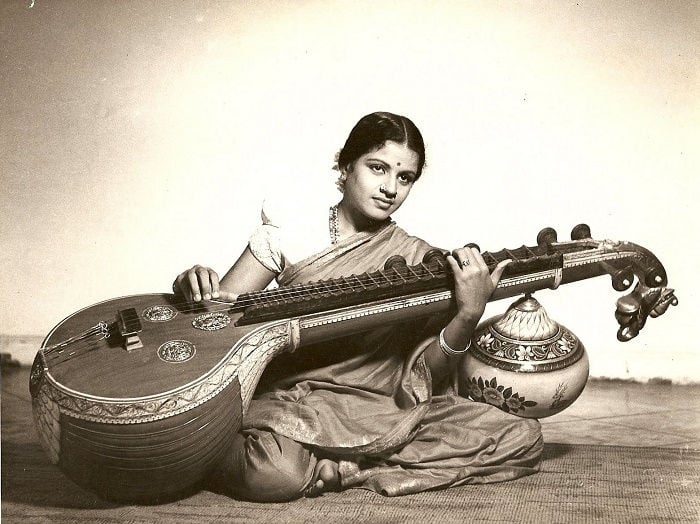 Image Credit:
http://msstribute.blogspot.in/2011/09/
Childhood
M.S was introduced to Carnatic music at a very young age. That was because she was born into a family of musicians. While Akkammal, her grandmother, was a violinist, her mother was a well-known Veena player. Since her mother came from the devadasi community, stage shows were something M.S was used to, very early in her life. As a child, she would have numerous conversations with famous musicians like Karaikudi SambasivaIyer, Ariyakudi RamanujaIyengar and Mazhavarayanendal Subbarama Bhagavathar. This level of exposure to music and musicians made her to choose her career path at a young age.
Education
Subbulakshmi began her training under her mother Shanmu kavadiver Ammal. She then went on to learn the nuances of Carnatic music under Semmangudi Srinivasa Iyer. While learning Carnatic music, she also learnt and mastered Hindustani music under the famous vocalist Pandit Narayanrao Vyas. M.S was a quick learner and thus finished her education at a young age.
Career
M.S delivered her first public performance at the famous Rockfort Temple in Tiruchirappalli when she was just eleven years old. The performance was backed by popular musicians like violinist Mysore Chowdiah and Dakshinamurthy Pillai, a well-known Mridangam player. Her major breakthrough came in the year 1929 when she performed at the Madras Music Academy. The few lucky music lovers present at the event were mesmerized by the skills of a 13 year old girl, who could sing bhajans with such grace and fluency. Impressed by her vast knowledge on music, the academy invited her for several other performances and by the time she was 17, Subbulakshmi was a major attraction in all of her concerts.
Foreign Trips
Subbulakshmi soon became an Indian ambassador for all things cultural, and represented the country in many foreign festivals. In 1963, she was invited to Scotland to take part in the famous Edinburgh International Festival. Her mesmerizing performance in the UK paved the way for her next foreign tour as she was invited to perform at the Carnegie Hall in New York. In 1982, she got an opportunity to showcase her talent at the famous Royal Albert Hall in London. Five years later, she was invited by the government of Russia to perform at the Festival of India which was held in Moscow. Subbulakshmi also traveled to places like Canada and the Far East and songs of praise just kept following her wherever she went.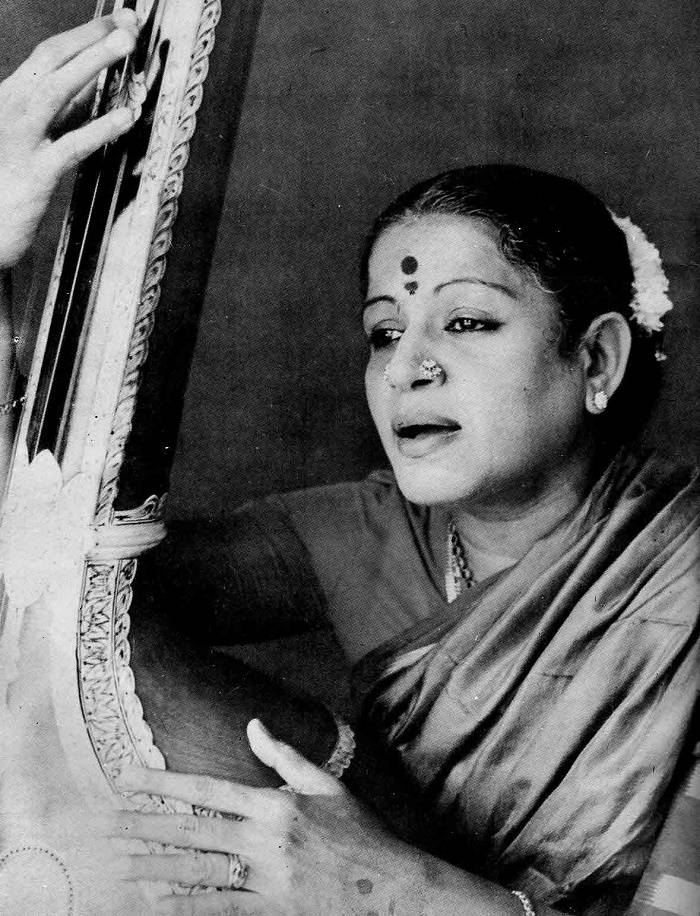 Image Credit:
https://www.pinterest.com/pin/310959549242311135/
A Date with Cinema
M.S also tried her hand at acting and showcased her acting skills in five movies. Her debut came in the year 1938 when she essayed the role of a young girl in the movie 'Sevasadanam'. The film was commercially and critically acclaimed and was considered a trendsetter at that time. In her second movie 'Sakuntalai', she played the title role. Her third film 'Savithiri' saw her portraying the character of Saint Narada and was appreciated for her performance. 
One of her most memorable films came in the year 1945 when she once again played the title role in the movie 'Meera'. The movie was directed by American filmmaker Ellis R. Dungan and it went on to become a huge success. The versatile singer sang all the famous Meerabhajans in her melodious voice and these bhajans were thoroughly enjoyed by the audience. In 1947, 'Meera' was remade in Hindi as 'Meerabai' and this gave her true national recognition. She attained major success by acting in films, but it did not fascinate her for a long time. She quit films and continued to focus on her music and once again started performing in concerts. 
Famous Works
Some of her most famous works include 'Suprabhatam' (Early Morning Hymns), 'Bhajagovindam' (composed by Adi Shankaracharya praising Lord Krishna), 'Kurai OnrumIllai' (composed by Rajagopalachari), 'Vishnu Sahasranamam', 'Hanuman Chalisa' (Prayers to Lord Hanuman), etc. Any ardent fan of Carnatic classical music is sure to have all these and much more works of M. S. Subbulakshmi. Another moving composition is the song 'Vaishnava Jana to'. Her perfect pronunciation and flawless singing would bring tears to the eyes of anyone who listens to it.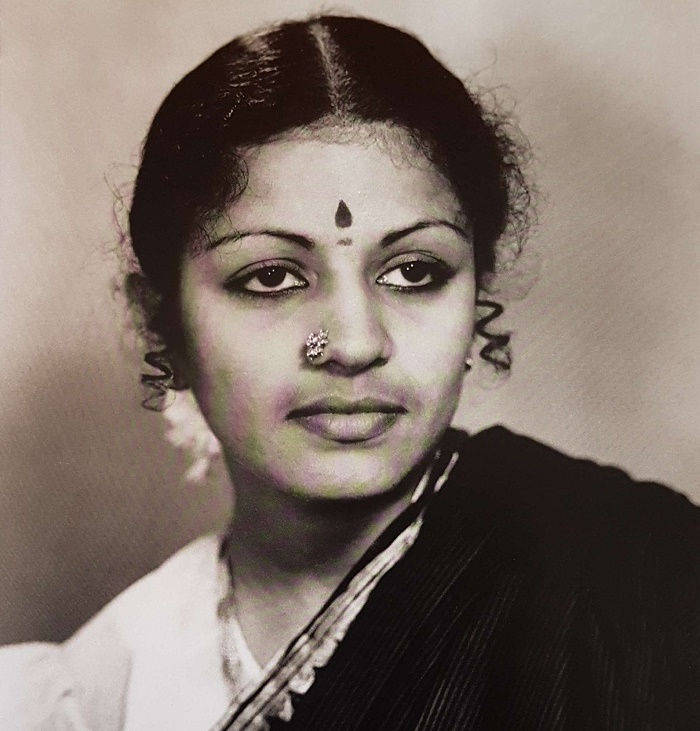 Image Credit:
http://www.hindustantimes.com/static/ms-subbulakshmi-carnatic-rockstar/
An Elite List of Fans
The great talent that M.S possessed brought a galaxy of fans. Her fan list included the likes of Mahatma Gandhi, Jawaharlal Nehru, Sarojini Naidu, Lata Mangeshkar, Ustad Bade Ghulam Ali Khan and Kishori Amonkar. Mahatma Gandhi once commented that he would rather hear Subbulakshmi utter the lyrics of the songs rather than hear someone else sing it. While Jawaharlal Nehru called her the 'Queen of Music', Bade Ghulam Ali defined her as the 'Goddess of perfect note'. 
Awards
Subbulakshmi was a recipient of innumerable awards and honors. Some of them are mentioned below:
Bharat Ratna – In the year 1998, M. S. Subbulakshmi became the first musician to be honored with India's highest civilian award.
Ramon Magsaysay award – This award is also known as Asia's Nobel Prize. In the year 1974, M.S became the first Indian to be honored with this prestigious award.
Sangeet Natak Akademi Award – In 1956, she became the proud recipient of this award for her contribution in the field of Carnatic music.
Sangeetha Kalanidhi – Awarded by the Madras Music Academy, this award is considered to be the most prestigious in Carnatic music. It was bagged by her in the year 1968.
Sangeetha Kalasikhamani – In 1975, she won this award, presented to her by the Indian Fine Arts Society.
Kalidas Samman – In 1988, the government of Madhya Pradesh honored her with the Kalidas Samman.
Indira Gandhi Award – She bagged this prestigious award in 1990. Presented by the government of India, this award was given to her for her efforts in national integration.
Humanitarian Works
Apart from donating most of her prize money to charity, M.S. Subbulakshmi also performed in over 200 charity concerts. From all her charity concerts, she had managed to raise more than one crore rupees which was a huge amount back then. In her lifetime, she came up with several best-selling albums, the royalties of which were donated to charity organizations.
Personal Life and Family
It is said that M.S ran away from her mother, who wanted her to marry the man of her choice. But the young singer was determined to find love instead of wealth, an idea that was far too difficult for her mother to understand. In the year 1936, she met Sadasivam, who helped her with accommodation. He even went to the extent of introducing her in the movies at his own expense. They both got married four years later in 1940. Sadasivam already had children from his first marriage. M.S treated his kids like her own and showered them with love and affection. She was affectionately called 'Amu Paati' by the kids.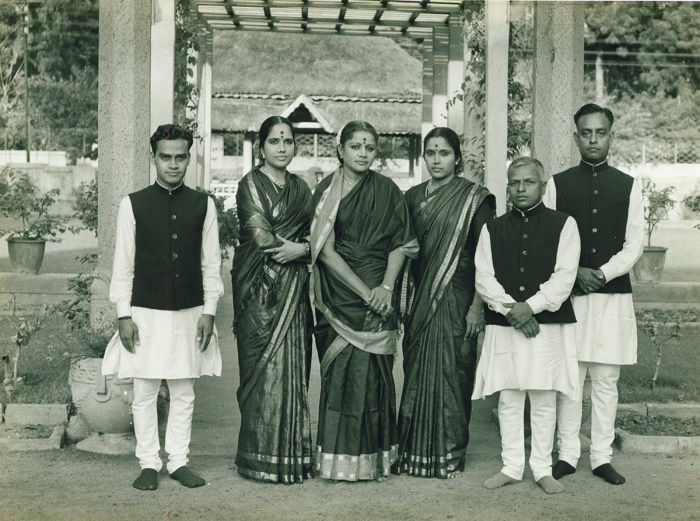 Image Credit:
http://msstribute.blogspot.in/2012/
Death
M. S. Subbulakshmi passed away on 11th December 2004 in Chennai. Her funeral was attended by hundreds of fans and music lovers from all over the country. Many national leaders like the then President A.P.J Abdul Kalam also paid their homage. Her mortal remain was consigned to flames with full state honors. 
Legacy
In 2006, the Urban Development Authority of Tirupati installed a bronze statue of her and the same was unveiled by the then C.M of Andhra Pradesh, Y. S. Rajasekhara Reddy. While a postage stamp of M.S. was issued in 2005, United Nations issued her stamps to celebrate her birth centenary. In Kancheepuram, a type of silk saree has been named after her.