Fast Facts
Date of Birth: 21 March, 1916
Place of Birth: Dumraon, Buxar, Bihar
Birth Name: Qamaruddin Khan
Date of Death: 21 August, 2006
Place of Death: Varanasi, Uttar Pradesh
Profession: Musician
Children: Zamin Hussain, Nazim Hussain, Nayyar Hussain, Kazim Hussain, Mehtab Hussain, Soma Ghosh (adopted daughter)    
Father: Paigambar Baksh Khan
Mother: Mitthan
Awards: Bharat Ratna, Padma Vibhushan, Padma Bhushan, Padma Shri
Without Bismillah Khan, we wouldn't have realized the true potential of a humble wind instrument known as Shehnai. Such was his impact in popularizing Shehnai, a subcontinental instrument belonging to the oboe class. What was regarded as a mere folk instrument went on to be recognized as a classical instrument. What more, it not only attracted Asian music lovers but also made millions of Westerners recognize and appreciate the potential of Shehnai, all thanks to Bismillah Khan. He had fallen in love with his musical instrument, so much so that he would often refer to it as his wife! Well, falling in love with something is one thing, but making millions of others fall in love with it is something else. That is exactly what the legendary musician managed to accomplish during his reign as the world's most loved Shehnai player.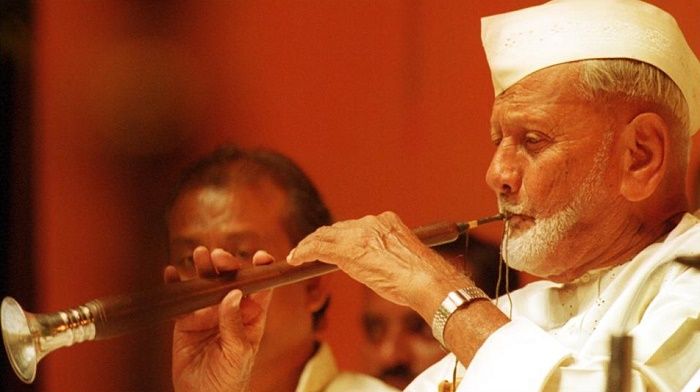 Image Credit:
http://www.hindustantimes.com
Childhood & Early Life
Bismillah Khan was born as the second son to Paigambar Khan and Mitthan. He was named Qamaruddin so that his name would sound similar to the name of his elder brother, Shamsuddin. However, when his grandfather, Rasool Baksh Khan, saw him as a baby, he uttered the word "Bismillah" and hence he came to be known as Bismillah Khan. His family had a musical background and his ancestors were musicians in the court of the princely states of Bhojpur. 
His father used to be a Shehnai player in the court of Maharaja Keshav Prasad Singh of Dumraon. Quite naturally, Bismillah was introduced to Shehnai at a very young age. He grew up seeing his father play the wind instrument and decided to follow in his footsteps. When he was six years old, he began his journey to Varanasi, where he was trained by his uncle, Ali Baksh 'Vilayatu'. Young Bismillah considered his uncle as his Guru and learnt the nuances of playing the instrument, until he perfected every aspect of it.
Career
Bismillah Khan began his career by playing at various stage shows. He got his first major break in 1937, when he played at a concert at All India Music Conference in Calcutta. This performance brought Shehnai into the limelight and was hugely appreciated by music lovers. He then went on to play in many countries including Afghanistan, USA, Canada, Bangladesh, Iran, Iraq, West Africa, Japan, Hong Kong and in various parts of Europe. During his illustrious career he played in many prominent events throughout the world. Some of the events that he played in include World Exposition in Montreal, Cannes Art Festival and Osaka Trade Fair.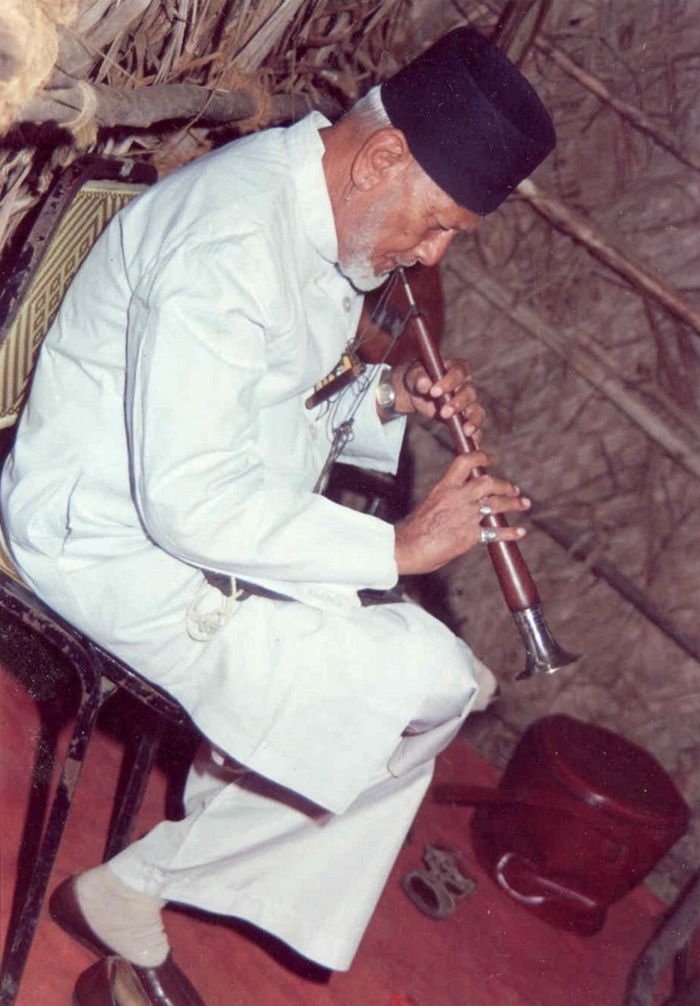 Image Credit:
http://akshaybulbule.blogspot.in/2006_08_01_archive.html
A Rare Honor
Bismillah Khan had the rare honor of playing his Shehnai on the eve of India's independence in the year 1947. He performed at the Red Fort in Delhi and since then, continued to play every year on the 15th of August, right after the speech by the Prime Minister of India. Bismillah's performance was considered the main attraction of Independence Day celebrations for a very long time. His performance reached thousands of households as it was broadcast live by Doordarshan.
Khan's Date with Cinema
Goonj Uthi Shehnai – The Hindi film 'Goonj Uthi Shehnai' had shehnai recitals by Bismillah Khan himself. Also studded with recitals from other famous musicians like Abdul Halim Jaffar Khan and Amir Khan, the movie went on to become a blockbuster. It had its music composed by Vasant Desai.
Sanaadi Appanna – In 1977, the maestro from Varanasi flew all the way to the Prasad Studios in Chennai to work on a Kannada film titled 'Sanaadi Appanna'. He spent nine days there along with his troupe, consisting ten members. He had decided to work on the film as its lead character, played by Dr. Rajkumar, was a rural shehnai artiste. Bismillah Khan's brilliance formed the major part of the movie, which had its music composed by G. K. Venkatesh.
Sange Meel Se Mulaqat – 'SangeMeel Se Mulaqat' is a documentary on Bismillah Khan's life directed by Goutam Ghose. The film features the maestro himself and gives a fair idea about his growth from a young shehnai player to one of India's best.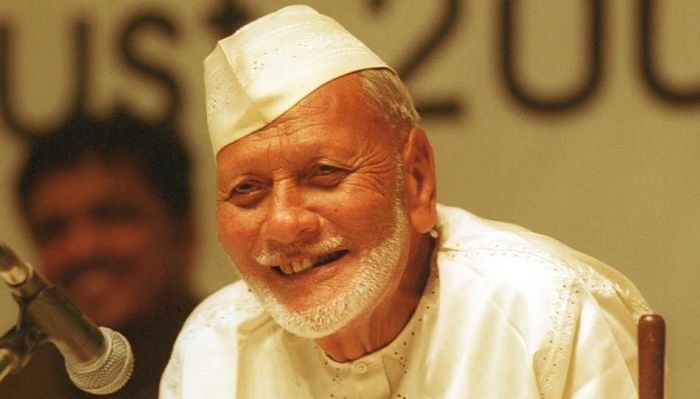 Image Credit:
http://www.hindustantimes.com
What Made Bismillah Khan Special?
Bismillah Khan monopolized shehnai recital in the post-independence era and kept the legacy of classical music alive with his recitals. He can truly be called as a pure artist and music lover as he always believed that music will survive even if the world perishes. He believed in the unity of Hindus and Muslims and spread the message of brotherhood through his music. He always announced that music has no caste. 
Despite the fame that he achieved, Bismillah Khan always remained where his roots were. He never accumulated wealth and other materialistic possessions and lived in humble surroundings in the holy city of Benares. He loved his city so much so that he declined an offer of permanent Visa for settling down in the US.
A Living Example
Bismillah Khan not just stressed upon Hindu-Muslim unity but was also a living example of the same. Though he was a pious Shia Muslim, nobody could stop him from worshipping the Hindu Goddess Saraswati. Also, there is an interesting tale which narrates the maestro's possible interaction with Lord Krishna Himself!
The story begins in a train journey, when Bismillah Khan was traveling from Jamdshedpur to Varanasi, where he was to perform in a religious concert. On his way, the experienced musician couldn't help but notice a young boy with a dark complexion, holding a flute in his hand. To his surprise, the boy started playing his musical instrument, but the maestro himself couldn't recognize the 'raaga'. Bismillah Khan was quick enough to realize the divinity involved in the young boy's music and asked him to play the same tune over and over again.
After reaching Varanasi, Bismillah Khan is said to have played the same tune, which he had learned from the young and mysterious boy. When contemporary musicians and greats asked him about the new 'raaga', the Ustad told them the 'raaga' he played is called 'Kanhaira'.
Awards and Achievements
Bharat Ratna – In 2001, Bismillah Khan was conferred with Bharat Ratna, India's highest civilian award.
Padma Vibhushan – In 1980, he was honoured with the Padma Vibhusha, which is the country's second highest civilian award.
Padma Bhushan – India's third highest civilian award was conferred on him in the year 1968.
Padma Shri – In the year 1961, Bismillah Khan was honored with the nation's fourth highest civilian award.
Sangeet Natak Akademi Award – This award was given to him by India's National Academy of Music, Dance & Drama in the year 1956.
Tansen Award – The government of Madhya Pradesh honored him with the Tansen Award for his contribution to the field of music.
Talar Mausiquee – This award was given to him by the Republic of Iran in the year 1992.
Personal Life and Family
Bismillah Khan led a simple life which made him a likeable character. He used to eat simple food like rice and dal and traveled by cycle rickshaw. Bismillah Khan enjoyed the company of his family members, who were huge in number. Though he had five biological sons, he had adopted a daughter as well. This led to the expansion of his family and he had the privilege of raising his grandchildren and great grandchildren. 
Death
On 21st August 2006, at the age of 90, Ustad Bismillah Khan breathed his last after suffering a cardiac arrest. His Shehnai was buried with him in his grave at Fatemain burial ground, under a neem tree. A day of national mourning was declared by the Indian government and the maestro was sent off by the Indian Army with their trademark gun salute.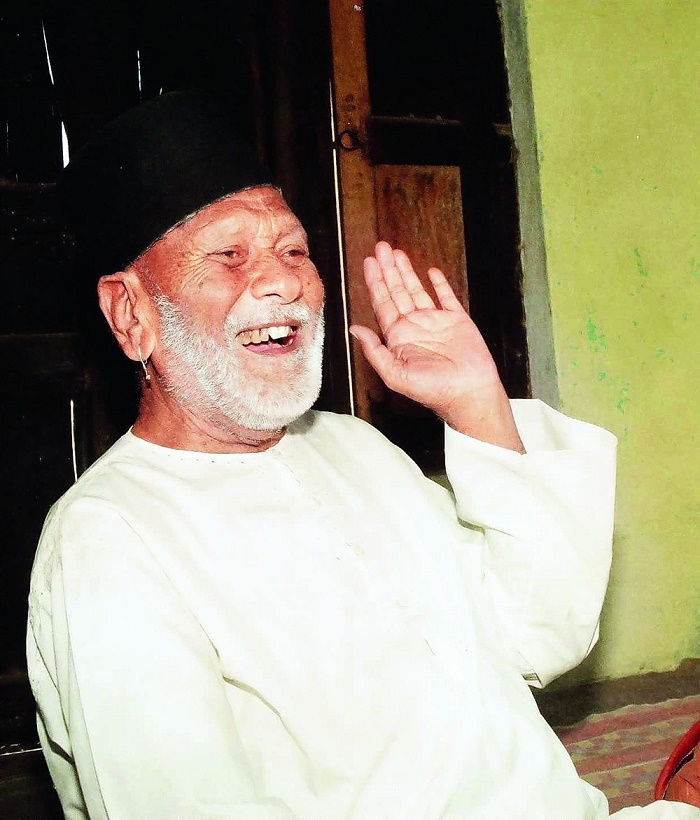 Image Credit:
https://www.telegraphindia.com/1160821/jsp/7days/story_103532.jsp
Legend Lives On
Though Bismillah Khan didn't accept many as his disciples, who would have otherwise carried on his legacy, he made an everlasting impact on the field of music. In 2007, the famous Sangeet Natak Akademi came up with a new award 'Ustad Bismillah Khan Yuva Puraskar', which is given to young performers in the field of dance, music and theatre. There are many biographies of Bismillah Khan, written by eminent authors. Some of the biographies include 'Bismillah Khan and Banaras: the seat of shehnai' by Rita Ganguly, 'Shahnai Vadak Ustad Bismillah Khan' by Murli Manohar Shrivastava and 'Bismillah Khan: The Maestro from Benaras' by Juhi Sinha.