Name: Asha Mangeshkar
Occupation: Playback Singer, Vocalist, Restaurateur 
Birth: September 8, 1933
Place of Birth: Sangli, Maharashtra
Parents: Dinanath Mangeshkar (Father) and Shevanti Mangeshkar (Mother)
Siblings: Lata Mangeshkar (elder siser), Meena Mangeshkar (elder sister), Usha Mangeshkar (younger sister) and Hridaynath Mangeshkar (younger brother)
Spouse: Ganpatrao Bhosle (1949-1960), Rahul Dev Burman (1980-1994)
Children: Hemant Bhosle, Varsha Bhosle, Anand Bhosle
Beginning of Playback Career: 1943
Net Worth (approx): 40 million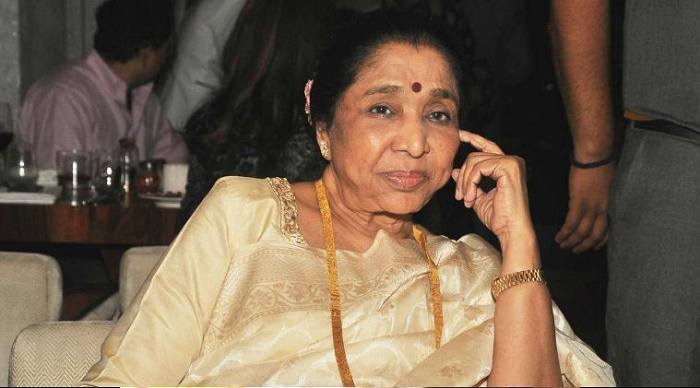 Image Credit:
indianexpress.com
With versatility as her middle name, the famous Asha Bhosle still sings the way she used to during her prime. This talented singer can sing a ghazal and a peppy cabaret number with amazing levels of energy and style. Be it the romantic "Oh Mere Sona Re" or the sensuous "Aaiye Meherban" or the peppy "Kambakth Ishq", Asha Bhonsle can add life to any song. She has sung for over a thousand Hindi films. Renowned for her voice range and versatility, she has sung in almost all genres including film music, pop, bhajans, ghazals, traditional Indian classical music, qawwalis, folk songs, and Rabindra Sangeets. In additon to Hindi, Asha has sung in more than 20 Indian and foreign languages. In 2011, the Guinness Book of World Records officially acknowledged her as the most recorded artist in music history. Asha Bhosle was honoured with the Dadasaheb Phalke Award in 2000 and the Padma Vibhushan in 2008.
Personal Life
Asha Bhosle was born on 8th September, 1933 in a Gomantak Marathi Brahmin family in Sangli, Maharashtra. She was the third among five siblings. Her father, Pandit Dinanath Mangeshkar was a renowned classical singer and stage actor. Her mother Shevanti was Pandit Dinanath's second wife. She trained in classical music from a very young age along with her other siblings. Though she had her brush with acting as a child artist, it was quite natural for her to choose singing. Sadly, her father passed away suddenly in 1942 which was a huge emotional as well as financial setback for the family. She took up acting and singing along with elder sister, Lata Mangeshkar. The family had to move from Pune to Bombay on insistence of mentor and family friend Master Vinayak. Asha got the chance to sing in a Marathi film when she was just ten years old in 1943.  It was 'Chala Chala Nav Bala' for the film 'Majha Bal' with composer Datta Davjekar. Her first foray into Hindi film playback happened with the song 'Saawan Aaya' from the film 'Chunariya' with composer Hansraj Behl in 1948. When she was 16, she eloped with her sister Lata Mangeshkar's personal secretary, Ganpatrao Bhosle and married him much against the family's wishes. The marriage failed miserably and Asha Bhosle was driven out by Ganpatrao. She came back to her maternal home with two kids, Hemant and Varsha, and pregnant with the third one, Anand. Ashaji met Rahul Dev Burman while working as a playback singer and they got married in 1980. The marriage was a happy one and lasted till Rahul's death in 1994.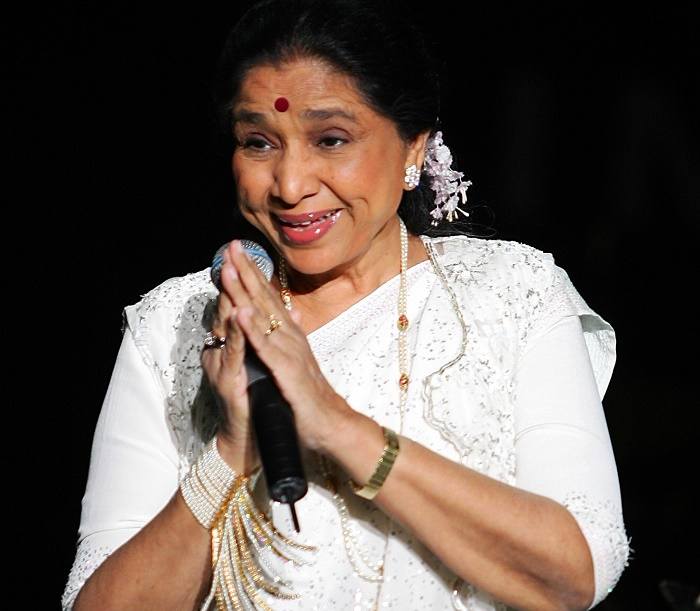 Image Credit:
Firstpost.com
Career
In the year 1948, she made her playback debut with Hindi film 'Chunariya'. The song was called "Saawan Aaya" and Asha was noticed for her different playful voice. During the 1950's she got assignments that were rejected by leading singers like Geeta Dutt, Lata Mangeshkar and Shamshad Begum.
Most of her songs were basically meant for the sidelined roles like vamps, cabaret numbers or C-grade movies. It took a lot of perseverance from Asha to make it to the top. Her hard work and efforts paid off when she was given her first big break with the movie C.I.D (1956). Under the patronage of O.P Nayyar, she began to get more offers and began belting out hits after hits. She tasted huge success with the movie Naya Daur (1957). With O. P Nayyar, Asha gave out hits after hits like 'Aaiye Meherban', 'Deewana Hua Badal', 'Isharon Isharon Mein', 'Aao Huzur Tumko', 'Ude Jab Jab Zulfein Teri', etc. The last song she recorded with him was 'Chain Se' for the movie 'Pran Jaaye Par Vachan Na Jaaye' (1974) and then parted ways.
She was noticed by other music directors like S.D Burman after the phenomenal success of these songs. She and S.D Burman created many hit soundtracks for movies like Kaala Pani, Kaala Bazaar, Insaan Jaag Utha, Lajwanti, Sujata and Teen Deviyaan. Most famous of these songs were Asha Bhosle's duets with Mohammed Rafi and Kishore Kumar. After the mid 1960's Asha collaborated with R.D Burman and reached the peak of her career. The movie Teesri Manzil (1966) shot her to fame and she won popular acclaim. The duo of Asha and R.D Burman produced hits after hits and their collaboration resulted in marriage.
Ashaji became the voice of Helen, one of the most graceful dancers of that era. Helen would visit Ashaji during her recordings to understand the feel of the song and choreograph her steps accordingly. Some of her evergreen hits featuring Helen are 'O  Haseena Zulfon Wali' from Teesri Manzil (1966), 'Piya Tu Ab To Aaja' from the film Caravan (1971), and 'Yeh Mera Dil' from Don (1978). A popular song 'Jaane Jaa' from the movie Jawaani Diwaani (1972) required her to switch from high pitch to low almost simultaneously which she did with utmost ease and perfection. The song, 'Dum Maro Dum' from the movie 'Hare Rama Hare Krishna' showed an entirely new side of her talent. The romantic 'Chura Liya Hai Tumne' from the movie Yaadon Ki Baarat is hummed even today and is considered to be one of the most romantic songs of this century. 
Asha proved critics wrong when she sang beautiful Ghazals for the movie Umrao Jaan in 1981. She proved that she can sing classical with as much panache as other genres. The great composer Khayyam told her to sing two notes lower than usual. The rest as they say is history! The songs turned out to be chart toppers and till date are sung with much elegance and respect. In the 90's, she experimented with peppy numbers and produced hits like 'Tanha Tanha', 'Yaire', 'Kambakth Ishq', 'Chori Pe Chori', with much younger music directors like A.R. Rahman, Anu Malik, and Sandeep Chowta. Time has really not touched her voice and she sounds exactly like what she used to sound 30 years back.
During her career as a playback singer in mainstream Bollywood she was pitted against her elder sister Lata Mangeshkar and Asha carved out a completely different niche for herself. She emerged with a much more versatile repertoire of songs, ranging through genres like classical, western-influence, pop, cabaret, ghazals. She refused to be dominated by her illustrious sister's shadows and kept on experimenting with music, giving the audiences songs that were groovy and delightful at the same time.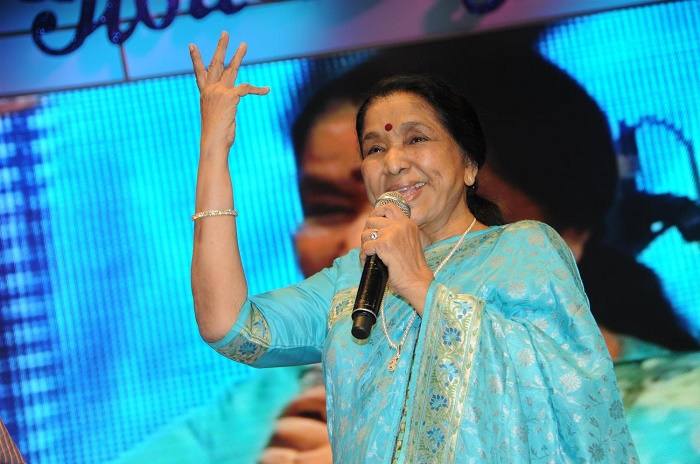 Image Credit: Rediff.com
Albums and Concerts
Apart from playback singing in Bollywood and other regional films, Asha did several collaborations with contemporary music maestros. In 1987, Asha collaborated with prominent lyricist Gulzar and husband R.D. Burman to create a double album Dil Padosi Hai. In 1997, she released an Indipop album, Janam Samjha Karo in collaboration with musician Leslie Lewis. The album gained immense popularity and received several MTV music awards. In 2000, Ashaji released the album Rahul and I, a collection of remixed R.D. Burman compositions. In 2002, she composed tunes for a private album Aapki Asha, the lyrics for which were written by the famous Majrooh Sultanpoori. She collaborated with several musicians in their private albums including Adnan Sami in 'Kabhi to Nazar Milao'. A private album with Hindustani classical stalwart Ali Akbar Khan earned her a Grammy nomination. She collaborated with every major ghazal artist from India and Pakistan like Ghulam Ali, Mehdi Hassan and Jagjit Singh. She also released a devotional song album titled Bala Main Bairagan Hoongi.
Asha Bhosle has travelled all over the world to perform in concerts as well as collaborating with musicians overseas. She sang with famous musicians like Boy George for the song 'Bow down mister', collaborated with boy band Code Red. She performed in 13 cities in the USA in a span of 20 days. She had sold out concerts in Stockholm, Dubai, London, Canada and other countries. Her song with Michael Stipe 'The Way you Dream', was featured in the movie Bulletproof Monk. She also came together with Cricketer Brett Lee for his music debut in the song 'You're the One for Me' in 2006. Asha's voice and her style of singing inspired a number of international musicians including British opera pop singer, Sarah Brightman who remixed Asha's 'Dil Cheez Kya Hain' in her song 'You Take My Breath Away' in the album Harem (2005). The Balck Eyed Peas also did something similar with two of her songs, 'Ae Naujawan Sab Kuchh Yahan' and 'Yeh Mera Dil Pyaar Ka Diwana' in their number 'Don't Phunk with My Heart'. The album 'You've Stolen My Heart: Songs from R.D. Burman's Bollywood' was compiled by the American String Quatret, Kronos Quatret as a tribute to Asha and R.D. Burman's musical journey.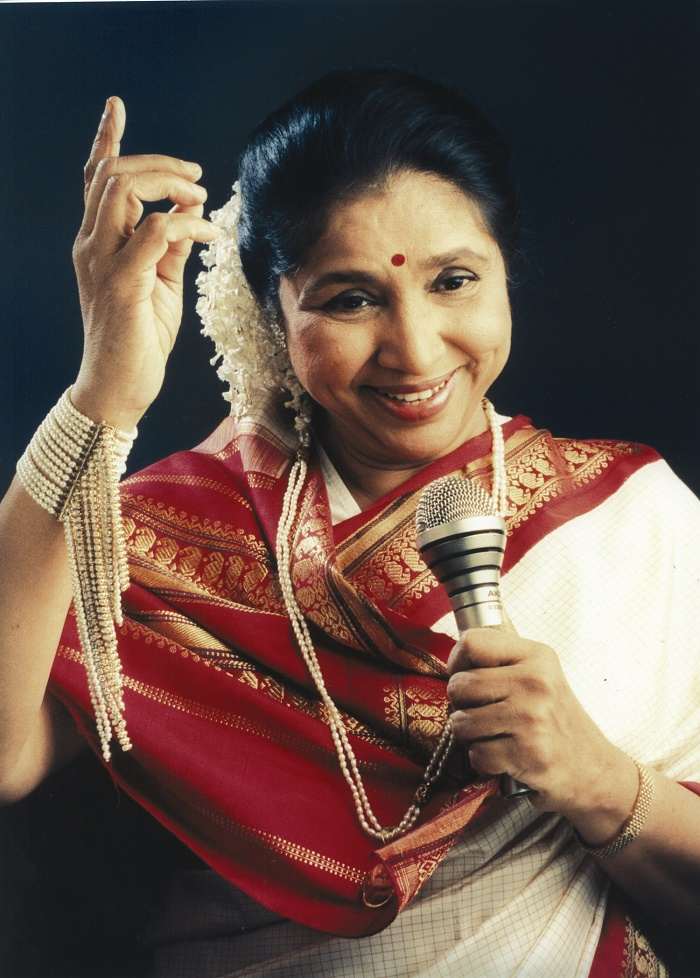 Image Credit:
http://www.mazale.in/wp-content/gallery/asha-bhosle/Asha-Bhosle-with-mike.jpg
Awards and Honours
Asha Bhosle's talent has been recognised by a series of awards and honours from different authorities. She received the Dada SahebPhalke award in 2000. She was honoured with the Padma Vibushan Award by the Government of India in 2008. She won 8 Filmfare awards in the best Female Playback Singer Category in the years 1968, 1969, 1972, 1973, 1974, 1975, and 1979. She received the Lifetime Achievement Award from Filmfare in 2001. She has won 2 national Awards, in 1981 for the song 'Dil Cheez Kya hai' from Umrao Jaan and in 1986 for 'Mera Kuchh Saman' from the film Ijaazat. She also won the International Indian Film Academy (IIFA) Awards in 2002 in the Best Playback Singer Female Category for the song 'Radha Kaise Na Jale' from the film Lagaan. She also won the Lata Mangeshkar Award from the Government of Madhya Pradesh in 1989. Apart from a Grammy nomination, she bagged an Immies in 2005. She received honorary degrees from University of Amaravati, University of Jalgaon and Jodhpur National University.