Date of Birth: 28 September 1929
Place of Birth: Indore, Madhya Pradesh
Parents: Deenanath Mangeshkar (Father) and Shevanti Mangeshkar (Mother)
Siblings: Meena Khadikar, Asha Bhosle, Usha Mangeshkar, Hridaynath Mangeshkar
Occupation: Playback Singer, Music Director, Producer
Religion: Hinduism
Start of Playback Singing Career: 1942
Total number of songs (approx): 50,000 in 36 languages
Nickname: Nightingale of India
Net Worth (approx.): $10 million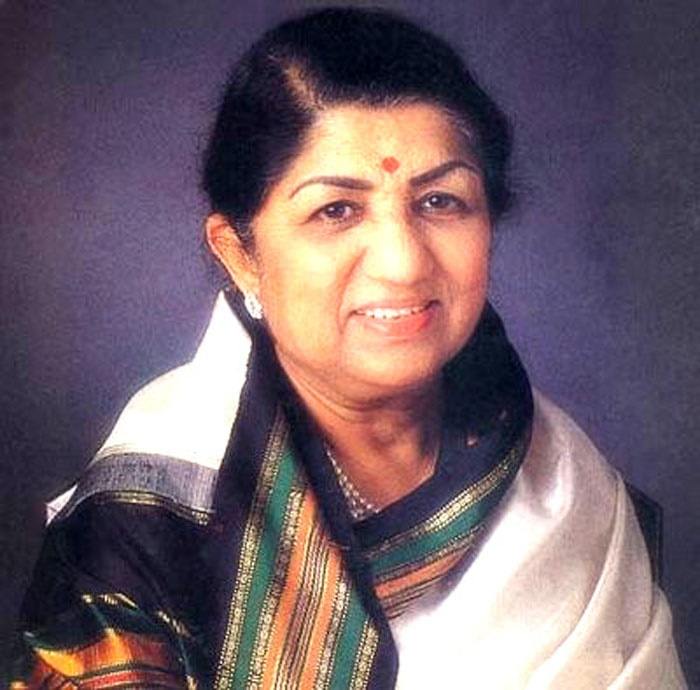 Lata Mangeshkar is one of the best singers of the Hindi film industry. She is listed in the Guinness Book of World Records as the most recorded artist in the world. She started her started in 1942 and has spanned over seven decades. Lata is said to have recorded songs for over a thousand Hindi films. She also has the credit of having sung in over thirty-six regional Indian languages and foreign languages. Lata Mangeshkar is the elder sister of singers Asha Bhosle, Hridaynath Mangeshkar, Usha Mangeshkar and Meena Mangeshkar. She was honoured with India's highest award in cinema, the Dadasaheb Phalke Award, in 1989.
Childhood & Early Life
Lata Mangeshkar was born on September 28, 1929 in Indore, Central Provinces (now Madhya Pradesh). She was the eldest daughter among the five children of Dinanatha and Shevanti Mangeshkar who belonged to a Maharashtrian Brahmin family. Dinanath hailed from the town of Mangeshi in Goa and he changed his last name from Haridkar to Mangeshkar in identify with his hometown. Her father Pandit Deenanath Mangeshkar was an accomplished classical singer and stage actor. Lata was initially named Hema when she was born, but later her father renamed her as Lata, inspired by a character in one of his plays. She had four siblings, three sisters, Meena, Asha and Usha; and one brother, Hridaynath. All five Mangeshkar siblings learned classical music from their father.
Lata started acting in her father's musical plays since the age of five. She also took lessons in classical music from maestros like Amanat Khan, Pandit Tulsidas Sharma and Aman Ali Khan Saheb later in life. She was inspired by K.L. Saigal's music when she was young. She did not receive a formal education as she did not attend school. PanditDinanath passed away when Lata was just 13 years old and as the eldest child, the financial responsibility of the family came to rest upon Lata's shoulders.
Image Credit:
indiatoday.in
Career
Lata Mangeshkar has had an illustrious career in various roles, better at some than others. A God-gifted voice led her to become the most successful and celebrated female playback singer from the 1940s till 1980s. Starting from Vaijayantimala till Preity Zinta, she has lent her voice to all leading ladies of Bollywood. Her songs had touched the hearts of millions throughout the years and across borders. She also did some acting at the start of her career. Her attempts as a music director were not as successful as her singing career.
Playback Singer
Lataji started her career in 1942, right after the death of her father. Vinayak Damodar Karnataki, a family friend helped her get jobs as an actress in Marathi and Hindi Films. Beginning years of her career were quite rocky as young Lata struggled to find her foothold in the industry. Her first song as a playback singer was 'NaachuYaa Gade, Khelu Saari Mani Haus Bhaari' for a Marathi film Kiti Hasaal with composer Sadashivrao Nevrekar. The song was dropped from the film before release. Her first Hindi song happened the next year in 1943, with 'Mata Ek Sapoot Ki Duniya Badal De Tu' in the movie Gajaabhaau. 
Lata Mangeshkar moved to Bombay in 1945. She faced numerous rejections from contemporary music composers as they found her voice too thin and sharp, as opposed to the preferred style of that time. She would often imitate famous singers like Noor Jahan to satisfy the music directors.
Apart from Master Vinayak, Lata was mentored by music director Ghulam Haider. Under his guidance, Lataji achieved her first recognition in the song 'Dil Mera Toda, Mujhe Kahin Ka Na Chhora' in the 1948 movie Majboor. Her first tumultuous hit song came with the song 'Ayega Anewala' presented on-screen by actress Madhubala in the film Mahal in 1949.
Her music career took off from there as she started working with all major music directors and playback singers of the time. She did playback singing for celebrated music directors like Sachin Dev Burman, Salil Chowdhury, Sankar Jaikishan, Naushad, Madan Mohan, Kalyanji-Anandji, Khayyam and Pandit Amarnath HusanLal Bhagat Ram. During the 1950s, she worked in successful films like Baiju Bawra (1952), Mother India (1957), Devdas (1955), ChoriChori (1956) and Madhumati (1958). She won her first Filmfare Award for best Female Playback Singer in 1958 for the song 'Aaja Re Pardesi' from the film Madhumati with music director Salil Chowdhury.
She easily flitted between different genres for various music directors. She sung raga based song like 'MoheBhool Gaye Sawariya' based on Raga Bhairav from the 1952 film BaijuBawra. She sung western theme song like 'Ajeeb Dastan Hain Yeh' from Dil Apna aur Preet Parayi (1960) as well as Bhajan like Allah Tero Naam for the movie Hum Dono in 1961. She was the voice behind the most glamorous heroines of the time, from Madubala to Meena Kumari. She moved dignitaries including Prime Minister Jawaharlal Nehru to tears with her rendition of the famous patriotic song 'Ae Mere Watan Ke Logon'. 
She started playback singing for regional films in Tamil and Marathi. Her first song in Tamil was 'Enthan Kannalan' in the film Vanaradham in 1956. In Marathi films, she sung for her brother Hridaynath Mangeshkar who was a celebrated music director, in films like Jait Re Jait. He sang playback for Bengali films for music directors like Salil Chowdhury and Hemant Kumar. She made her debut in the Kannada playback industry with the song Bellane Belagayithu composed by Lakshman Berlekar from the movie Krantiveera Sangolli Rayanna in 1967. In 1974, she recorded her only Malayalam song "Kadali Chenkadali" for the film Nellu, composed by Salil Chowdhury, and written by Vayalar Ramavarma.
She collaborated with noted male playback singers like Mohammed Rafi, Kishore Kumar, Mukesh, Hemant Kumar, Mahendra Kapoor and Manna Dey in many projects. She became the unrivaled queen of the playback industryand enjoyed star status. People could not praise her voice enough and every major producer, music director and actor was vying to work with her. Her duets with Kishore Kumar all through the 1970s and 1980s became legends of the Hindi Film Industry and are celebrated till date. Songs like 'Kora Kagaz' from film Aradhana (1969), 'Tere Bina Zindagi Se' from the 1971 film Andhi, 'Tere Mere Milan Ki' from Abhimaan (1973) and 'Aap Ki Ankhon Me Kuch' from the film Ghar (1978), are some examples of unforgettable musical magic that this pair created.
During the 1980s Lataji worked on compositions by Rahul Dev Burman, son of Sachin Dev Burman, and Lataji's would be brother-in-law. R.D., who was known to prefer Asha Bhosle for his versatile compositions, used Lataji's voice for his more melodious compositions like 'Kya Yahi Pyar Hai' in Rocky (1981), 'Humein Aur Jeene Ki' in Agar Tum Na Hote (1983), 'Tujhse Naraaz Nahin'  in Masoom (1983) and 'Seeli Hawa Chhoo Gayi' in Libas (1988).
Her collaboration with music director duo Laxmikant Pyarelal produced some of the most superhit songs of the time that are still hummed with equal enthusiasms by Indians. The duo considered Lataji instrumental in their success. 'Dil Vil Pyar Vyar' from Shagird (1968), Sheesha Ho YaDil Ho from Asha (1980), Mere Naseeb Mein from Naseeb (1981) and Ye Galiyan Ye Chaubara from Prem Rog (1982) are some of their most popular collaborations. Other acclaimed scoresin the 1980s with include title track from Ram Teri Ganga Maili (1985) with music director Ravindra Jain and Dikhayi Diye Yun in Bazaar (1982) with Khayyam.
1990s onwards, Lataji worked with music directors like Anu Malik, Jatin Lalit and A.R. Rahman. Films like Dilwale Dulhania Le Jayenge, Hum aapke Hain Kaun, Dil Se, Rang De Basanti featured acclaimed songs sung by Lataji. She gradually decreased the volume of her work due to health reasons, singing selective compositions. She launched several albums during her musical career including Chala Vahi Des (1979) with Brother Hridaynath Mangeshkar, Ram Ratan Dhan Payo (1983) and Shraddanjali-My Tribute to the Immortals (1994).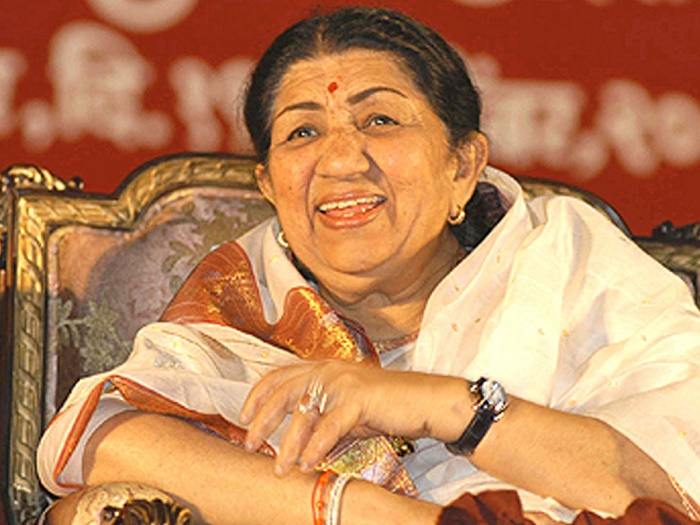 Image Credit:
radioandmusic.com
Music Director
Lata Mangeshkar also assumed the role of music director for several Marathi Films, first of which was Ram Ram Pavhane in 1955. Her other projects were Maratha Tituka Melvava (1963), Mohityanchi Manjula (1963), Sadhi Manase (1965) and Tambadi Mati (1969). She won Maharashtra State Government's Best Music Director Award for the film Sadhi Manase with the song 'Airanichya Deva receiving the best song award.
Producer
As a producer, Lata Mangeshkar made four films - Vaadal, a Marathi language film in 1953, Jhaanjhar with C. Ramchandra as co-producer in 1953, Kanchan in 1955 and Lekin…, the directorial venture of lyricist Gulzar in 1990. She launched her own music label in 2012 called LM Music and released a Devotional album along with younger sister Usha Mangeshkar.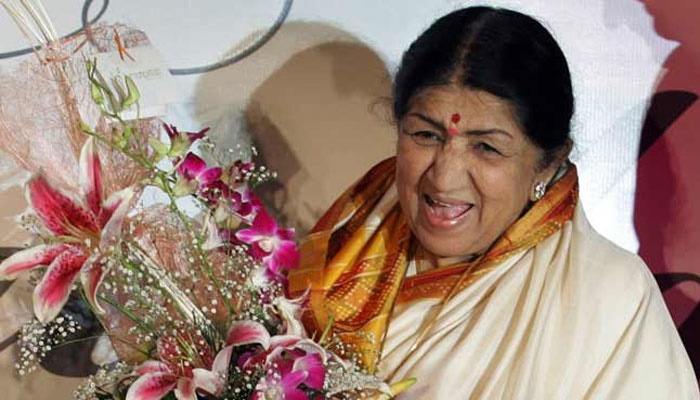 Awards and Honors
Lataji has received numerous awards and honors for her illustrious career as a playback singer. Some of the Awards she won are Padma Bhushan (1969), Dadasaheb Phalke Award (1989), Padma Vibhushan (1999), Maharashtra Bhushan Award (1997), NTR National Award (1999), and ANR National Award (2009). She was awarded the Bharat Ratna, India's Highest Civilian Award in 2001. She won 3 National Film Awards (1972, 1974, 1990), and 12 Bengal Film Journalists' Association Awards (1964, 1967-1973, 1975, 1981, 1983, 1985, 1987, 1991). She has also won the Filmfare Awards for Best Female Playback Singer four times (1958, 1962, 1965, 1969, 1993, 1994). She was awarded the Filmfare Lifetime Achievement Award in 1993.
Controversies
Lataji has had to go through her share of controversies as well. Her relationship with S. D. Burman soured as the two had an altercation and the duo did not work between 1958 and 1962. She also had a difference of opinion with Mohammed Rafi over the issue of royalty. She was constantly pitted against her own sister Asha Bhosle for the number one spot. There was a controversy over the Guinness Record in 1974, where Lataji was named as the most recorded artist in history as she has recorded "not less than 25,000 solo, duet and chorus backed songs in 20 Indian languages" between 1948 and 1974. Mohammed Rafi contested the statistics, and after 1991 the record was discontinued from the Guinness Book of Records.