Fact Sheet
Date of Birth: February 4, 1922
Place of Birth: Ron, Bombay Presidency, British India
Date of Death: January 24, 2011
Place of Death: Pune, Maharashtra
Music Genre: Hindustani classical music
Spouse (s): Sunanda Katti, Vatsala Mudholkar
Children: Raghavendra, Anand, Usha, Sumangala, Shubhada, Jayant and Shrinivas Joshi
Father: Gururaj Joshi
Mother: Godavaraibai
Awards: Bharat Ratna, Sangeet Natak Akademi Fellowship, Lifetime achievement award
 
A brilliant exponent in the field of Hindustani classical music, Pandit Bhimsen Joshi is a legend who had not just earned the respect and admiration of his fans but that of his critics as well. Famous for perfecting the Khayal, a form of Hindustani classical, Bhimsen Joshi was also known for his presentation of devotional music. His 'bhajans', which were usually sung in Kannada, Hindi and Marathi languages, are widely recognized and appreciated not just by ardent music lovers but also by devotees all over the country. This versatile singer has also recorded Kannada Dasa Krithis in Dasavani, the likes which are usually sung by Carnatic musicians. His most memorable performance that is recalled by his fans even today is the song 'Mile Sur Mera Tumhara'. His golden voice which appealed the Indians to be united and stand as one nation is an evergreen number that is hummed even today by one and all.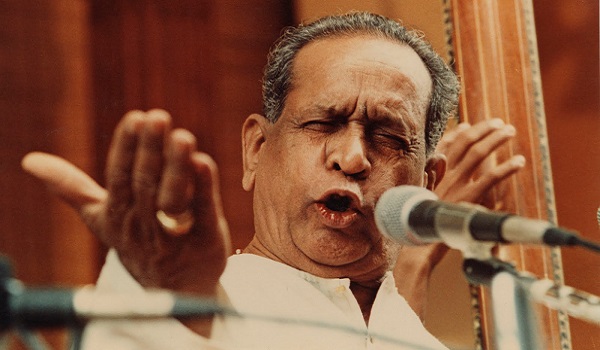 Image Credit:
http://writeriot.blogspot.in
Childhood
Bhimsen Joshi was born into a Madhwa Brahmin family and was the eldest among his 16 siblings. When he was just a kid, he lost his mother and since then was raised by his father and stepmother. At a young age, Bhimsen was smitten with musical instruments such as Tanpura (a string instrument) and the pump organ. Very early in his life, Bhimsen was fascinated with music. So much so that he would often follow a random musical procession and would end up losing sight of his home and sometimes his village. It is said that he would fall asleep at the very place where the procession would end, making it difficult for his father to trace him.
This proved to be a headache to Mr. Gururaj Joshi, who then came up with a brilliant idea to make sure his son would return to him, should he get lost after following some procession. Gururaj Joshi took his son's shirts and wrote on them 'son of teacher Joshi.' This prompted the fellow villagers to hand Gururaj's son back to him whenever they found him sleeping at the side of the road.
The Adventures of a Young Musician
At the age of eleven, Bhimsen Joshi decided to grow up into a musician after listening to performances from the likes of Abdul Karim Khan and Sawai Gandharva. He then left his home with the sole aim of becoming a vocalist. It is said that his first destination was Pune and that he got there with the help of a few fellow passengers in train. From Pune, the tracks laid by his destiny led him to Gwalior where he met the famous sarod player Hafiz Ali Khan. Helped by the instrumentalist, Bhimsen got himself enrolled into Madhava Music School. Finally, his days of adventure in the northern part of India came to an end when his father zeroed in on him in Jalandar. He was then brought back to his hometown. Though the adventure of an aspiring musician had come to an end, it was however, the beginning of something extraordinary.
Bhimsen's Learning Curve
Bhimsen learnt the basics from Agasara Channappa of Kurtakoti. He then went on to learn the nuances of classical music from Pandit Shyamacharya Joshi, a priest and classical vocalist. Under Shyamacharya Joshi, Bhimsen also learnt to play harmonium (pump organ). In 1936, his dream of learning music from Sawai Gandharva came true when the maestro agreed to be his teacher. Bhimsen Joshi then spent many of his years in the home of his guru and continued to learn from him. Under the tutelage of Sawai Gandharva he learnt many ragas and perfected his tone, pitch and the best of Kirana gharana.
Glittering Career
Bhimsen himself might not have known about it at that time, but his career had started even before he had realized that it had begun. At the time when he was learning under Shyamacharya Joshi, Bhimsen had once accompanied his guru to Mumbai where Shyamacharya had to record a few songs. But half way through, Shyamacharya had to return home citing his illness so requested Bhimsen to finish what he had started. Bhimsen was more than happy to oblige and that's how his career took off. 
After giving his first live performance in the year 1941, Bhimsen managed to get his first album released by HMV in the year 1942. In 1943, he started working at a radio station in Mumbai. His first major break came in the year 1946, when his concert, which celebrated the 60th birthday of his Guru Sawai Gandharva, was appreciated by critics and general music lovers alike.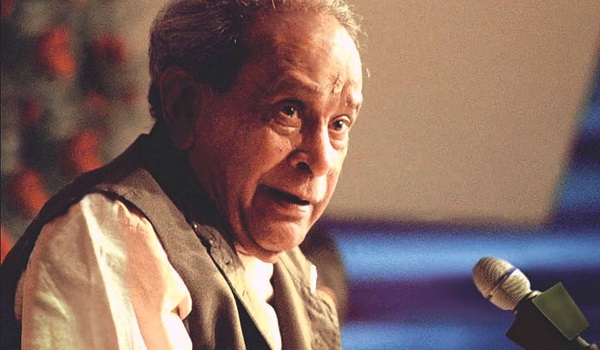 Image Credit:
YouTube.com
Style
Bhimsen's Hindustani classical music had a unique style as it was influenced by a number of greats including Begum Akhtar, Smt. Kesarbai Kerkar and Ustad Amir Khan. Though he mainly stuck onto Kirana gharana for most part of his career, he also incorporated various styles and gharanas from each of his inspirations. Apart from a classical singer, Bhimsen Joshi was also patriotic and a devotional singer.
Career in Films
Bhimsen Joshi served as a playback singer in many movies including 'Basant Bahar' and 'Birbal My Brother'. In 1964, he recorded the song 'Ramya Hi Swargahun Lanka' along with Manna Dey for the Marathi movie 'Swayamvarzale Siteche'. He even worked with singers like M. Balamuralikrishna and Pandit Jasraj while recording for Kannada movies. 'Bhagyadalakshmi Baaramma', a song originally composed by Purandara Dasa and sung by Bhimsen Joshi, was used in the Kannada film 'Nodi Swami NaavuIrodhu Heege'.
Awards
Bhimsen Joshi was honoured with several awards over the course of his illustrious career. Some of them are listed below:
Padma Shree – Bhimsen Joshi became a proud recipient of Padma Shree in the year 1972.
Padma Bhushan – In 1985, he was honored with this prestigious award.
Padma Vibhushan – India's second highest civilian award was conferred on him in the year 1999.
Bharat Ratna – In 2008, he was conferred with India's highest civilian award.
Sangeet Natak Akademi Award – In the year 1976, India's National Academy of Music, Dance & Drama honored him with this prestigious award.
Sangeet Natak Akademi Fellowship – The same academy went on to confer on him their most prestigious award in the year 1998.
Maharashtra Bhushan – The most prestigious award given away by the Maharashtra government is Maharashtra Bhushan. It was awarded to him in the year 2002. The award consist Rs.10 lakh prize money, a memento and citation.
Swathi Sangeetha Puraskaram – In 2003, the government of Kerala honored him with this particular award.
Karnataka Ratna – This is the highest civilian award given by the state of Karnataka. He bagged this award in the year 2005.
Lifetime achievement award – In 2009, the government of Delhi honored him with a lifetime achievement award.
National Film Award for Best Male Playback Singer – He bagged the national award for his rendition in the 1985 movie 'Ankahee'.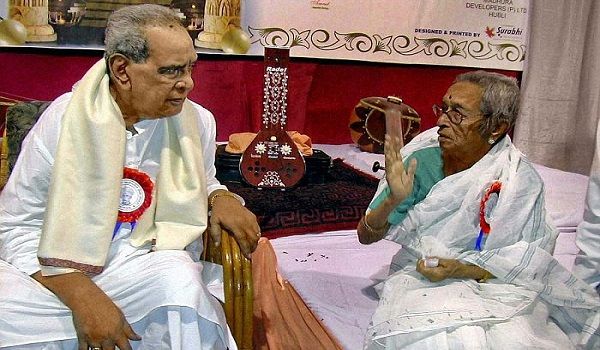 Image Credit:
http://vichar-vishva.blogspot.in/
Personal Life and Family
In 1944, Bhimsen Joshi married Sunanda Katti. The couple had four children namely Raghavendra, Usha, Sumangala, and Anand. In 1951, he married another woman named Vatsala Mudholkar whom he knew while working for a Kannada play titled 'Bhagya Shree.' Since Bombay Presidency didn't allow bigamy at that time, he shifted to Nagpur and continued to live there along with his wives. With Vatsala Mudholkar, he fathered three children namely Jayant, Shubhada, and Shrinivas Joshi. After a few years, his first wife moved out of his home and shifted to Pune. From then onwards, Bhimsen had a special relationship with this city of Pune.
Death
On December 31, 2010, Bhimsen Joshi was admitted to Sahyadri Super Specialty Hospital with issues like gastrointestinal bleeding and bilateral pneumonia. A month later, on January 24, 2011, he breathed his last and was laid to rest at Vaikunth Crematorium in Pune.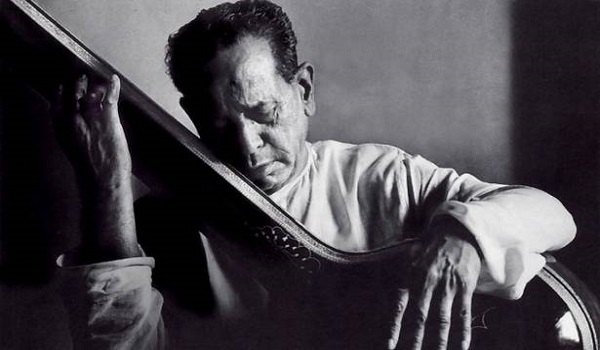 Image Credit:
http://www.thehindu.com
Legend Lives On
In 1953, Joshi and his friend Vasantrao Deshpande started the Sawai Gandharva Music Festival in order to honor his guru Sawai Gandharva. Ever since, the festival is being organized every year and it reminds the greatness of both Sawai Gandharva and perhaps his best student, Bhimsen Joshi. It has been a regular feature since the past three decades and has become an institution of sorts for upcoming musicians. Apart from students who learn the nuances of classical music just by listening to his works, his own students continue to carry forward his legacy. Some of his best students include Shrikant Deshpande, Madhav Gudi, Narayan Deshpande and Anand Bhate.