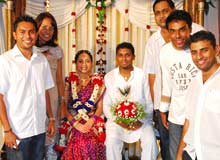 Theme wedding is the new concept which has hit the Indian marriage market lately and is quickly catching up. Theme weddings are nothing but a different approach to celebrating your marriage. With the help of a theme a wedding ceremony can be made more special and memorable. This is because you blend the elating reality with wild fantasy. The concept is quite popular in the West and has managed to lure couples from India as well. Moreover, theme weddings are more appealing both for the guests and the host, as they experience something unconventional keeping the traditional values intact. For some nice wedding themes, read on.
Beach Wedding
For all the would-be brides and grooms nothing can seem more special than their wedding. It is an occasion, which every couple wants to make memorable, as it is a one time affair. Thus, in order to achieve that feeling, people opt for different ideas.
Flower Wedding
India is a bounteous land in terms of natural beauty. Owing to its picturesque locales, it is also referred as the heavenly abode of the Lord. This abundance can be celebrated along with the special occasion of your wedding. This is possible if you choose flower theme for your marriage.
Royal Wedding
India is an enigmatic land, with a rich cultural and historical heritage. Ruled over by innumerable dynasties, the country has experienced a wealth of royalty. The imperial legacy can be seen spread over different regions in the form of various forts, palaces and temples.
Valentine Wedding
You know love is in the air, as soon as the Valentine's Day is ready to arrive. It is this time of the year when the adrenaline rush is at the highest level and the young hearts are fluttering with mushy feelings. The air smells sweet and there is romance in the surroundings, intoxicating the lovelorn couples.