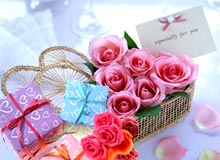 Indian marriages are known for their pomp and show. Guests are anyways treated as gods in India and Indian weddings demonstrate it with an added charm. In Hindu weddings, giving gifts forms an integral part of the ceremony. Both the guests and the hosts exchange gifts, in order to express their joy and gratitude. However, while choosing a gift for the novice couple, do keep in mind certain things like which party has invited you, the girls or the boys, your relation, your budget etc. When in a fix while choosing the gift, you can always opt for giving money as a token of love. For your help, some
wedding gift ideas
are given below.
Jewelry
One of the finest choices for a wedding gift is jewelry. It has an inseparable relation with the marriage ceremonies as every daughter of the eve is seen glittering with gold and diamonds. Thus, if you want to add zing to the joy of the bride, gift her jewelry item in accordance with your budget. You can choose from items like pendants, bangles, bracelets, rings, necklaces; in gold, diamond, platinum, Titanium, jade, precious stones, kundan etc.
Decorative Items
In case you do not know the taste of the bride and the groom, play safe. Decorative items come to your rescue at this stuck up situation. These items are easy to find and greatly presentable. Some fine decorative items, which can serve as good gifts are show pieces, artifacts, handicrafts, vases, paintings, photo frames etc. Moreover, handmade personalized gifts are also quite in nowadays.
Electronic Items
Another nice option at your disposal is electronic items. These can prove to be quite useful for the newly wed couple as they start their household activities. Besides, there is a wide variety available, from which you can choose the gift according to your pocket. The gift can be anything like mixer, food processor, electronic scrapers, juicer, toaster, television, music system, refrigerator, computer, computer accessories etc. Cell phones also serve as good wedding gifts. Furthermore, you can gift these items in a group, wherein everybody will contribute to the cost, thereby relieving burden on your pocket.
Silver Wedding Gifts
Silver is considered quite auspicious as a gift on an occasion like wedding. There is an array of items available in Silver which can prove to be great wedding gifts. Moreover, they are quite economic in comparison to gold. The worth giving silver items include gem studded silver jewelry, cutlery, silver bottle stoppers, heart shaped silver spoons, heart shaped silver pepper and salt shakers, silver bottle openers, card holders, coins, ornaments like rings, earrings, necklaces, bracelets and anklets, silver brooches, silver hair clips, silver watches, etc.