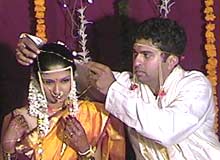 In Hindu weddings, one of the most sacred customs is of tying mangalsutra. It is basically a black and gold beaded necklace with a gold or diamond pendant. Mangalsutra carries immense importance in Hindu weddings as well as in the lives of Hindu married women. A mangalsutra is tied around the neck of the bride by the groom during the wedding rituals. It is a symbol of marriage and is worn by the bride until her husband's death.
The word mangalsutra can be deciphered as 'sacred thread or cord'; as 'mangal' means auspicious and 'sutra' means thread or cord. Though in appearance it looks like a jewelry item, it is definitely much more than that. The concept is thought to have originated in South India, where it is known as thali or thaaly or maangalyam. It is a yellow thread painted with turmeric paste and is tied around the bride's neck with three knots.
However, the shape and size of mangalsutra varies from state to state and region to region. In north India, it is a necklace with black and gold beads with either a gold or diamond pendant. In the west, it consists of two gold rounds with black beads. Moreover, they are available in all sizes from short to long. Considering the importance of mangalsutra, it is worn as a symbol of marital dignity and chastity. It is a promise from a husband to his wife that they will always stay together.
It depicts the union of the husband and the wife and protects them from evil. Whatever might be the meaning, mangalsutra occupies a significant position in Hindu marriages and rituals. Not to forget, women have become quite flexible nowadays, in relation with the custom of wearing mangalsutra. With fast paced development, mangalsutra has also become a fashion statement. Women now go for exclusive designs and are ready to experiment. Thanks to the soap operas on the television, which have significantly contributed to the change in the mindset.