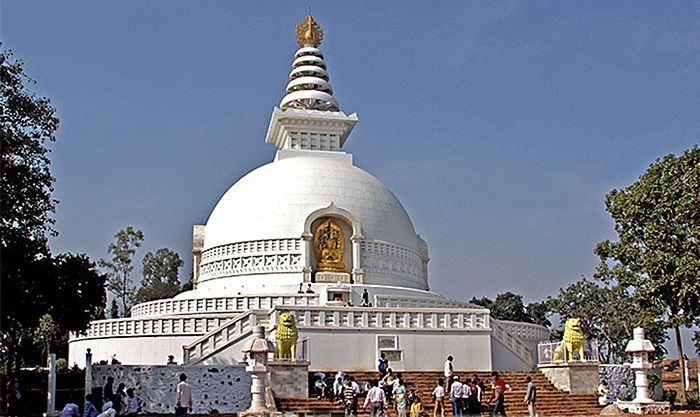 Image Credit : http://digambarjaintirthkshetra.com/tirth_detail.php?tempId=NDE0
A small village in the state of Bihar, Vaishali is a very famous Buddhist pilgrimage in India. The name "Vaishali" means prosperity and the place seems to live upto its name. Though it looks like an ordinary village, an excavation carried out in the area revealed a rich cultural and historical legacy. It is said that the world's first democratic confederation was developed over here during 6th Century B.C. Another significance of this place is that it is the birthplace of Lord Mahavira, the founder of Jainism in India. 
It was at Vaishali that Lord Buddha announced his proximity to Nirvana. The place witnessed one of the eight great events in the life of Buddha. It was here that a monkey offered honey to Buddha. It is thus an important pilgrim place for both Buddhists and Jains. After the attainment of Enlightenment, Buddha is said to have visited this place to preach his teachings, resulting in mass followers. The place attracts historians and archaeologists from far and wide who want to know more about this lovely place. 
Vaishali pilgrimage is famous for the two Buddhist stupas that are located here. It is said that one eighth of the ashes of Buddha are preserved over here in a casket. Another famous structure here is the Ashokan Pillar also known as the Lion Pillar, which was built by Emperor Ashoka. The pillar measures 18.3 meters and is made out of highly polished red sandstone. A life size statue of a lion has been placed atop the pillar. There is also a Coronation Tank located here known as Abhishek Pushkarni where the elected representatives of Vaishali in the bygone era were religiously anointed before their swearing ceremony. The famous Shanti Stupa located at the south of this tank is another famous structure over here.