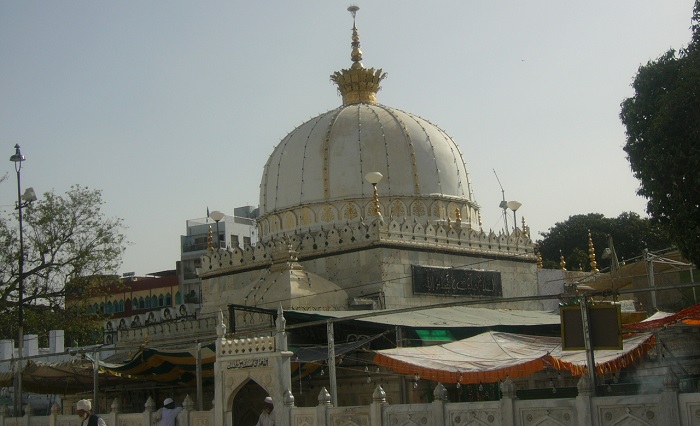 Image Credit :Wikipedia.org
The Lake city of Ajmer is well known for the Dargah of Sufi saint Khwaja Moin-ud-din Chishti. The 'Dargah Sharif' in Ajmer is held in great esteem by devotees of all communities. Khwaja Moin-ud-din Chishti had come from Persia and established the Chishtia (Sufi) order at Ajmer, India. Khwaja Moin-ud-din Chishti was so popular among the masses that his followers cut across all the religions. He was popularly known as 'Gharib Nawaz' (protector of the poor) as he dedicated his life to the service of mankind.
Khwaja Moin-ud-din Chishti left for heavenly abode in 1256 AD after a six day prayer in seclusion. To commemorate those six days, the annual Urs, which is attended by innumerable pilgrims irrespective of their faith, is held at Ajmer every year. The shrine (Dargah Sharif) is considered to be a place where wishes of everyone are fulfilled. During the medieval period Akbar, the great Mughal emperor also visited the Dargah Sharif and sought blessings for his son. 
The Dargah Bazaar leads to the inner courtyard of the Dargah Sharif. The high gateway of the Dargah has beautifully carved silver doors. In the courtyard there are two huge cauldrons. The grave of Khwaja Moin-ud-din Chishti is surrounded by a silver railing and is partially covered with a marble screen. The prayer room for women devotees at the Dargah was built by the daughter of Shah Jahan, the Mughal king. In the premises of the Dargah Sharif there are tombs of Khwaja's daughter, Bibi Hafiz Jama and the tomb of Shah Jahan's daughter.