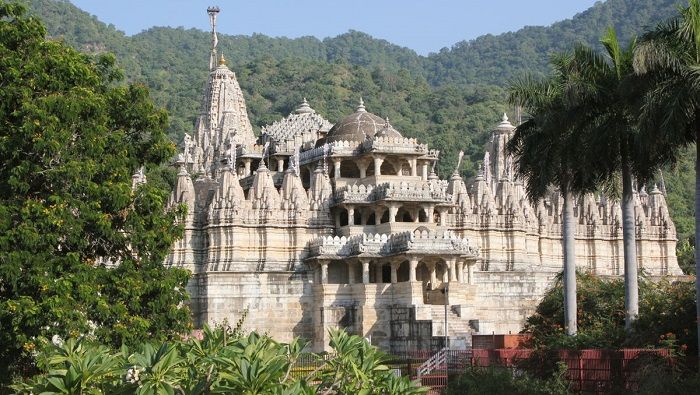 Image Credit : https://en.wikipedia.org/wiki/Ranakpur_Jain_temple
Ranakpur is a small village in the state of Rajasthan in India. An otherwise ordinary village to look at, the place is famous for its Ranakpur Temple, which has some splendid carvings and architecture. Built during the 15th Century, these temples are an exquisite example of fantastic architecture. The temple has been carved in Amber stone and has marble interiors. The Ranakpur Jain temple is an important pilgrimage of the Hindus. The Ranakpur temple is dedicated to Adinath or Rishabhji who was a famous Jain Tirthankara. 
The massive temple is spread across an area of 48,000 square feet and has 29 huge halls. The temple has four openings opposite and adjacent thus symbolizing the four faced image of Adinath. A splendid creation, one has to visit the temple to bask in the breath taking beauty and astounding carvings. The temple has 1444 pillars, each with a unique design and carving of its own. Each portico has a carved Mandap or a hall and the roof is in the shape of a dome that has little bells on it. The temple has three stories and has four small shrines with 80 spires that are held up by 420 columns. 
Facing the main temple are two more temples dedicated to the revered saints, Parasvanath and Neminath. These temples are also beautifully carved with figurines of angels and other divine beings depicted beautifully. An ancient temple near the Ranakpur temple that is worth a visit is the Sun Temple. It is dedicated to the Sun God and was built in the 8th century. The temple has mind blowing carvings of warriors, horses and the Sun God in his mighty stallion driven chariot.