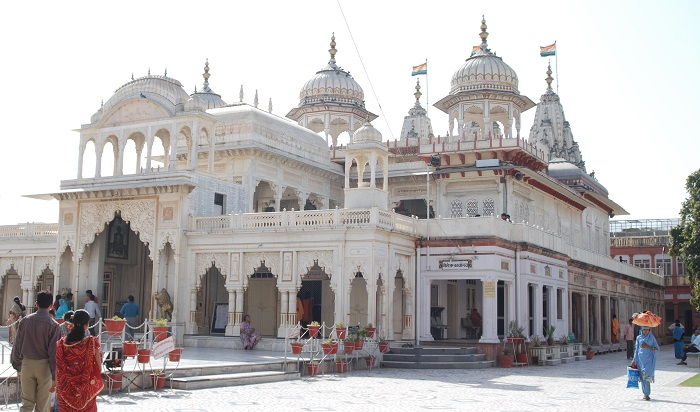 Image Credit : Wikipedia.org
India is the land where Jainism originated. Today, around 3.2 million Jain devotees live in India. Across the length and breadth of India lay the Jain temples and shrines and hold immense attraction for all those who desire to see the great Jain architectural splendor, and to know and understand the teachings of Lord Mahavira and the other Jain Tirthankars. The essence of Jain religion and its preaching is very well reflected in different Jain temples and shrines. It is really a state of pure bliss to explore history, religion, art and culture of the Jains. 
Dilwara Temples, Rajasthan
The Dilwara temples are located around Mount Abu, a famous Hill station of Rajasthan. The Dilwara temples date back to the 11th to the 13th century AD and are famous world-wide for spectacular use of marble. The renowned marble temples of Dilwara are one of the most sacred pilgrimage places of the Jains. They are an awesome blend of simple beauty and wonderful grace. The marble temples have an opulent entranceway 
Palitana Temples, Gujarat
Palitana Jain temples are believed to be the most sacred of all the Jain temples. The Palitana temples are located on Shetrunjaya hills and comprise of 863 temples, elegantly engraved in marble. Palitana was the capital of the princely state of the Gohil Rajputs. The Palitana temples are simpler than other Jain temples with their profusion of sculptures and carving, but they are no less impressive. Many of the smaller temples have used white plaster for their principal walls, saving the marble for the domes and spires. 
Ranakpur, Rajasthan 
Ranakpur is located in Rajasthan. It is one of the five most important pilgrimage sites of Jainism. Ranakpur is probably the most extensive of Jain temples in India, covering 40,000 square feet (3600m). The Ranakpur temple can be called a treasure house of pillars. The pillars are arranged in such a manner that none of them obstructs the view of the pilgrims wishing to have a `Darshan' (glimpse). From any corner of the temple one can easily view the Lord's image. It is believed that there are about 1444 pillars in the Ranakpur temple. 
Shravanbelagola 
Shravanbelagola is a great centre for Jain culture. It is situated at a distance of about 100 km from Mysore. Shravanbelagola is famous for its colossal statue of Gomateshwara, who is also referred to as Lord Bahubali. The statue is carved out of monolithic stone and is 17 meter high. It can be seen from a distance of even 20 km.