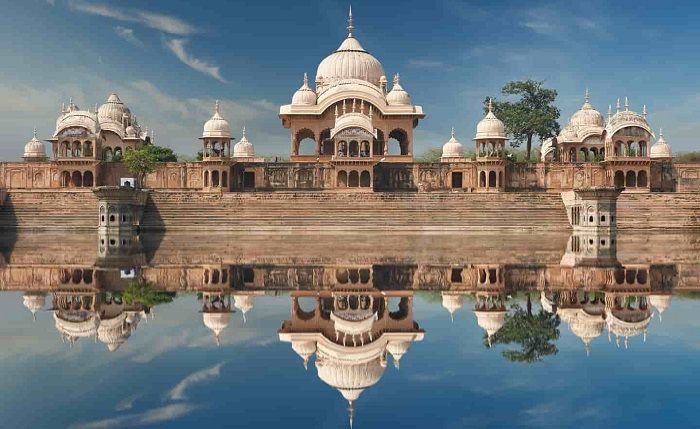 Image Credit : https://www.treebo.com/blog/places-to-visit-in-mathura/
Mathura is an important place of Hindu pilgrimage. Mathura is also known as the Brajbhoomi - the land where Lord Krishna was born and spent his youth. Mathura is located on the banks of River Yamuna. It was transformed into a place of great reverence after Lord Krishna was born here. Mathura is located about 58 km north-west of Agra. At present the Brajbhoomi is divided into two separate units- the trans-Yamuna tract (eastern side) with places like Gokul, Mahavan, Baldeo, Mat and Bajna and the western side of the Yamuna covering the Mathura region that encompasses Brindavan, Govardhan, Kusum Sarovar, Barsana and Nandgaon. 
It is said the Shri Krishna, an incarnation of Lord Vishnu, was born as the eighth son of the Yadava prince, Vasudev and his wife Devaki. To save him from the murderous intentions of his maternal Uncle Kansa (the ruler of Mathura), the infant Krishna was spirited away soon after birth to Gokul, the village of the gopas (cowherds) in Braj (their pastureland). It was at Braj that Krishna grew into manhood, in the tender care of his foster parents Nand and Yashoda and cowherds. Lord Krishna is also known for his precepts to Arjun in the battle of Kurukshetra. In this battle Krishna revealed to the world the ultimate truths of life. 
Mathura is characterized by picturesque Ghats, arched gateways and temple spires extending along the right bank of the River Yamuna. In ancient times Mathura was very strategically located. Mathura's strategic location at the cross roads of various trade routes ensured its position as a centre of trade and a meeting point for varied cultures. By the fifth century BC Mathura was a major metropolis and the capital of the Surasena Kingdom, one of the 16 Mahajanapadas. During the Kushana period Mathura became famous for the Mathura School of sculpture.