Fast Facts
Date of Birth: July 26, 1925
Place of Birth: Kapadvanj, Gujarat, India
Date of Death: July 2, 2009
Place of Death: Mumbai, India
Profession: Painter
Spouse: Sakina
Children: Yusuf, Himani
Awards: Padma Bhushan, Kalidas Samman  
Credited for triggering an interest towards Indian art among contemporary local and international art lovers, Tyeb Mehta is one of the most famous Indian artists of the post-colonial generation. Like his contemporaries, Mehta was part of the post-independence partition that saw the bludgeoning of many innocent individuals. Naturally, Mehta went on to incorporate this disturbing event into his works. Since he was part of the famous Bombay Progressive Artists' Group, his ideals were similar to that of other famous artists from the group. He was also known for his signature style, the diagonal series, which he invented accidentally. Though Tyeb Mehta could be remembered for a host of achievements, he is unsurprisingly remembered as one of the priciest Indian artists ever. Some of his works have been sold for millions of rupees at various auctions. Tyeb Mehta was a recipient of many prestigious awards including Kalidas Samman and Padma Bhushan.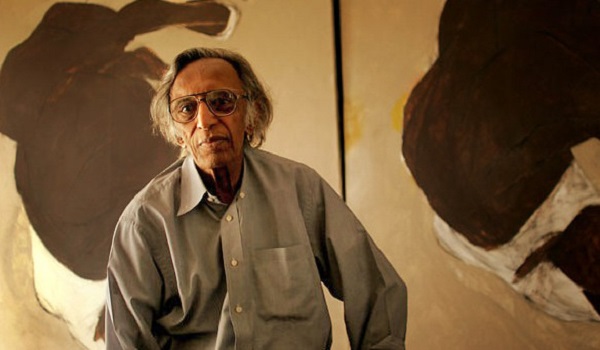 Image Credit:
Wikimedia.org
Childhood and Early Life
Tyeb Mehta was born on 26th July, 1925 in the Kapadvanj town of Gujarat. His family moved to Bombay while Mehta was still young and hence grew up in the city. During his childhood, Mehta developed a liking towards cinema and art. But he hadn't made up his mind on what his profession would be later on in his life. During the partition of 1947, Mehta witnessed the violent act of a mob stoning a man to death. This incident left an indelible impression on him, which he would later portray on many of his canvases. 
Early Career and Education
During the initial stages of his career, Tyeb Mehta got an opportunity to work as a movie editor at Famous Studios, a cinema laboratory in Mumbai. Back then, the work of an editor was hard as it involved manual editing. But Mehta enjoyed each and every bit of it as one of his passions was cinema. But he soon realized that his passion for art was stronger than that of his passion for movies. Hence, he attended the famous Sir J.J. School of Art in Bombay and studied at the school for five years from 1947 to 1952. He then graduated with a diploma in the year 1952. During his stay at Sir J.J. School of Art, he came in contact with Akbar Padamsee and became part of Progressive Artists' Group along with other artists like S.H. Raza, F.N. Souza and M.F. Husain. Being part of the group, he embraced modernism and started experimenting with his style of art.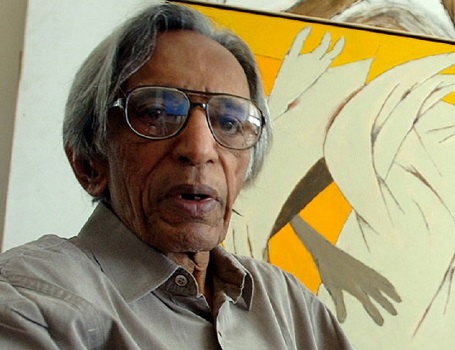 Image Source: thefamouspeople.com
Career
In the year 1954, Tyeb Mehta went to London and stayed there till 1964. During his stay in London, he was deeply influenced by the works of Francis Bacon. Meanwhile, his first solo exhibition of drawings, paintings and sculptures was organized at the Jehangir Art Gallery, Bombay (now Mumbai) in the year 1959. After his stay in London, where he worked briefly, he visited New York where his works were welcomed with outstretched arms. In 1968, he was honored with a fellowship from the John D. Rockefeller 3rd Fund as Americans simply loved his work. He then returned to India and started living in Delhi. He also worked as an Artist-in-Residence at Santiniketan for about a year. When he returned to Mumbai, with all the knowledge that he had gained over the last few years, he was a much improved painter, and his works reflected the same. 
The Birth of the Diagonal Series
In 1969, Tyeb Mehta once had a hard time as he couldn't concentrate in order to come up with something extraordinarily creative. When his frustration reached its peak, he simply took out a brush and drew a black diagonal line across his canvas, hoping that such an act would relieve him of his frustration. But what was initially thought of as a simple stroke went on to present him with a new idea. He then went on to create a series of such diagonal paintings, in which he divided his stories into two distinctive parts.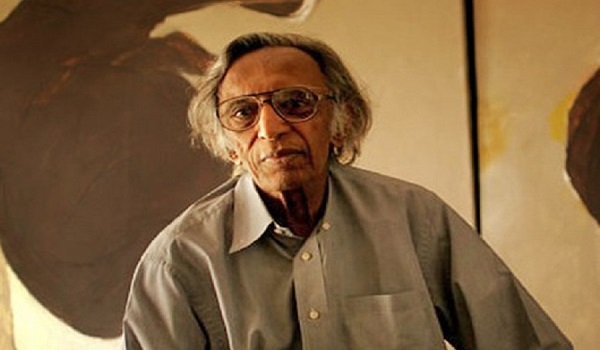 Image Credit:
thefamouspeople.com
Major Paintings
The common themes that he worked with included the likes of a poor rickshaw puller and trussed bulls. Throughout his illustrious career, Tyeb Mehta has come up with a host of impressive works. The most important ones are mentioned below:
Falling Figures – Created in the year 1991, this was inspired by his real life incident when he witnessed a man being stoned to death by a mob. The incident took place during his stay at Lehri House in Mohammed Ali Road. The violence that broke out as part of the partition of 1947 had a deep impact on him.
Image Source: hindustantimes.com
Celebration – This was a triptych, a work of art which is usually divided into three parts. This particular work of his fetched a whopping $317,500 (Rs 15 million) at a Christie's auction. The auction which took place in the year 2002 became famous for the price paid for his work. Back then, it was the highest sum paid for an Indian art work at an international auction.
Santiniketan triptych series – During his stay at Santiniketan, he came up with a number of triptych paintings that were later collectively known as the Santiniketan triptych series.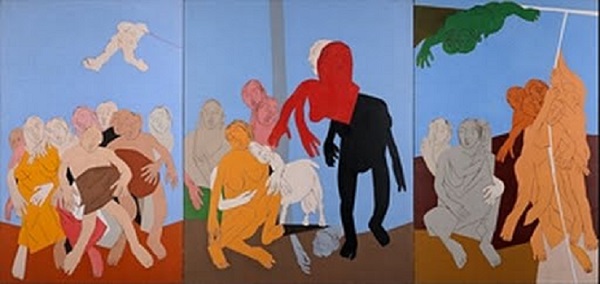 Image Source: https://www.google.com/culturalinstitute/beta/
Kali – At Saffronart's online auction, an Indian auction house, his depiction of Kali fetched an impressive 10 million Indian rupees.
Mahishasura – This was a controversial painting as he had depicted the demon Mahishasura in an embrace with Goddess Durga. But there were no controversies as far as its value was concerned as the painting sold for a massive $1.584 million at one of the auctions.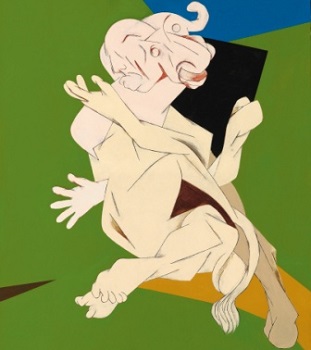 Image Source : https://blogs.timesofindia.indiatimes.com/wp-content/uploads/backup2/plumage/tyeb1996.jpg
Gesture – In 2005, the chairman of Kuomi Travels Mr. Ranjit Malkani paid 31 million Indian rupees for Mehta's work 'Gesture'. This was the highest sum paid by any Indian for an Indian art at an auction held in India.
A Cultural Hero
By becoming one of the priciest Indian artists ever, Tyeb Mehta soon became a cultural hero. Thanks to his works which were sold for over a million dollars, his subsequent paintings screamed for attention from Indian as well as foreign art lovers. With big money being invested in his paintings, people started taking Indian art and its artists way more seriously. This brought a host of Indian painters under the spotlight and Indian arts now had an international market and a successful one at that.  
International Shows
Tyeb Mehta participated in a number of international exhibitions including Ten Contemporary Indian Painters at Trenton in the U.S.A; Deuxieme Biennial Internationale de Menton, Festival Intemationale de la Peinture and Cagnes-Sur-Mer in France; Modem Indian Paintings at Hirschhom Museum of Washington and Seven Indian Painters at Galerie Le Monde de U art of Paris. 
Achievements
One of the paintings of Tyeb Mehta holds the record for being the highest priced Indian painting. His three minute film 'Koodal' won the Filmfare Critics' Award in 1970. The entire docudrama was filmed at the Bandra slaughter house. In 1974, he was honored with the Prix Nationaleat an International Festival held at Cagnes-sur-Mer in France. His works have been displayed at various prominent museums all over the world. In 2009, a retrospective of his majestic career was held at the National Gallery of Modern Art, New Delhi.
 
Awards
Kalidas Samman – Tyeb Mehta was awarded with the Kalidas Samman by the Government of Madhya Pradesh in 1988.
Gold Medal – He was awarded with a gold medal at the first Triennial held in New Delhi.
Dayawati Modi Foundation Award – In 2005, he was honored with the Dayawati Modi Foundation Award for his excellence in the field of art.
Padma Bhushan – In 2007, the government of India honored him with the country's third highest civilian award for his contribution towards Indian art.
 
Personal Life
Tyeb Mehta was married to Sakina and the couple was blessed with a son and a daughter. Tyeb Mehta was a man of simple tastes and led an uncomplicated life. He spent most of his life in the suburbs of Mumbai, including his final days.
Death & Legacy
On July 2, 2009, Tyeb Mehta suffered a massive cardiac arrest and eventually breathed his last at a Mumbai hospital. One of the biggest legacies that he left behind was the price tag that he put on Indian arts. This not only opened a new door for contemporary artists but also made the world turn around to take a look at Indian arts.