Fast Facts
Date of Birth: February 22, 1922
Place of Birth: Babaria, Central Provinces, British India
Date of Death: July 23, 2016
Place of Death: New Delhi, India
Profession: Painter
Spouse: Janine Mongillat
Father: Sayed Mohammed Razi
Mother: Tahira Begum
Awards & Recognition: Padma Vibhushan, Fellowship of the Lalit Kala Akademi, Commandeur de la Legion d'honneur
One of the most distinguished artists of the Indian subcontinent, Sayed Haider Raza, simply known as S.H. Raza, is famous for his usage of rich colors in all his portrays. Though he settled down in France in the early 1950s, he continued to represent Indian art by incorporating Indian philosophy and Indian cosmology in his works. Throughout his career, he had mainly used oil and acrylics for his paintings, which highlighted Indian ethnography. He also incorporated the Indian concepts of space and time, which was a huge hit among French, Indian and other art lovers worldwide. In 2010, a seminal work of his titled 'Saurashtra' was sold at a Christie's auction for an impressive $3,486,965 (Rs. 16.42 crore), making him one of the priciest modern artists of India. For his immense contribution in the field of art, S.H. Raza was honored with India's second highest civilian award, Padma Vibhushan in the year 2013.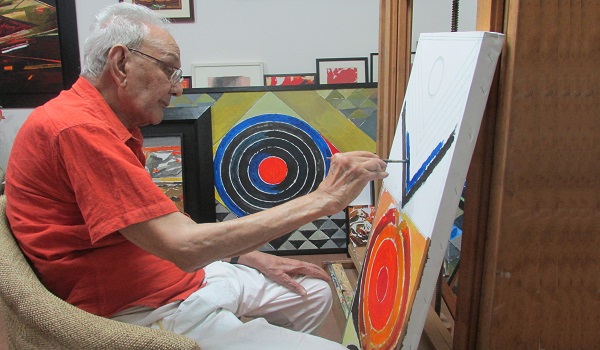 Image source: http://www.indulgexpress.com
Childhood & Early Life
S.H. Raza was born in 1922, in the present day state of Madhya Pradesh. While his father Sayed Mohammed Razi was a respected Deputy Forest Ranger of the entire British-owned district, his mother was a housewife. He grew up with his four brothers and a sister. Raza developed a liking towards painting at the tender age of 12. Understanding his love for arts, his parents allowed him to pursue his dream and even laid the foundation by enrolling him at different Art Schools.
Education
After spending most of his childhood in Babaria, Raza moved to Damoh at the age of 13 and completed his formal school education there at a Government High School. He then received his formal training in painting at the Nagpur School of Art (Nagpur). Thereafter, he learnt the nuances of oil painting at Sir J. J. School of Art, Bombay. During his stay at Sir J.J. School of Art, he co-founded the famous Bombay Progressive Artists' Group, which would later go on to become an influential set of modern artists. At that time, S.H. Raza experimented with the Western Modernism, which was moving away from expressionism and towards abstraction. Thereafter, he moved to France in order to pursue his studies at the Ecole nationale superieure des Beaux-Arts of Paris. He was awarded with a scholarship from the government of France, which encouraged him to pursue his higher studies there in Paris.
Career
During the initial stages of his career, Syed Haider Raza's paintings mainly revolved around expressionistic landscapes. His very first show was held at Bombay Art Society, even before he moved to France. Though he finished his education in 1953, he chose to remain in Paris, as he thought that his works would receive appreciation from the European art lovers. For this reason, he even travelled across most parts of Europe. During his stay in Paris, Raza was highly influenced by its landscape and incorporated it in his creations. He also painted the landscapes of his mind which looked more abstract than expressive. He also incorporated elements of Indian scriptures and other things Indian that would make his art look more impressive and meaningful. In 1962, he started serving as a visiting lecturer at the University of California, Berkeley, USA. There, he influenced many American painters and taught them the nuances of incorporating interesting Indian elements into modern art.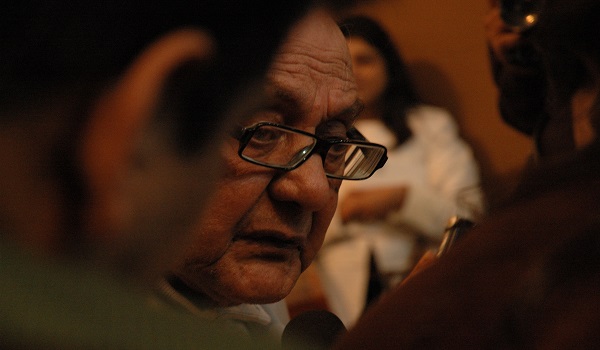 Image source: wikimedia.org
Return to India
Seeking more inspiration and a whiff of fresh air, Raza returned to India in the 1970s. Though his brothers and sister had migrated to Pakistan post partition, he had chosen India as his home. He returned to his motherland as he needed a new direction, not only in his work but also in his personal life. He visited many parts of the country including the majestic caves of Ajanta and Ellora. He even visited places like Gujarat, Rajasthan and Benaras. He was clearly in search of something that would go on to play a major role in his works in the near future. His search finally came to an end after he realized that the 'Bindu' (a dot) that plays a significant role in Hinduism, is the source of creation and existence. He came to this conclusion after closely studying Indian culture for years. He even had to travel back in time to zero in on a particular event that happened during his elementary school days. The event was that of his teacher asking him to focus on a single dot, drawn on the black board, after he was found having difficulties with his concentration. This simple realization paved the way for incorporating more Indian concepts which included scientific concepts of space, time, and different energy forms like female and male energy forms. Thanks to this, he soon became a master of abstract painting, which attracted audiences around the world. His love for Indian concepts only increased over the years and the same started reflecting in his art works. In 2000, he started incorporating concepts like Kundalini energy and the Nagas in his works. He also focused more on incorporating stories of Mahabharata into his art works and paintings.
Style of Painting
The paintings of S.H. Raza revolve mainly around nature and its various facets. Over the years, his paintings evolved from being purely expressionist landscapes to abstract ones. He believes the Bindu (dot) to be the center of creation and existence and his works reflect this particular thinking. Even though the vibrancy of his paintings had become subtle later on in his career, the dynamism remained as alive as ever.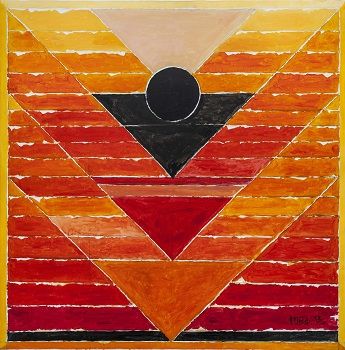 Image source: https://www.pinterest.com/pin/766949011512720412/
Achievements
A painting by S.H. Raza was reportedly sold for US $1.4 million at an auction held in December 2006. In February 2007, his works were exhibited in The Arts Trust - Institute of Contemporary Indian Art (Mumbai). Also, his works were displayed in a number of prestigious exhibitions all over India. He has also had many solo exhibitions throughout his illustrious career.
Awards & Recognitions
Padma Shree: S.H. Raza was awarded the prestigious Padma Shree, India's fourth highest civilian honor, by the Government of India in the year 1981. 
Fellowship of the Lalit Kala Akademi: In the year 1981, he was honored with this prestigious fellowship by the government of New Delhi. 
Kalidas Samman: In 1992-93, the government of Madhya Pradesh awarded him the Kalidas Samman, which is given every year for contribution towards arts.
Silver Medal: In 1946, he won a silver medal for one of his displays at the prestigious Bombay Art Society.
Gold Medal: Two years later, he went on to bag a gold medal at the same exhibition for one of his art works. 
Lalit Kala Ratna Puraskar: In 2004, he was honored with this prestigious award by Lalit Kala Academy, New Delhi.
Doctor of Letters: The Indira Kala Sangit Vishwavidyalaya, Chhattisgarh honored him with D Litt in the year 2014.
Commandeur de la Légiond' Honneur: He was awarded the Legion of Honour by the government of France in the year 2015, for his immense contribution to the field of arts in France.
D Litt: He was once again honored with D Litt in 2015 by Shiv Nadar University, Greater Noida, Uttar Pradesh.
Padma Bhushan: In 2007, the government of India honored him with the prestigious Padma Bhushan, India's third highest civilian award.
Padma Vibhushan: In 2013, he won the country's second highest civilian award.
Personal Life
During his stay in France, he met French artist Janine Mongillat, who impressed him with her skills in the field of modern art. He later fell in love with her and went on to marry her in the year 1959. Unfortunately, Janine Mongillat lost her battle to cancer in the year 2002, which impacted his personal life to a great extent. Not able to bear her loss, he decided to return to India in the year 2010 and made New Delhi his home. Though his brothers and sister decided to move to Pakistan post the partition in 1947, he decided to stay back in India. Raza spent most of his final days in his residence in New Delhi.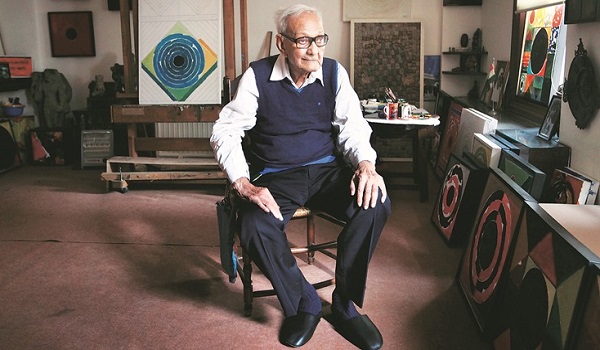 Image source: http://indianexpress.com/article/lifestyle/art-and-culture/syed-haider-raza-force-of-art-never-tired-of-the-bindu-2932334/
Death
On July 23, 2016 S. H. Raza breathed his last after battling for life at a local hospital in New Delhi. The 94 year old painter had left a huge void in the world of painting. He entered the heavenly abode as one of India's most celebrated painters.
Legacy 
In order to promote art among young Indians, S. H. Raza had founded Raza Foundation here in India. The foundation continues to work on his mission and gives away an award in his name to encourage budding Indian artists. This award function is held every year. In order to save, promote and most importantly protect his works, a committee under his name was started in Paris after he passed away. The committee is open to joining hands with other similar organizations in order to protect his works. Though he came up with a number of techniques during his lifetime, his greatest legacy would be that of his inclusion of Indian scientific concepts into the world of modern art.