Fast Facts
Date of Birth: May 7, 1871
Place of Birth: Bengal, British India
Date of Death: August 7, 1951
Place of Death: Calcutta (now Kolkata), India
Profession: Painting, Writing
Spouse: Suhasini Devi
Father: Gunendranath Tagore
Siblings: Gaganendranath Tagore, Sunayani Devi
Abanindranath Tagore, the nephew of Rabindranath Tagore, was one of the most prominent artists of India. He was the first major supporter of swadeshi values in Indian art. Abanindranath first created the 'Indian Society of Oriental Art' and later went on to establish Bengal school of art. His sole aim for establishing the school was to counter the English influence on Indian artists. He did that by incorporating Indian elements in his works and achieved success whenBritish art institutions gave in and accepted to teach and propagate his style of works in their organizations. His idea of modernizing Mughal and Rajput paintings eventually gave rise to modern Indian painting, which took birth at his Bengal school of art. Abanindranath is also regarded as a proficient and accomplished writer. Most of his literary works were meant for children.Some of his books like 'BudoAngla', 'KhirerPutul' and 'Rajkahini' are best examples of Bengali children's literature.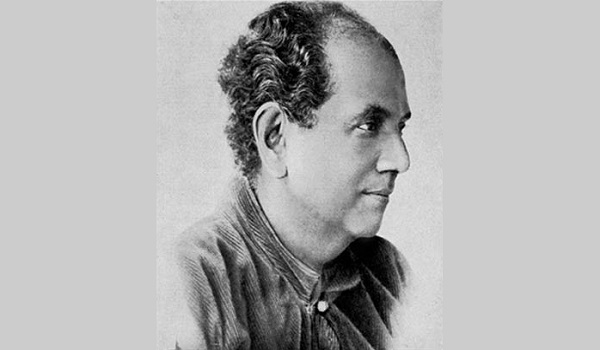 Image Credit:
http://indianexpress.com/article/opinion/columns/bharat-mata-more-benign-2853150/
Childhood 
Abanindranath Tagore was born in the Jorasanko town of Bengal. Being the younger brother of Gaganendranath Tagore, an eminent artist, Abanindranath was introduced to art early in his life. Since he grew up amidst the famous Tagore family, art and literature were always a part of his childhood and he inevitably developed a liking towards them.
Education
When he was studying at the Sanskrit College in Kolkata, he started learning the nuances of art. After his wedding in 1889, he left Sanskrit College, where he was studying for the past nine years, and joined St. Xavier's College and studied English for one and a half years. He then enrolled at the famous Calcutta School of Art in the year 1890. There he was trained by European artists, O. Ghilardi and Charles Palmer. While he learnt to master the usage of pastels from Ghilardi, he acquired profound knowledge on oil painting from Charles. Around 1897, he learnt various techniques, including the techniques used in European paintings, from the vice-principal of Government School of Art. It was then that he started to develop a special interest towards watercolor.
Early Life
During his training under the vice-principal of the government school, Abanindranath came under the influence of Mughal art. He then started making some beautiful paintings based on the life of Lord Krishna, which reflected a strong influence of Mughal style. When he had a few issues with the teaching style that was being used at the Calcutta School of Art, where the influence of the Western model was dominant, he met E.B. Havell and explained him the importance of retaining Indian elements in Indian art. This paved the way for a change in the method of teaching at the school. 
Also, along with his brother Gaganendranath Tagore, he came up with the Indian Society of Oriental Art, which focused on the importance of Indian style of art. Abanindranath had immense faith on the traditional Indian techniques that were used in the early Mughal and Rajput paintings. He wanted to propagate this very technique and strived hard towards achieving his goal.
Career
Though Abanindranath Tagore started painting at a young age, his career took shape in the late 1890s. Most of his works revolved around Hindu philosophy and other things Indian. In the year 1930, he came up with a series of paintings titled 'Arabian Nights'. The paintings depicted Calcutta's emerging cosmopolitanism but used the stories from Arabian Nights as its trope. Even today, this collection of paintings is considered as one of the finest achievements of Abanindranath Tagore. Thanks to his revolutionary ideas and his unconditional love for tradition, cultural figures from other parts of Asia were fascinated by him. Some of them include Okakura Kakuzo, Japanese art historian and Yokoyama Taikan, a famous Japanese painter. His meeting with such personalities paved the way for him to incorporate Japanese and Chinese calligraphic techniques and traditions into his works. He also collaborated with William Rothenstein, an English artist and author, who tried to incorporate Indian traditions into his own works. William Rothenstein was a good friend of Abanindranath and helped Rabindranath Tagore to publish his work 'Gitanjali' in English.
His Style
Abanindranath Tagore believed in the traditional Indian techniques of painting. He rejected the materialistic art of the West and emphasized on returning to the Indian traditional art forms. He believed that Indian art and its art forms gave importance to spirituality as opposed to the West which stressed on materialism. He was very much influenced by the Mughal School of painting as well as Whistler's Aestheticism. In his later works, Abanindranath started integrating Chinese and Japanese calligraphic traditions into his style. The intention behind this move was to construct an amalgamation of the modern pan-Asian artistic tradition and the common elements of Eastern artistic and spiritual culture. His works reflected his ideologies and since they were simple in nature, his paintings were a hit among Indian art lovers.
Abaninranath's Notable Paintings
Ganesh Janani – Painted in the year 1908, 'Ganesh Janani' depicts an image of Lord Ganesh in his child form. The Lord is seen playing by hanging on to a branch of a tree while his mother wears a concerned look on her face.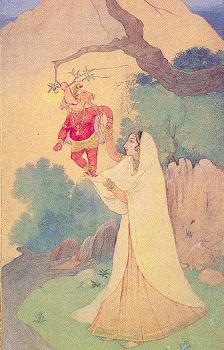 Image Credit:
Wikimedia.org
Bharat Mata – This beautiful painting was completed in the year 1905. The painting depicts Bharat Mata (Mother India). She is portrayed as having four hands, carrying important elements in each of her hand. The painting reflects Indian tradition, which features in most of his works.
The Victory of Buddha – 'The Victory of Buddha' depicts a portrait of Buddha after achieving enlightenment. It also answers Buddha's ultimate question pertaining to the human sufferings.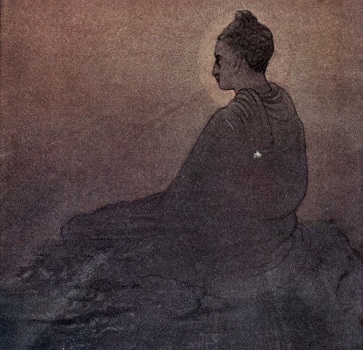 Image Credit:
wikimedia.org
The Passing of Shah Jahan – This is a scene straight out of Mughal EmperorShah Jahan's final day. The picture depicts Shah Jahan in his death bed, trying to get a final view of Taj Mahal, which would be his final resting place.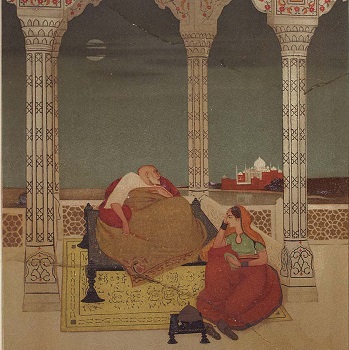 Image source: Pinterest
Journey's End - Painted in the year 1913, 'Journey's End' depicts a tired looking camel, which looks more relieved than happy after coming to an end of its journey.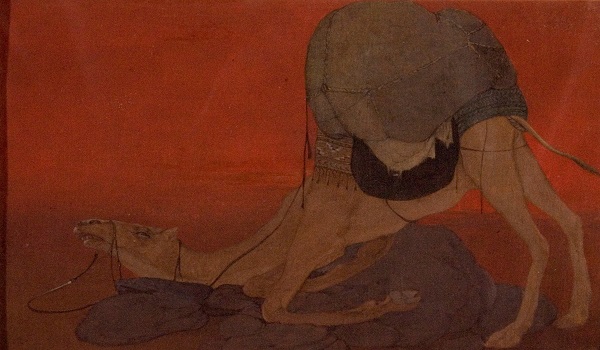 Image Credit:
wikimedia.org
Chaitanya with his followers on the sea beach of Puri – As the name suggests, this painting is all about Chaitanya and his followers.
Radhika gazing at the portrait of Sri Krishna – This is one of his many paintings based on the life of Lord Krishna. These paintings were created during the early stages of his career.
Departure of Siddhartha – This painting narrates the story behind Buddha'sdeparture, when he decides to leave behind his wife and son for the greater good.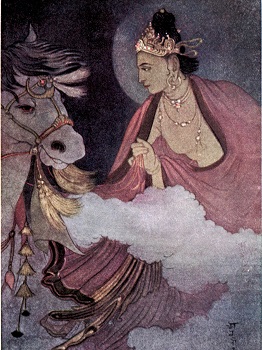 Image Credit:
wikimedia.org
Aurangzeb examining the head of Dara – Painted in the year 1911, this creation portrays the cruelty of Aurangzeb. In the painting, Emperor Aurangzeb examines the severed head of his brother Dara.
Illustrations of Omar Khayyam – Painted in the year 1909, this beautiful portrait depicts the illustrations of Omar Khayyam.
Summer, from RituSanghar of Kalidasa – Completed in the year 1905, this painting is about the legendary Indian poet Kalidasa.
Birds and Animals series – As the name suggests, this is a series of paintings that depict birds and animals. It was painted in the year 1915.
The Call of the Flute – Painted in the year 1910, 'The Call of the Flute' narrates one of the many interesting stories from the life of Lord Krishna.
Personal Life
In the year 1889, he married Srimati Suhasini Devi, the daughter of Bhujagendra Bhusan Chatterjee. Not much is known about this great artist's personal life, except for the fact that he led a simple life in accordance with Hindu traditions. He passed away on August 7, 1951 in Calcutta, where he spent most of his life.
The Unfair Bequeath
Post his demise, his son Alokendranath Tagore bequeathed almost all the paintings of his father to the Rabindra Bharati Society Trust. The trust made the famous house of Abanindranath Tagore its own and became the main repository of almost all his works. Sadly, some of India's treasures have been locked away in places unknown, and Alokendranath's paintings too suffered the same fate. The paintings are still banished into some of the offices of the trust with their condition unknown to anyone. Some of the scholars of Bengal like K. G. Subramanyan and R. Siva Kumar have said that some of Abanindranath's best paintings haven't been seen by the public and argue that they will reveal his true talent as a painter.